NEWS
J.League champions Kawasaki come from behind to start off ACL with a victory
28 June 2021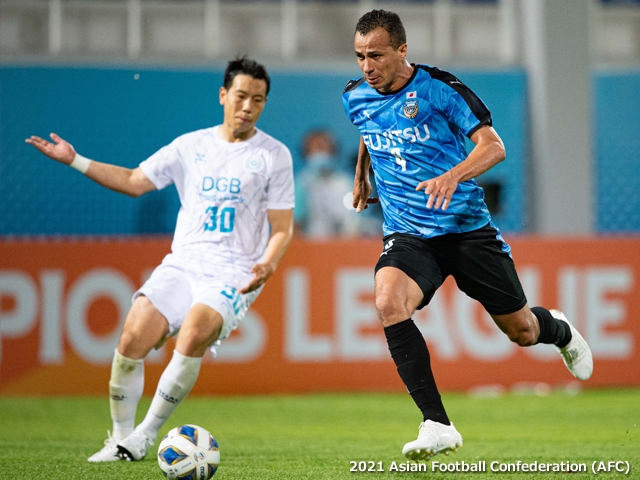 On Tuesday 22 June, group stage fixtures of the AFC Champions League (ACL) 2021 East region kicked-off at various locations. In Group I, J.League champions Kawasaki Frontale played their first match against Daegu FC (Korea Republic) at Uzbekistan on Saturday 26 (Sunday 27 Japan time). With the brace of Leandro DAMIAO and the decisive goal scored by Joao SCHMIDT, Kawasaki won the match 3-2, as all four clubs from Japan walked away with a victory in their first group stage match.
Kawasaki made their eighth ACL appearance after winning their third J.League title last season. With high hopes to claim their first ACL title, the club left Japan on 19 June to hold their training camp in Tashkent. Despite their thorough preparation and early aggression in the match, Kawasaki gave up the lead twice to Daegu, facing an uphill battle in their first group stage match.
Although Daegu was scheduled to play in the qualifying play-offs, they clinched their spot into the group stage after three Australian clubs withdrew from the competition. The Korean side is currently ranked fourth in the K.League with an undefeated record through 10 matches. Carrying their momentum into the ACL, Daegu scored the opening goal when CESINHA delivered the ball towards the centre, allowing EDGAR to assist the goal of HWANG Soon-Min in the eighth minute.
A golden opportunity arrived for Daegu in the 27th minute, when Edgar was brought down inside the penalty area to earn a PK, but Kawasaki's GK JUNG Sung-Ryong made a superb save to deny the spot kick.
In efforts to tie the score, Kawasaki persistently made attempts upfront, which led to the 40th minute equaliser scored by Damiao, who received the ball from JESIEL before striking a spectacular bicycle shot to level the match.
Although the two sides entered halftime on equal terms, Daegu retook the lead in the early minutes of the second half, when Cesinha converted the cross of LEE Keun-Ho. However, Kawasaki levelled the score just four minutes later, when MITOMA Kaoru received the ball from HATATE Reo before dribbling into the box, sending a cut back into the mix, allowing Damiao to score the equaliser once again.
Kawasaki took the lead for the first time in this match in the 55th minute, when Schmidt responded to a corner-kick delivered by WAKIZAKA Yasuto to make it 3-2.
OSHIMA Ryota and YAMAMURA Kazuya made their return from injuries as they were introduced to the match in the 63rd and 87th minute respectively, Kawasaki went onto preserve their one goal lead to earn three points in their first match in the group stage.
Schmidt, who scored Kawasaki's go-ahead goal, mentioned, "We knew the opening match was going to be a tough one. We still have plenty of room for improvements, but it is important that we earned three points here. We managed to win because everybody did their job."
With the match between United City FC (Philippines) and Beijing FC (China PR) ending in a 1-1 draw, Kawasaki is now in the lead at Group I.
The J.League champions are now scheduled to face Beijing on the 29th.
Nagoya lead Group G with back to back wins
Nagoya Grampus played their second group stage match in Group G against FC Pohang Steelers (Korea Republic) on the 25th at Bangkok. After KAKITANI Yoichiro scored the opening goal, second half substitute MATEUS scored a brace to give the Japanese side a 3-0 victory and the group lead.
Following their 1-0 victory over Johor Darul Ta'zim (Malaysia), Nagoya rotated five players and deployed a 4-3-3 formation for this match. The opening goal came in the 34th minute, when Kakitani received a pass from SATO Manabu before showcasing a superb individual effort to strike a powerful shot into the Pohang goal.
Effectively utilising their substitutes, Nagoya gained more momentum in the second half and extended their lead in the 64th minute when YAMASAKI Ryogo earned a PK that was converted by Mateus. With Pohang's SHIN Kwang-Hoon receiving his second yellow in this play, Nagoya took advantage of their numerical advantage to score their third goal in the 82nd minute to strike the final nail into the coffin.
Kakitani, who was involved in two goals and named as the man of the match, later reflected, "Everybody worked hard to earn this result." And continued to mention, "Our next match is just around the corner, so we will reset our minds to prepare ourselves."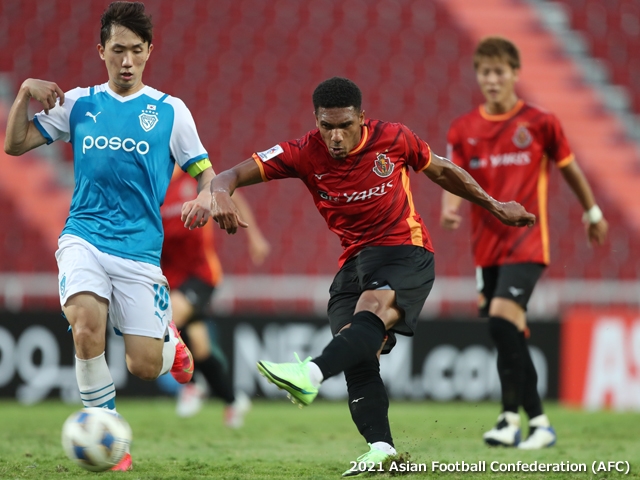 G. Osaka also start off with a victory
In Group H, Gamba Osaka faced Tampines Rovers FC (Singapore) in their first group stage match at Tashkent on Friday 25 June. Propelled by the goals of PATRIC and Leandro PEREIRA, the Osaka side started off the group stage with a 2-0 victory.
After ONOSE Kosuke struck the crossbar in the 21st minute, G. Osaka's opening goal came in the 26th minute, when Patric converted the cross sent by FUJIHARU Hiroki with a header.
Tampines built their attacks around NAKAMURA Kyoga and Zehrudin MEHMEDOVIC, as they threatened the Gamba goal in the 30th minute when Nakamura struck consecutive shots, but GK HIGASHIGUCHI Masaaki was there to block the attempts made by the former member of the U-17 Japan National Team. Nakamura created another opportunity in the 61st minute, this time setting up the header struck by Boris KOPITOVIC, but their effort fell short from finding the net.
Chasing for their second goal, G. Osaka brought in Pereira in the 81st minute, who capitalised on a cross sent by KURATA Shu in the 88th minute to seal the victory for the Osaka side.
Reflecting on the match, Patric commented, "With this being our first match, we were a little nervous, so the opening goal was huge. This win will give us momentum ahead of our next match."
G. Osaka will now face two time ACL champions Jeonbuk Hyundai Motors FC (Korea Republic) on the 28th, who has won their first match 2-1 against Chiangrai United (Thailand).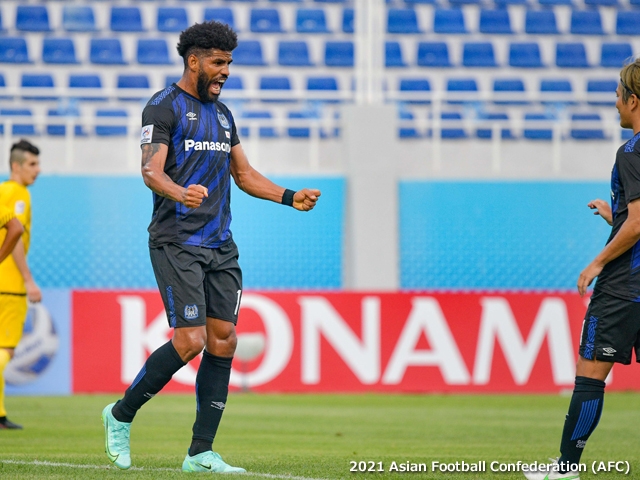 C. Osaka defeat Guangzhou
Cerezo Osaka, who is making their first ACL appearance since 2018, faced Guangzhou FC (China PR) at Buriram, Thailand on Thursday 24 June. Cerezo showcased their dominance in ball possession against their Group J rival Guangzhou, as SAKAMOTO Tatsuhiro and KIYOTAKE Hiroshi orchestrated the attacks. With OKUNO Hiroaki and TIAGO both scoring off a corner-kick delivered by HARAKAWA Riki in the 15th and 69th minute respectively, the Osaka side walked away with a 2-0 victory in their first group stage match.
Guangzhou, who has won two ACL titles, while advancing to the knockout stage in six of their eight ACL appearances, was forced to enter the group stage with their U-23 squad, as the players of the China PR National Team who participated in the FIFA World Cup qualifiers earlier this month were under quarantine as a measure to prevent the spread of COVID-19. The squad included five 16 year old players while the senior squad's assistant coach LIU Zhiyu was in charge.
Following the match, Tiago commented, "The first match of a tournament is always difficult, especially when you don't have enough information about your opponent. We were expecting the opponent to showcase great intensity throughout the match. I am glad I was able to score a goal that helped the team win the match." Cerezo's coach Levir CULPI also mentioned, "Although we were able to obtain an important victory, the tournament has just begun."
In the other fixture played in Group J, Kitchee SC (Hong Kong) won their match against Port FC (Thailand) 2-0.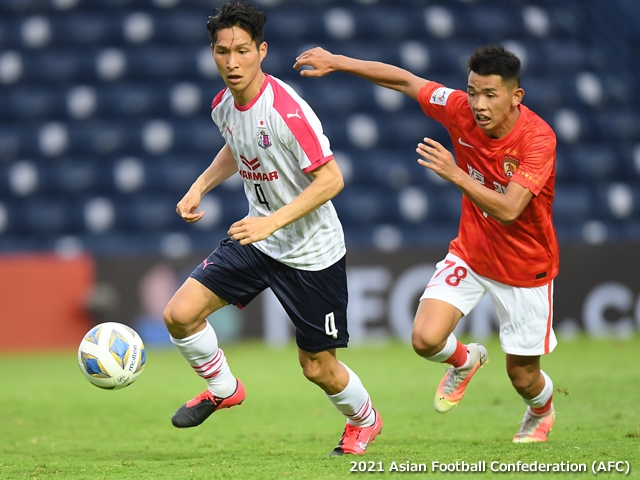 Coach and Players' Comments
ONIKI Toru, Coach (Kawasaki Frontale)
This was a massive victory for us. We conceded during the early minutes of each half, which made us realise how difficult it can be at the ACL. However, our players worked extremely hard and showcased their perseverance to equalise, take the lead, and preserve the lead to earn this victory. The team has shown great improvements over the match, so we hope to make the most of this experience. Regardless of the competition, we are always determined to win the match in front of us, so we are not feeling any pressure. We are in line to face another match in three days, so we will try to stay focused and showcase our football style from the early minutes of our next match.
FW Leandro DAMIAO (Kawasaki Frontale)
With Daegu entering this tournament with a 10 game undefeated streak from their league competition, we knew this was going to be a tough match for us. It certainly turned out to be a tough match, but we were able to earn a victory by giving our utmost efforts until the final whilst.
GK JUNG Sung-Ryong (Kawasaki Frontale)
It would have been better if we were able to keep a clean sheet, but we were facing a very strong team today. I hope I was able to contribute to the team's victory. Regardless of the playing time, this was a win earned by a total team effort and we are glad to start off the tournament on the right foot. We will continue to give our best efforts to showcase a strong performance.