NEWS
Amputee Football World Cup 2022 held in Istanbul, Turkey
12 October 2022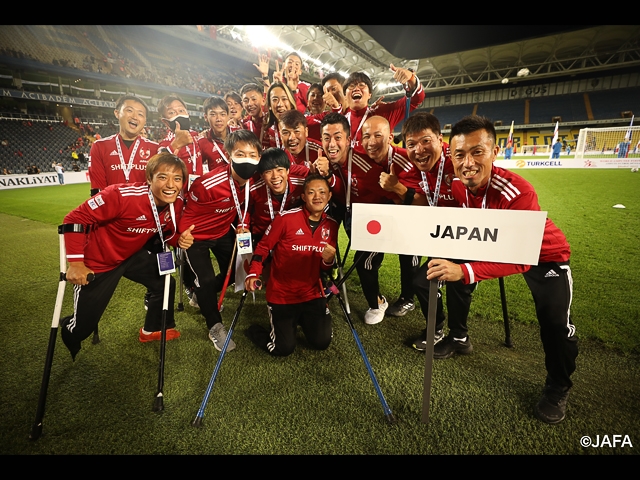 The quadrennial Amputee Football World Cup 2022 was held in Istanbul, Turkey, for 10 days from 30 September to 9 October. This year's competition marked the first time that continental qualifiers were fully introduced, with 24 qualifying countries competing in the final rounds. Japan, the East Asian champions, advanced through the group stage with three consecutive wins against Germany (3-0), Colombia (3-1) and Mexico (2-0), but lost to Tanzania (1-3) in the first round of the knockout stage and finished 11th after playing through the play-offs. The host country Turkey finished as the champions, Angola as the runners-up and Uzbekistan in third place. Japan's overall record in the tournament was five wins and two losses, including the group stage and play-off matches.
●Japan's match results
・Group Stage
Japan 3-0 Germany
Japan 3-1 Colombia
Japan 2-0 Mexico
・Finals (Play-offs)
Japan 1-3 Tanzania
Japan 4-3 USA
Japan 0-2 England
Japan 3-1 Colombia
●Finl Ranking
Champion: Turkey
Runner-up: Angola
Third place: Uzbekistan
*Japan finished the tournament in 11th place.
Coach's Comment
MAEHANA Hirofumi, Coach (Japan Amputee Football Association)
We finished the tournament in 11th place and take it very seriously that we have finished with a worse result than the previous World Cup 2018 held in Mexico. We will not make any excuses for this fact. It's frustrating because we have embodied the saying, "You can play well, but if it's not accompanied by results, nobody will remember it." We will face and accept all criticisms and suggestions and turn them into energy to achieve our next goal. This tournament allowed many people to watch not only the matches of the Japan National Team, but also many other live matches. We will continue to make efforts to further expand the world of amputee football, which has completely surpassed the boundaries of football for people with disabilities.