NEWS
Kids Traveling Guidance Report (April)
24 May 2022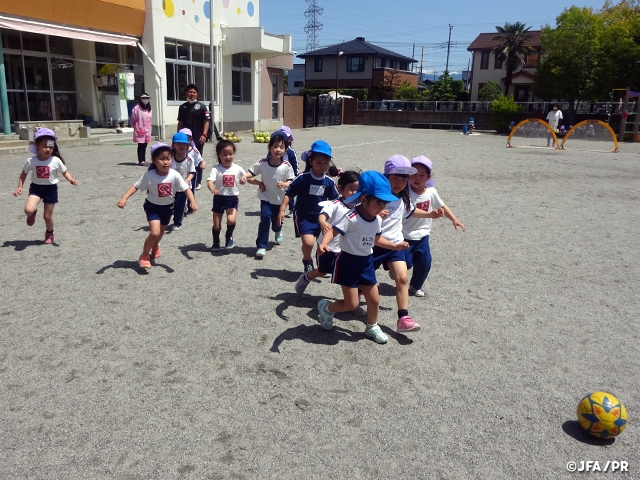 With the support of the Kids' Committees of each prefectural football association (FA), JFA has been organising "Traveling guidance" courses around the country. In the "travelling guidance" course, travelling guidance staffs from each prefectural FA go to kindergartens, nursery schools, and primary schools to offer a variety of programmes for children to enjoy football. This is an initiative to give nursery staff and teachers, who may not have much experience or knowledge of football, the opportunity to join a team of experienced football coaches and give the children time to exercise with the ball. Here we will introduce the traveling guidance activities that were recently conducted.
Friday 22 April, Kofuosato Kindergarten (Kofu, Yamanashi)
On the day of the event, 64 children from the five-year-old class took part. The weather was nice, and the children ran around and worked energetically from the beginning to the end. To ensure that all children can play with "fun, smiles, friendship and a sense of achievement" in their movements and ball games, we have introduced a menu that gradually raises the level of skills. As the coaches shared the magic words "never give up," we were able to hear many voices of the children saying, "I did it!" The event concluded with a game, in which the children worked hard right to the end. Thanks to the active participation and enthusiasm of the teachers, we were able to conduct a very productive traveling guidance experience.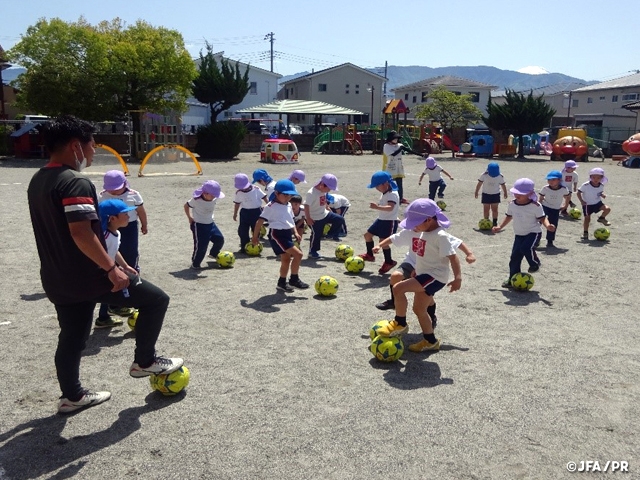 Coaches and Teacher's Comments
KURIBAYASHI Hidetoshi (Yamanashi FA Traveling Guidance Staff)
The children at Osato Kindergarten were full of energy and chased the ball with great enthusiasm during the football games. During the dribbling practice, they turned well, stopped before bumping into their friends, and controlled the ball very well. It was impressive to see them all celebrating after scoring a goal.
YAMANE Yudai (Yamanashi FA Traveling Guidance Staff)
The children at Osato Kindergarten tried the tricks taught by the coaches and came to show us how to do them, saying "I did it!" with a happy look on their faces. They controlled the ball well with their feet and were able to score a lot of goals.
KAMEI Mayu, Teacher (Kofuosato Kindergarten)
Thank you very much for today. The children were excited and looking forward for this event from the day before. The children who had never played football before seemed to have a great time and it was a good stimulus for all the children regardless of whether they had the opportunity to play before or not. They were taught not only the rules of football, but also the importance of working together to achieve a goal in everyday life. It was a great learning experience for us, too. Thank you for making it an enjoyable time.