NEWS
Walking Football class held at J-GREEN Sakai
13 April 2021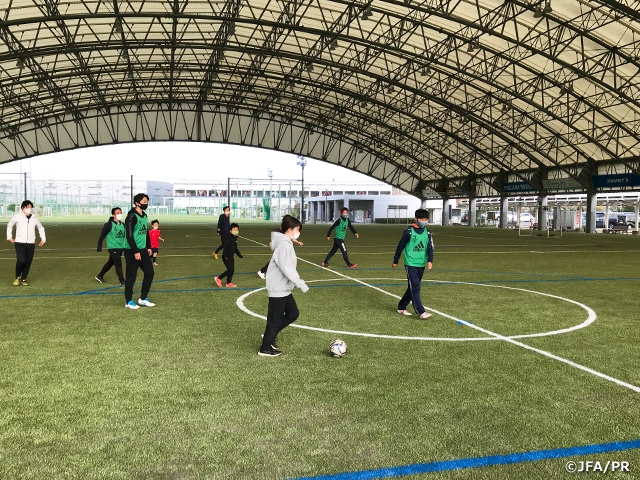 On Thursday 1 April, a walking football class was held at J-GREEN Sakai in Osaka, where people from Sakai City, Osaka Football Association, Cerezo Osaka, Gamba Osaka, and J-GREEN Sakai participated.
Following a lecture on the history of walking football, rules, applications of the sport, the participants were given the opportunity to play walking football. It provided a wonderful platform for experienced football players, women, children, and inexperienced participants to interact and enjoy the sport together.
The class utilised various balls to play the game, such as size-4, futsal, size-7 (for electric wheelchair), and rugby balls, keeping the participants entertained and laughing throughout the session.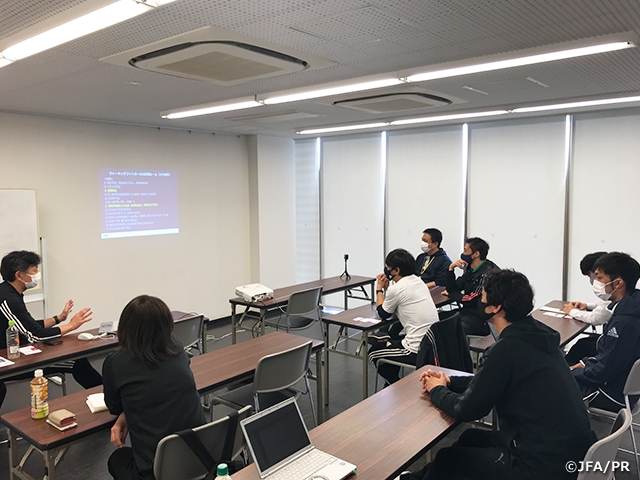 Participants' Comments
Mr. OTSUKI Ryota (Osaka Football Association)
With the help of Cerezo Osaka, Gamba Osaka, Sakai City, and J-GREEN Sakai, we were able to conduct this class to promote walking football. During this class, we made up original rules and utilised various balls from other sports to keep everybody entertained. Walking football is a sport everyone can enjoy regardless of age, with or without disabilities, so we hope to conduct these events periodically in Osaka.
Ms. ITO Yuka (Cerezo Osaka Co., Ltd.)
After hearing the reports from the J.League and the clubs that held them, I had been interested in walking football for some time, but never had the opportunity to experience it, so this was something I was really looking forward to do. Even for someone like me, who have only played football recreationally, this was a very fun sport. At first, I wondered how to explain the rules to those who have never even watched football. We were then explained that the rules can be changed depending on the participants, because the purpose of the sport was to have fun. We were also told that the games will be played without referees and that we will be self-judging our own games. Although I was sceptical about the whole circumstance, it all made sense once I actually played it. I felt that it was a sport that can be played and enjoyed by everybody, regardless of their age, gender, whether they have disabilities or not. There were many scenes where we couldn't help ourselves from running (including myself), and we just laughed about it without blaming anyone. It is definitely a sport you can enjoy with people you met for the first time, and I felt that it has a great potential to become a popular sport in the future!
Mr. SHIBATA Hidetoshi (Gamba Osaka Co., Ltd.)
After attending this walking football class, I was most intrigued by the fact that we were allowed to change the rules according to the level/age of the participants, and the situation at that time, so that everyone can enjoy playing the sport. It gave me the opportunity to think of ways to make everyone equally happy.
Mr. SATO Junichi (J-GREEN Sakai)
This was my first time joining the walking football class, and it was actually very tiring to play the game with variety of rules and balls. We will try to implement the sport into the future activities held at J-GREEN Sakai. The fact that we can change the rules depending on the level of participants is a wonderful virtue of this sport. Everybody at this event were having a great time, and it really felt like this was a sport that could be enjoyed by men and women of all ages. When holding an event, it might be fun if we can have everyone put on a pedometer and give out individual awards to the person who walked the most. To begin with, we will implement it as one of the contents of our events and try to promote the sport, so that one day we can hold an event dedicated to walking football.