NEWS
From Pitches in Asia – Report from JFA Coaches/Instructors Vol. 62: TAKAHASHI Hideharu, Head Coach of U-17 Bhutan National Team & U-15・U-18 BFF Academy / Academy Youth Director
11 March 2022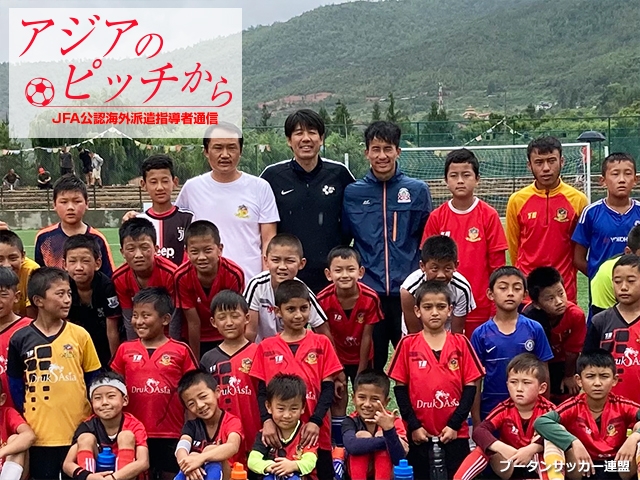 The Kingdom of Bhutan is surrounded by India to the south and the Himalayas to the north, and is about the size of Kyushu in Japan. The population is around 740,000, a little more than my home prefecture of Kochi. The country is rich in nature, with no traffic lights on the roads and no tall buildings. Most people wear traditional dress and use English at work and school.
On weekday mornings, I facilitate staff meetings with 10 coaches of all categories, including the head coach of Bhutan Senior National Team, where we exchange ideas to establish a mutual understanding among the coaches. On the pitch, I demonstrate first, and once the coaches and players understand the drill, I leave the coaching to those in charge of each station, while I observe the whole session and provide instructions as needed. In particular, players in Bhutan are used to a unilateral coaching approach, which limits their ability to think on their own and play with creativity. That is why we are encouraging them to actively ask questions to their coaches, and to emphasise "fun and quality" when playing football.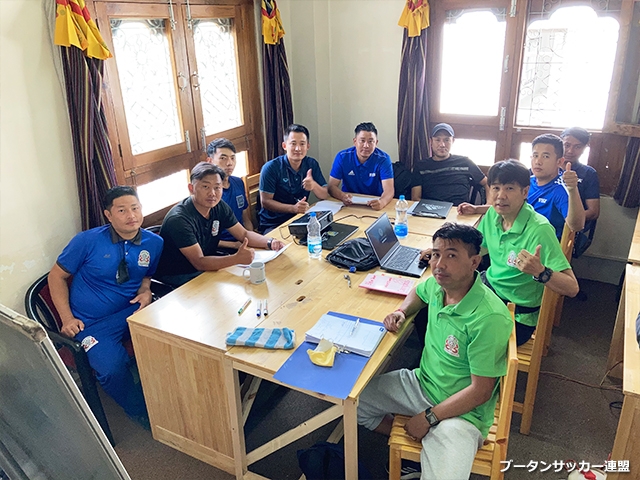 The popularity of football in Bhutan is extraordinary. Even on weekdays, adults play football from six in the morning until midnight, but grassroots activities have barely begun. In this country, the priority has always been placed on the enjoyment of adults. In the future, it is important that they realise the enjoyment of raising and developing children while they enjoy the sport themselves. What I want to do the most through my work in this country is to bring the joy and excitement of coaching and to work with the people of Bhutan to create an environment where great coaches and players are developed.
In a country where people speak a different language, I realised that without the help of my colleagues, I could do nothing on my own. What I learnt over the past year was that "the more people you have on board, the bigger the job you can accomplish." Which also taught me the importance of keeping a smile, showing gratitude, and helping others even in the smallest of ways. By learning and working with such an attitude, it allowed me to make great friends, and helped me realise that "everything is up to my decisions." I feel extremely happy and privileged to be able to learn from my experiences in Bhutan and contribute to the development of football in this country.