NEWS
S-Licence Coaching Course 2020 Module 1/Short-course (1) Participant's Report Vol. 1
07 September 2020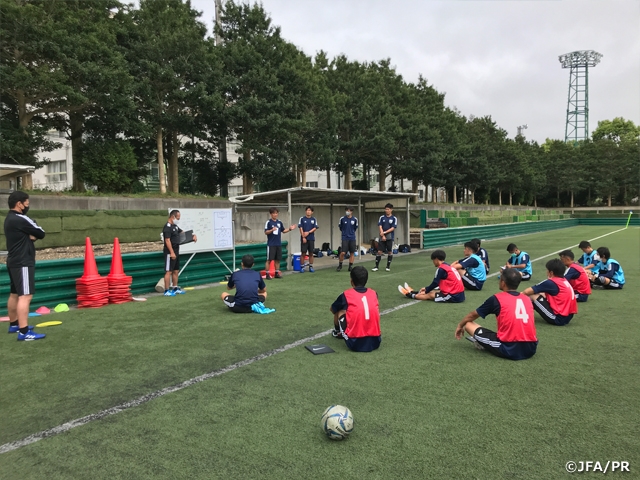 The S-Licence Coaching Course 2020, which was originally scheduled to start on Saturday 4 April, got off to a start five months later.
In order to prevent the spread of COVID-19, Smart Amp tests were conducted to all participants, instructors, and staff members upon arrival. The group then moved to Kashima Heights to conduct the course's opening ceremony. Participants watched matches on TV to conduct match analysis, while the outdoor training session was replaced by a team building activity. On the fifth night, Mr. WAKABAYASHI Taichi, who is the analyst of this year's UEFA Europa League champions Sevilla FC, appeared in an online lecture session, where participants were given the opportunity to ask questions
Effected by COVID-19, all courses will be held online this year. Practical coaching sessions will only be held in the form of short courses and these short courses will be held more frequently, allowing participants to use the time in between to study on their own. Participants had their health checked two weeks prior, and hygienic procedures were strictly followed throughout the course. Although the course was held under many restrictions, participants, support players, and staff members did a great job to follow the rules to conduct a productive course for six days.
Starting on Monday 7 September, online lecture courses will be held for three weeks.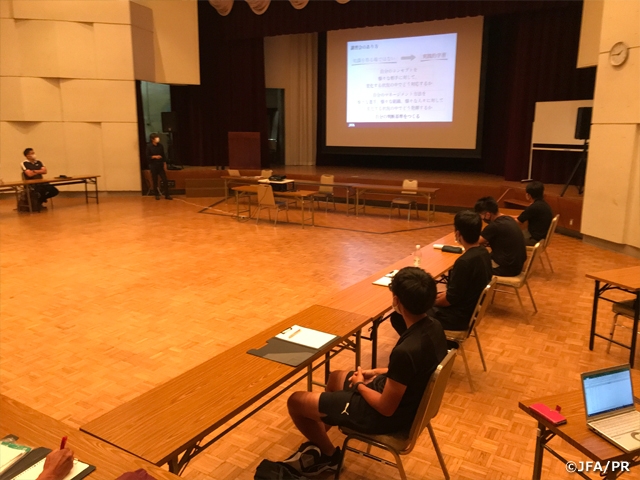 Module 1 Short-course (1)
Dates: Sat. 29 August – Thu. 3 September
Venue: Kashima Heights Sports Plaza, Ibaraki
Sat. 29 August
Opening ceremony, Course guidance, Team building (Mr. FUKUTOMI Shinya),
Game analysis, Group work
Sun. 30 August
Analysis presentation, Condition check game, Practical coaching session
Mon. 31 August
Practical coaching session, Review session
Tue. 1 September
Practical coaching session, Review session
Wed. 2 September
Practical coaching session, Review session,
Guest speaker: Sevilla FC analyst Mr. WAKABAYASHI Taichi
Thu. 3 September
Practical coaching session, Guidance
Instructors: SUZUKI Jun, OIWA Go, IKEUCHI Yutaka, UCHIYAMA Atsushi
Participants' Comments
Mr. IWAMASA Daiki
Despite the ongoing pandemic, we were finally able to hold this year's S-Licence Coaching Course. Without everyone's support, we were not able to make this possible, so we are incredibly grateful to be given this opportunity.
The course started with a practical coaching session, where 16 participants were divided into four groups, each acting as a team of coaching staff. With each participant given a role, teams worked to construct our own training session, which followed by a review session to discuss about our approach. Although we all seemed to be hesitant at first, we started to hold heated discussions once we got used to each other. The course was exhausting, but as the course progressed I was getting less and less sleeping time, because of all the discussions held after each session. The outcomes of each session were not that important during this course. It was important that we were all involved in the planning, executing, reviewing, and discussion process of these sessions. The knowledge and experience gained from these sessions were just immeasurable. Through these unordinary experiences, we were able to challenge ourselves and find new aspects about ourselves. We will now return to our own teams for a while, but I feel like we can demand our players to think and challenge themselves more often. This wonderful course was made possible because of the unbiased and open minded participants. Each participant showed their eagerness to learn, while also displaying both confidence and humbleness. That is why our vision is always looking forward, towards our future selves. Through this course, I was able to learn how exciting it can be to discuss football with such people, and that Japanese football still has a bright future.
This year's S-Licence Coaching Course has just started, but we still have a long way to go. There is no stopping from here. I cannot imagine what awaits us at the end, but what I know now, is that we will be a better version of ourselves when we complete this course.
Next week we will share the report of Mr. OTANI Takefumi (Cerezo Osaka).
Mr. OSHIMA Yasuaki
This year's S-Licence Coaching Course has finally begun. The course was originally scheduled to start in April, but with the effects of COVID-19, the course was postponed until 20 August.
We first gathered at Yume-field and got tested for COVID-19 before moving to Kashima Heights. JFA has taken strict measures to prevent the spread of the virus, and we are grateful for their thorough approach.
Once arriving at Kashima Heights, JFA Technical Director SORIMACHI Yasuharu gave us an online lecture before instructor Suzuki gave us an orientation of the course. Following the orientation, Mr. FUKUTOMI Shinya guided us through a team building activity, where we went through case studies of real life situations. This activity allowed us to learn how issues can be solved by sharing different ideas among a group.
At night, we analysed the match between Urawa and Oita, where we got into groups of four to hold presentations on how the team can improve ahead of the next game week. Based on the group analysis, we assigned each person as coach, assistant coach, goalkeeper coach, and physical coach to plan and execute a training session. The session was followed up by a discussion to review and rebuild the training plan. During the discussion, participants shared opinions on the coaching balance, methods, importance to give directions, relationship between coaching staffs, and approaches for teams that are not showing improvements. The discussions were sometimes so heated, we kept talking until late at night, but as a whole, we were able to spend an extremely productive time together.
On 2 September, we took part in a lecture held by Mr. Wakabayashi, a Japanese analyst who works for this year's UEFA Europa League champions Sevilla FC. Through his lecture, we were able to learn how matches are being analysed in Europe, and his stories have given me great inspiration.
During the span of this course held at Kashima Heights, I was literally brainstorming the whole time. My mind was filled with different people's opinions and information, and I was constantly trying to organise all the information in my head, as we held numerous discussions. This course has fuelled me with more motivation to work even harder to become a better coach.
Lastly, I would like to thank the players from University of Tsukuba for their role as the supporting players.