NEWS
What do junior high school students think of fair play? Variety of topics discussed at the Children's Conference U-15 DAY 2
22 December 2021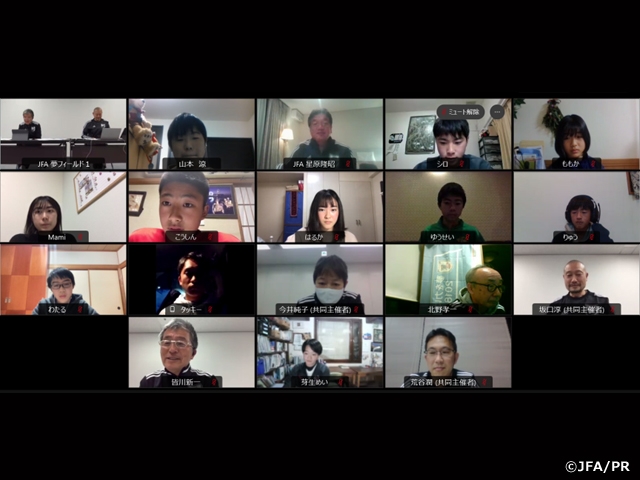 Day two of the "Children's Conference U-15" was held online on Sunday 19 December, with 11 junior high school students taking part in the event to discuss the future of football in Japan.
Having met each other on day one, on Sunday 28 November, the participants all had a friendly look on their faces when they logged in before the event. After having a lively discussion with the facilitators, Mr. SAKAGUCHI Atsushi and Mr. MINAGAWA Shinichi, about the Emperor's Cup JFA 101st Japan Football Championship final which took place earlier that day, day two started with the theme of "What makes us grow up."
Similar to day one, participants were divided into groups to discuss a number of topics, as each group had a designated facilitator and a secretary to carry out the discussions. Here, Mr. HOSHIHARA Takaaki and Mr. KITANO Koichi joined the session as group work leaders.
The first question was "What is a good match?" Some of the responses to this question included, "a clean match," "a match that makes you want to play again," "a close match," and "a match where everybody communicated well." When asked for a specific example of a clean match, one participant mentioned, "We conceded a goal just before the end of the match, but the opponent player gave us words of encouragement afterwards. It made me think that I want to try again and play a good match." While another participant said, "There was a player on our team who kicked the ball out wide but didn't go get the ball. That's the kind of behaviour we need to get rid of."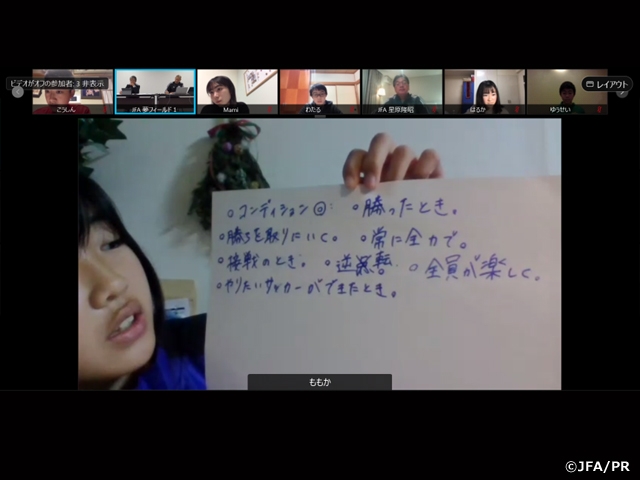 In response to the next question, "What is a good practice?" the participants answered, "a practice that is like a match" and "a practice that allows the players to teach each other." One participant answered, "a practice that is fun for the coach too," based on the experience that "when the coach is happy at practice, the whole team feels happy."
When asked "Have you ever had a defining moment that changed your perspective?" a participant commented, "Having a friend who plays for a J-Club academy team made me want to get involved in football and pursue my referee qualification." Many of the participants of this event were qualified referees, showing that there are variety of ways to get involved in football.
The next topic was "Fair play, respect, and taking care of others." Here the stories of how the Nadeshiko Japan (Japan Women's National Team), U-20 and U-17 Japan Women's National Team all won their respective FIFA Women's World Cups, while also winning the Fair Play Award was introduced. Another episode of the SAMURAI BLUE (Japan National Team), where they cleaned up the locker room after being eliminated from the 2018 FIFA World Cup Russia™ was shared. "Cleaning up after yourself is part of the Japanese culture which everyone has been doing since they were young. I think it is also connected to fair play," said Mr. Sakaguchi, prompting the participants to nod in agreement.
In light of all the discussions held on this day, the participants wrote a "Declaration of Respect" at the end of the conference. Day two ended with the participants pledging their "Declaration of Respect," such as, "to be grateful for the opportunity to play football," "never cut corners," and "become someone that is cheered by others."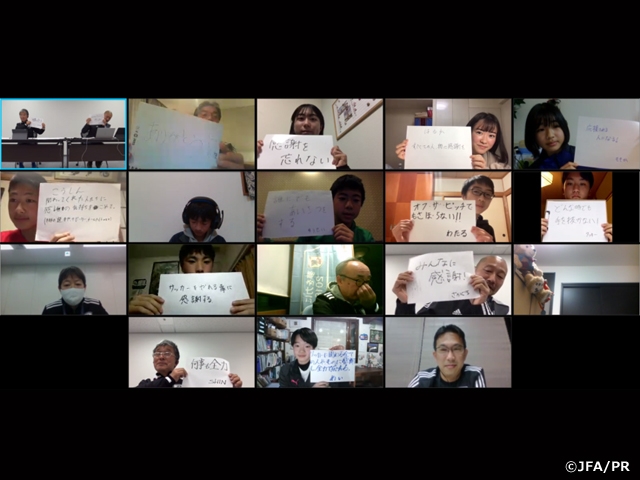 Participants' Comments
SAKAGUCHI Atsushi, JFA Sports Managers College (SMC) Director
In the first half of the session, we asked the participants to discuss "a good match," "a good practice," and "their turning point experiences." We heard a lot of great stories on all three topics. The second theme was "Fair play, respect, and taking care of others" and the "Declaration of Respect." Everyone did a great job of incorporating the topics discussed in the first half. We really enjoyed the experience and got a lot of feedback that will not only benefit us, but the participants' future career. I am looking forward for the next conference.
HOSHIHARA Takaaki, JFA Youth Development Director
There were plenty of opinions shared by the participants, which I thought made the whole discussion a very rewarding experience for us coaches. I hope everyone will remember what we discussed today, and I am looking forward to seeing what the future holds. I had a great time today.
KITANO Koichi, JFA Kids Project
It was fun to hear everyone's different opinions. I am looking forward to the next conference, and I hope that the junior high school students who are participating in this conference will be able to speak their minds, as this is a rare and precious opportunity for them.
SHIROTORI Ryota, Participant student (Second grade of JHS)
With this being my second time attending the conference, I found myself enjoying the experience. Even though I always think about football, I don't often have the opportunity to reflect or express my opinions, so I was glad to be able to speak my mind today.
SUZUKI Momoka Participating student (First grade of JHS)
This was the second day of this Children's Conference, so I was not as nervous as the first day and was able to enjoy myself throughout the session. I enjoyed hearing everyone's perspectives on the game, training, and fair play.