NEWS
JFA renews partnership with FC Bayern München
30 November 2021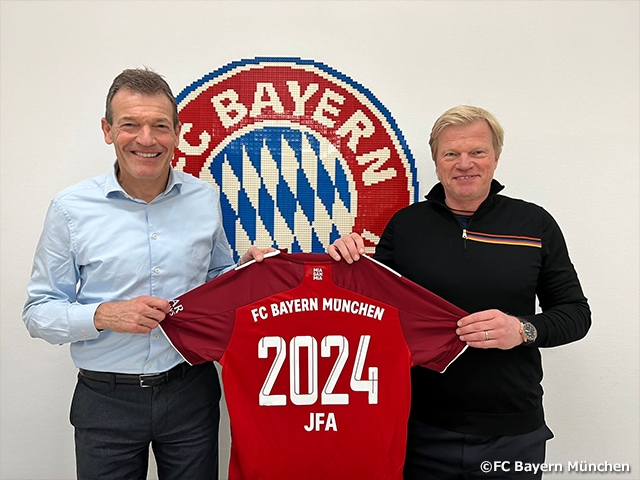 Japan Football Association (JFA) has signed a renewed Memorandum of Understanding (MoU) with FC Bayern München (FCB).
The MoU focuses on knowledge sharing and exchange programmes in order to cooperate together for further development of football at both FCB and Japan.
Both parties agreed that football exchanges can be enhanced through the renewal of MoU, and expressed expectations for future initiatives.
The MoU between FCB and JFA focuses on the following key areas of cooperation:
1.Collaboration and exchange of information between JFA Academy and Youth academy of FC Bayern Campus
2.Collaboration between top teams
3.Exchange related to grassroots programmes
4.Player development for JFA youth national team players
5.Joint online workshops
Comments:
Oliver KAHN, FC Bayern München CEO:
Japan is one of the strongest countries in Asian football. I was able to experience the Japanese enthusiasm for football at the 2002 World Cup. The continuation of the partnership with the Japanese Football Association brings us together in a common goal of developing world-class players. That requires close sporting exchanges. We are proud we already have a world-class player in our women's ranks in Saki Kumagai, a familiar face in Japanese football.
Andreas JUNG, FC Bayern München Marketing Director: 
The Japanese market is particularly interesting for FC Bayern. We set up our first FC Bayern Football School in Japan several years ago. Now, with the extension of this partnership, we want to add another component to our international strategy.
TASHIMA Kohzo, JFA President:
We are very delighted to extend our partnership with FC Bayern München, one of the most prestigious top clubs in the world from whom we have a lot to learn, such as player development and team building strategies. Since signing the MoU in 2018, we have been able to cooperate in a number of different areas. One highlight of our collaboration is sending Japanese youth players to FCB. Through this exchange, we have been able to gain valuable knowledge and information, including coaching methods and talent identification. At present, KUMAGAI Saki plays for FCB Women's top team. In the near future, we hope to send female youth players to FCB for our mutual development through our player exchange programme. We are convinced that this partnership MoU will be a very fruitful one for both parties.
SORIMACHI Yasuharu. Technical Director, JFA Technical Committee:
We are very happy and honoured to extend our partnership for another three years with FC Bayern München, one of the biggest clubs not only in Germany and Europe, but in the world. JFA's Technical Committee focuses on the "four pillars" of football development - national team development, youth development, coaching education and grassroots, and I believe that it is important for JFA to share our views and ideas with FCB for the future development of football in Japan. We look forward to further exchange with FCB and continuing to build an even stronger relationship.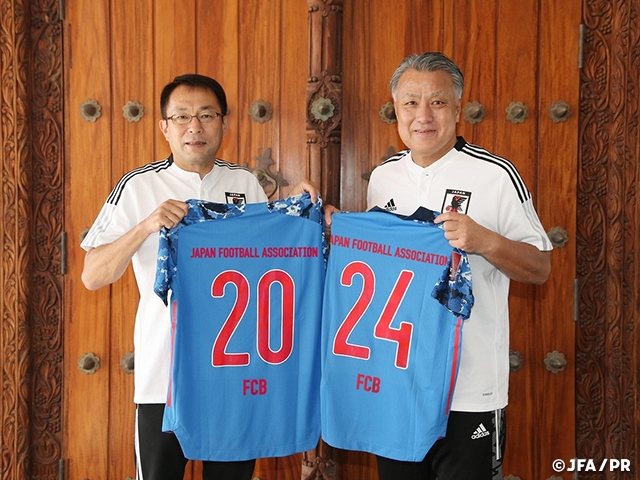 Until today JFA has signed a MoU with the following football associations, confederation and club:
Asia
[East] Chinese Taipei, Hong Kong, Mongolia
[ASEAN] Indonesia, Laos, Malaysia, Singapore, Thailand, Vietnam
[Central] Iran, Uzbekistan
[West] Jordan, Oman, Qatar, United Arab Emirates
Europe
Belgium, Denmark, England, France, Germany, Russia, Spain, FC Bayern München
South America
CONMEBOL, Argentina, Paraguay, Venezuela