NEWS
SWH Ladies Nishinomiya wins revenge match to claim second national title at the JFA 17th Japan Women's Futsal Championship
02 November 2020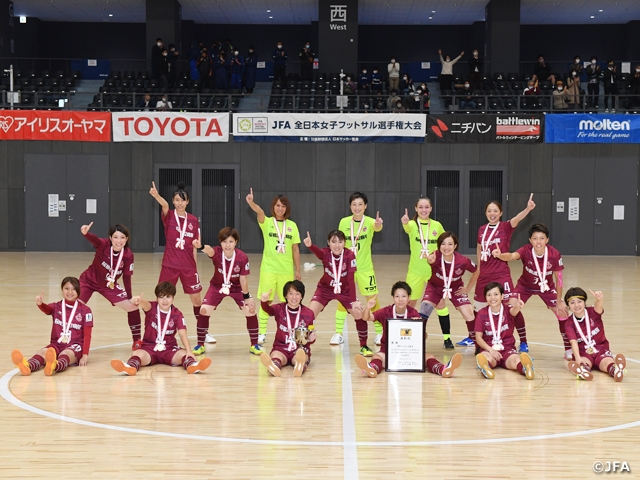 The final day of the JFA 17th Japan Women's Futsal Championship took place on Sunday 1 November, where the third place match and final were played to determine the national champions.
At the third place match, Saitama SAICOLO (Kanto2/Saitama) and Arco Kobe (Kansai2/Hyogo) went head to head. After showcasing solid defensive performances against Fukui Maruoka RUCK (Hokushinetsu/Fukui) and SWH Ladies Nishinomiya (Kansai1/Hyogo) at the quarterfinals and semi-finals, Saitama took the initiative against Kobe, with a goal scored by IKADAI Risa in the sixth minute. However, Kobe's WAKABAYASHI Eri converted a corner-kick with a header to equalise the match in the 15th minute, followed by the go-ahead goal scored by TSUTSUMI Saki, just moments later. With momentum on their side, Kobe started a goal spree in the second period, with SEKINADA Minako, TAKABATAKE Sanae, and YAMAKAWA Rikako each scoring a goal to make it 5-1. In efforts to rally back, Saitama initiated their powerplay in the closing minutes, but conversely allowed Sekinada to score Kobe's sixth goal, which sealed the deal. As a result, Arco Kobe claimed third place with a 6-1 victory.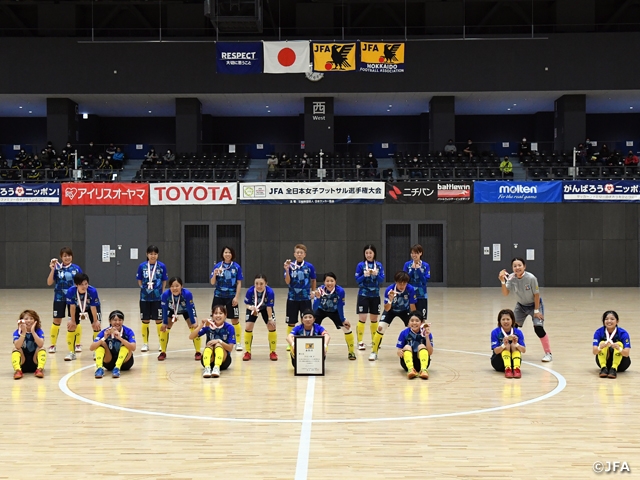 The championship game featured the same card from last year, as Bardral Urayasu Las Bonitas (Kanto1/Chiba) squared off against SWH Ladies Nishinomiya. While it was Bardral Urayasu who were the aggressor in the starting minutes, SWH Ladies also displayed some sharp counterattacks to threaten the Urayasu goal. With the two GKs, SUGIYAMA Aiko and YAMAMOTO Ayaka, showcasing superb performances in front the goal, the match turned into an intense defensive battle, as the first period ended scoreless.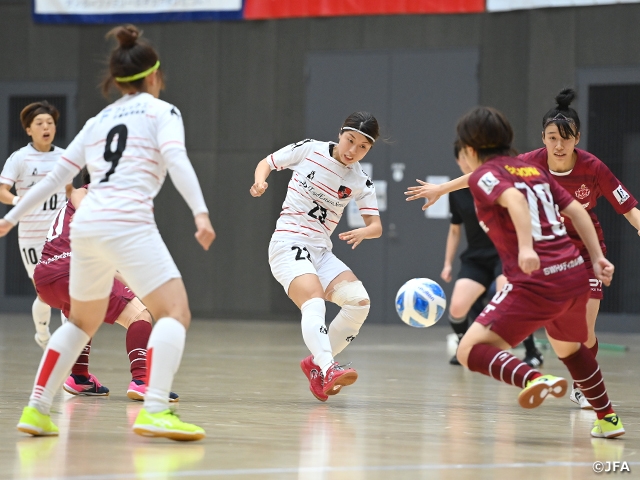 The deadlock was broken in the second period, when SWH Ladies' AMISHIRO Anna connected with a lobbing pass delivered by EGUCHI Mika in the 23rd minute. "I made eye contact with Eguchi and although the delivery was a bit high, I was committed to take a shot." With the volley shot taken by Amishiro piercing the Urawa goal, the Hyogo side earned their long awaited lead.
Despite conceding the opening goal, Urawa managed to keep their composure and gradually picked up their rhythm. With SWH Ladies sticking with the same set of players, the defending champions started to outrun the opponent to take control of the match, but struggled to convert their chances, even after initiating their power-play. However, the equaliser came with just 12 seconds remaining on the clock, as NAKAI Hitomi converted a pass delivered by YOTSUI Saki to strike a shot into the Nishinomiya goal.
With the match tied 1-1 at the end of the second period, the match entered a five minute overtime, which ended scoreless, sending the match into penalty shootouts. After the first five players from both sides successfully converting their spot kicks, Yamamoto saved Urawa's seventh spot-kick to give SWH Ladies their second national title.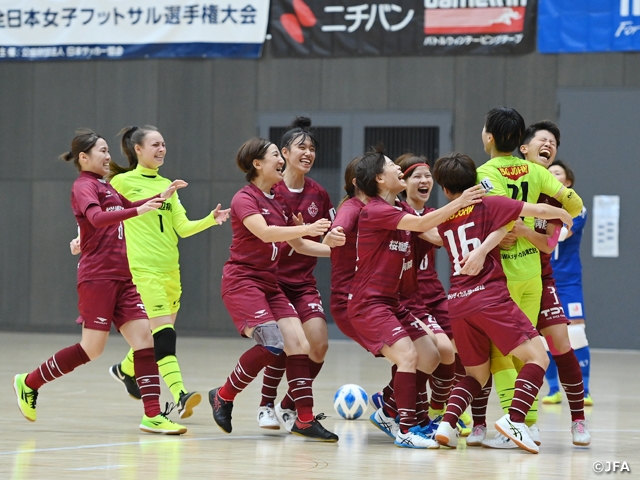 Coach and Players' Comments
KAMIKUBO Yoshitaka, Coach (SWH Ladies Nishinomiya)
We were finally able to relinquish our role as a silver collector, and I am genuinely happy. This tournament is a special tournament that determines the true champion of Japan, and we desperately wanted this title, so we are glad that we were able to win it. However, after losing 0-1 last year, I wish we could have won this match 1-0. When we conceded that goal with just 12 seconds left, I really regretted my decision to not take the time out. I must have been thinking, "We got this" or "We have won the match." It is an aspect I must improve on, and there were many other parts of our game that I was not satisfied with, so we hope to make the necessary adjustments to become a better team.
AMISHIRO Anna (SWH Ladies Nishinomiya)
After scoring the opening goal against Saitama at the semi-finals, we conceded a goal and fought through penalties, so we were pretty fatigued before facing Urawa at the final. However, we still remembered the bitterness we tasted last year, so we were super motivated for this match. We played a tough opponent who made us run a lot, so I am exhausted. We will rest up today and tomorrow before resetting our minds towards the Women's F.League, where we are undefeated. We hope to carry this momentum to win the league title in our first season at the league.
NAKAI Hitomi (Bardral Urayasu Las Bonitas)
I do not remember precisely what happened when I scored the equaliser, but I remember that Yotsui delivered the pass and I struck a shot with my left foot. While playing on the pitch, it did not feel like we were performing horribly, but not that great neither, so the match could have gone either way. We tried to showcase a total team effort and I think we were able to work hard as a team. We hope to add more options to both our offence and defence, so once we rest up, we will get back to work and prepare ourselves for the next competition.
IKADAI Risa (Saitama SAICOLO)
Personally, this was my first time playing in the Japan Women's Futsal Championship. With this being a knockout tournament, we had our chance to win the title, but I feel like we played beyond our abilities to reach this far, so we simply did not have what it takes to win this tournament. Each opposing team made adjustments to our play style, so instead of just staying upfront, I intentionally made the adjustments to drop back to help out my teammates. We lost the third place match with a huge margin, but the fact that we managed to play a close game against Nishinomiya at the semi-finals gave us great confidence. Through this tournament, we learned that a small fraction could end up being a huge difference, so we will work on the small things each day to improve ourselves both as a team and as an individual.

JFA 17th Japan Women's Futsal Championship
Tournament dates: Fri. 30 October – Sun. 1 November 2020
Tournament venue: Yotsuba Arena Tokachi, Hokkaido
Tournament information