NEWS
Heated competition leads to same final fixture from last year - JFA 17th Japan Women's Futsal Championship
01 November 2020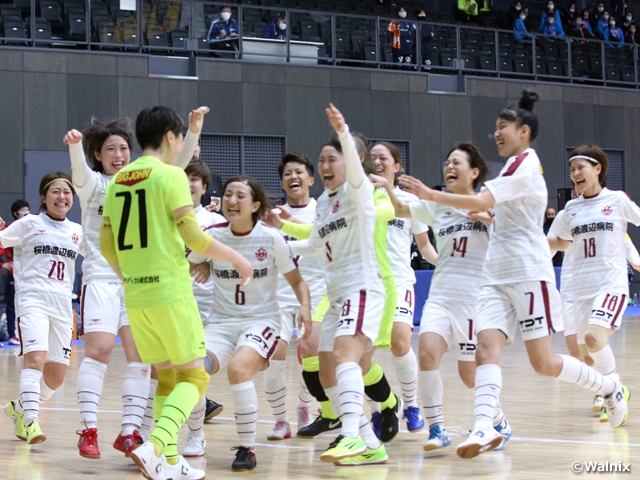 The second day of the JFA 17th Japan Women's Futsal Championship took place on Saturday 31 October, where four quarterfinal and two semi-final fixtures were played to determine the final two teams.
The first set of quarterfinal matches featured a match between Saitama SAICOLO (Kanto2/Saitama) and Fukui Maruoka RUCK (Hokushinetsu/Fukui) on pitch A, while SWH Ladies Nishinomiya (Kansai1/Hyogo) and DELIZIA Iwata Ladies (Tokai2/Shizuoka) clashed on pitch B. It was Fukui Maruoka who dominated the ball possession on pitch A, but struggled to convert their opportunities, as the first period ended scoreless. On pitch B, SWH Ladies took the lead in the 14th minute, when EGAWA Ryo scored the opener, but Iwata soon converted a set-piece to equalise the match within the first period.
It was Saitama who broke the deadlock on pitch A, as MATSUMOTO Naomi responded to a quick pass sent by ISHIHARA Misato and score the opening goal in the 23rd minute. Matsumoto, who scored two goals in the first round mentioned that "It really boosted my confidence." Trailing by a goal, the Fukui side rallied by collecting the ball to their ace KITAGAWA Kana, but Saitama defended well to keep their one goal lead, notching a 1-0 victory.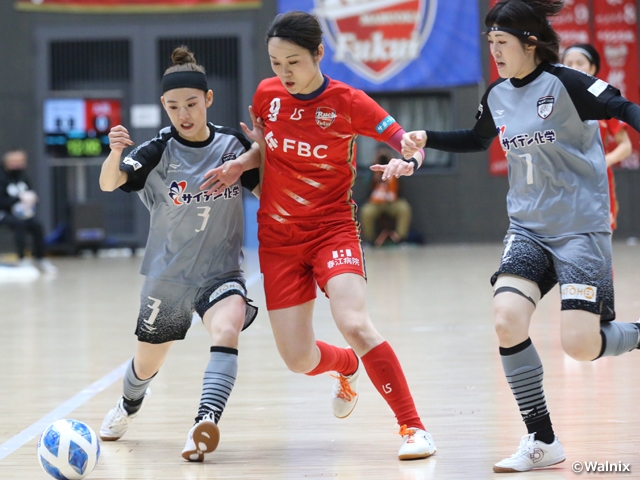 With Iwata entering the match with only seven field players, they started to run out of gas in the second period, allowing SWH Ladies to dominate. Following the 24th minute goal scored by OINO Sara, the Hyogo side went onto a goal spree, scoring 10 goals in the second period alone, finishing the match with a final score of 11-1. Following the match, Iwata's KANO Mie mentioned, "It was a tough match in terms of our fitness, but I wish we could have showcased our usual futsal a bit more."
In the second fixture played on pitch A, Sapporo BONITA FC (Hokkaido) challenged the three time Women's F.League champions, Arco Kobe (Kansai2/Hyogo). Despite giving up the opening goal to TAKABATAKE Sanae, former player of Sapporo BONITA FC, in the fifth minute, the Hokkaido side kept their composure to maintain a close match. After Takabatake scored another goal in the 24th minute, Sapporo rallied to threaten the Kobe goal, but fell short from finding the net. Conversely, Kobe's YAMAKAWA Rikako scored a goal before the final whistle to seal the deal, as Arco Kobe won the match 3-0. Despite suffering a shutout loss, Sapporo's KUDO Michiru remained positive, "We will make the most of this tournament to become a better team and try to score a goal when we face them again."
On pitch B, the defending champions Bardral Urayasu Las Bonitas (Kanto1/Chiba) squared off against Member of the GANG (Tokai1/Mie). After playing the first round with just eight field players, the Mie side looked fatigued from the early minutes, allowing Urawa to score seven goals in the first period alone. With the team adding three more goals in the second period, Bardral Urayasu advanced to the semi-finals with a final score of 10-2.
The two semi-final fixtures turned out to be an instant classic. On pitch A, SWH Ladies Nishinomiya's EGUCHI Mika scored two goals in the first period to take the lead against Saitama SAICOLO. However, Ishihara scored a goal at the start of the second period to cut Saitama's deficit in half, followed by the equaliser scored by HOTTA Eriko in the 32nd minute. With both sides struggling to untie the knot, the match went into PKs, where SWH Ladies' GK YAMAMOTO Ayaka made two superb saves to send her side to the tournament final for the second straight year.
After drawing 2-2 at an F.League fixture played a week ago, Arco Kobe and Bardral Urayasu Las Bonitas clashed once again. With Urawa's HAMANO Mizuki scoring the opener in the 10th minute, Kobe responded with a 27th minute goal scored by Yamakawa to equalise the match. Hamano's second goal of the match in the 31st minute was matched by KADOI Megumi's goal just a minute later to keep the score tied. Just as time was about to run out, Urawa's ITO Kaho scored a 40th minute goal, sending Urawa to the final, giving them the chance to win back-to-back titles at the Japan Women's Futsal Championship.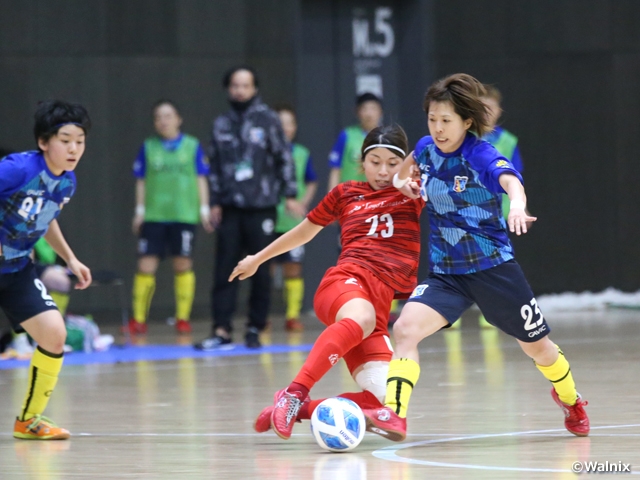 With this result, Saitama SAICOLO and Arco Kobe will play in the third place match, while the final fixture will be a rematch from last year, as SWH Ladies Nishinomiya and Bardral Urayasu Las Bonitas will clash once again. The third place match will kick-off at 10:00 and the final at 13:00 on Sunday 1 November. We will see if Urawa can repeat the feat, or if SWH Ladies can have revenge from last year.
Players' Comment
EGAWA Ryo (SWH Ladies Nishinomiya)
Our way to the final was not easy, but we are now set to have our revenge from last year. We were shutout in last year's final, and although we won against them at the Regional Champions League, I was ejected from that match, so I personally have not done anything against my former team. I am hoping to leave a mark at the final while leading my team to victory. I sustained an injury at the semi-final, but I am ready to sacrifice my body to fight through the final and win the title.
ITO Kaho (Bardral Urayasu Las Bonitas)
I have always believed that my goals can lead my team to victory, but I have not been able to earn as many results as I wished for. At this match, I was able to score a goal at a crucial moment and help the team win, so I am just really happy now. I feel that the final goal was led by our team's strong will to win the match. We will now face SWH Ladies, who we have won at the championship, but lost at the Regional Champions League. They are probably the best team of this tournament, but we will not play passively against them. We will give our best efforts as a team to showcase what we have worked in trainings and try to win the title.
SEKINADA Minako (Arco Kobe)
This was my first outing at the Japan Women's Futsal Championship in two years, but I had a lot of fun. I just have to tip my hat to Urawa for their ability to score goals and close out the match. It was evident when we faced them at the F.League, but they once again showed how well they can work together as a team. A former teammate, KATO Masami was on their team, so I really wanted to win the match, but nonetheless, I had great fun. Now we will be playing in the third place match tomorrow. We should be grateful that we are able to play another match despite the current situation surrounding the society, so we will give our best to finish off the tournament with a victory.
KUDO Homare (Sapporo BONITA FC)
I have always idolised Arco Kobe, so I was excited from last night. They were so strong, and this match has given me a wonderful learning experience. Our team worked extremely hard in defence, so I as a GK, I was able to believe and depend on the field players. Through this tournament, we were able to see what we need to do to improve both of our offence and defence, so we hope to make the most of this experience to become a better team.

JFA 17th Japan Women's Futsal Championship
Tournament dates: Fri. 30 October – Sun. 1 November 2020
Tournament venue: Yotsuba Arena Tokachi, Hokkaido
Tournament information