NEWS
Defending champion Bardral Urayasu Las Bonitas starts off with a victory at the JFA 17th Japan Women's Futsal Championship
31 October 2020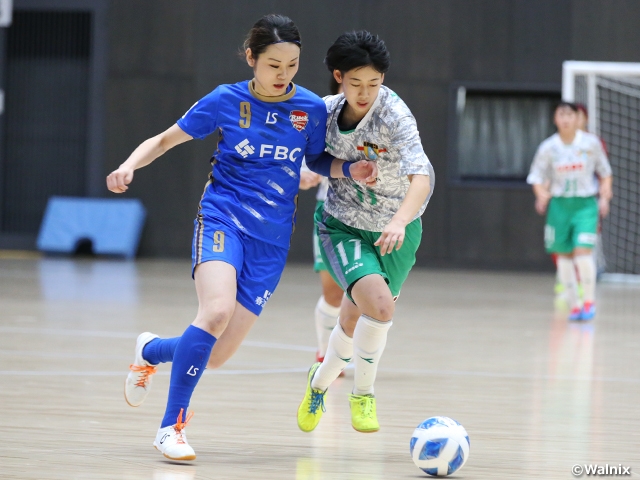 The JFA 17th Japan Women's Futsal Championship kicked-off on Friday 30 October, where eight first round fixtures took place.
16 regional representatives were assembled at Yotsuba Arena Tokachi in Hokkaido to compete for the national title. Unlike the past tournaments, this year's championship will be held in a knockout format from the first round.
The first match kicked-off at 10 a.m., as two Women's F.League sides, Espolada Hokkaido Irneve (Hokkaido) and Saitama SAICOLO (Kanto2/Saitama) squared off on pitch A. After the two sides exchanged a goal apiece in the first period, MATSUMOTO Naomi scored back-to-back goals in the 26th and 27th minute to give Saitama a two goal lead. Despite the rally showcased by the host representative, Saitama held onto their lead to win the match 4-3. On pitch B, Tokiwagi Gakuen High School (Tohoku1/Miyagi) squared off against Fukui Maruoka RUCK (Hokushinetsu/Fukui). Although it was the high school side who scored the opening goal in the fourth minute, the F.League side dominated the remainder of the match, as IKEUCHI Aki later reflected, "That first conceded goal really got us fired us." After TAKAO Akari scored a brace to take the lead, KITAJIMA Emi marked a hat-trick to extend the lead, as Fukui Maruoka RUCK won the match 8-2 to advance to the quarterfinals.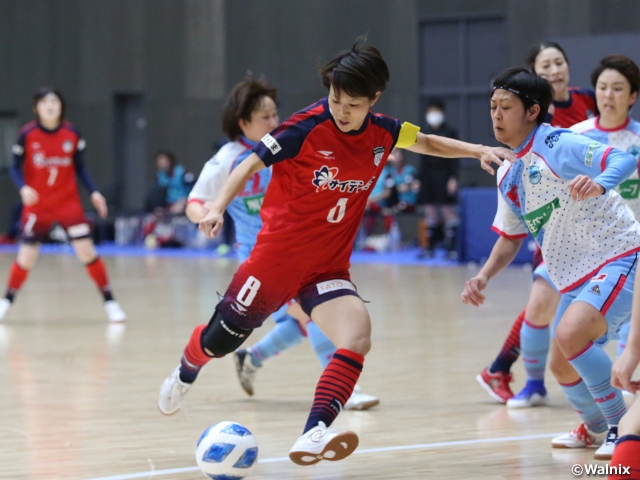 The second set of fixtures featured last year's runners up, as SWH Ladies Nishinomiya (Kansai1/Hyogo) faced Tapa Zida (Kanto3/Tokyo). Despite winning through the competitive Kanto qualifiers, Tapa Zida was not able to hold off the SWH offence, as the match ended with the Hyogo side winning 10-0, as Tapa Zida's GK MATSUO Eriko later mentioned, "We were not able to execute our defensive game plan and allowed our opponent to exploit our holes." Following the loss, coach UNNO Nobuaki shared his thoughts, "This was going to be a meaningful match for us regardless of the result. We hope to implement what we have learned from this match to become a better team." On the other pitch, DELIZIA Iwata Ladies (Tokai2/Shizuoka) defeated FC Redblue (Chugoku/Okayama) 4-1 to advance to the quarterfinals, where they will face SWH.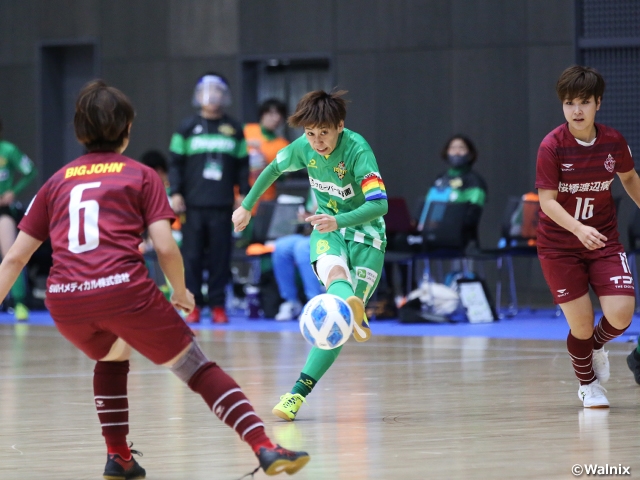 In the third set of fixtures, Primeiro Kumamoto (Kyushu/Kumamoto) played Sapporo BONITA FC (Hokkaido) on pitch A. Despite dominating the ball possession, Kumamoto struggled to convert their opportunities, while Sapporo's UTSUMI Kirara scored two goals from counterattacks. With Sapporo capitalising on their few chances, the team won the match 3-0 in their first tournament appearance, as coach YAMAGUCHI Antonio Hiroshi shared his appreciation towards his team, "We were able to win this match with the support of all of our staffs." On pitch B, Arco Kobe (Kansai2/Hyogo) defeated Fun Ladies Football Club 2009 (Tohoku2/Miyagi) 6-1.
The final set of fixtures featured the defending champions, as Bardral Urayasu Las Bonitas (Kanto1/Chiba) squared off against Kalebitch Ehime Ladies (Shikoku/Ehime). Despite showing great enthusiasm from the kick-off, Ehime struggled to stop the Urayasu offence, as the defending champions scored five goals in the first period. With CHIDA Hinako scoring a goal in the second period, Bardral Urayasu won the match 6-0 to start off the tournament in dominating fashion. On pitch B, Member of the GANG (Tokai1/Mie) faced Set Star Wakayama Ladies (Kansai3/Wakayama), where the two sides showcased a close battle until. With Member of the GANG leading by a goal, Set Star Wakayama made their final efforts to equalise the match, but the Mie side managed to hold onto their lead to win the match 2-1.
The second day of the tournament will take place on Saturday 31 October, where the quarterfinal and semi-final fixtures will be played. The first set of fixtures will kick-off at 10:00, while the second set will start at 12:15. The semi-finals are scheduled to take place at 17:25.
Players' Comment
NEKO Chiyumi (Tokiwagi Gakuen High School)
Our opponent was fundamentally sound and played with great speed, so there were many things we can learn from them. We entered the match as a challenger and we had nothing to lose, and that mentality led to that opening goal. However, despite entering the match with good momentum, we allowed our opponent to exploit our flaws. By playing futsal, we were able to work on our direct passes and foot skills, so we hope to utilise these skills in the upcoming football tournaments.
SAKATA Mutsumi (SWH Ladies Nishinomiya)
This was the first time this season where we had spectators watching our match. The crowd are not allowed to raise their voice and many restrictions still apply, but their presence help us get motivated and builds a positive vibe for the players on the pitch. We have prepared ourselves thoroughly for this match, but I assume that the association officials and tournament staffs have also gone through a lot to make this tournament possible. I am very thankful that we are able to play this tournament. Although I was able to score a goal, I still made many easy mistakes. If we can reach our full potential, we should be able to win this tournament, so we must reflect on today's performance and make the necessary adjustments to improve ourselves and win the title.
UTSUMI Kirara (Sapporo BONITA FC)
We always enter matches with a challenger's spirit, so I am glad that we were able to win today. I personally focused on raising my intensity level and taking shots when winning the ball upfront. I have not been able to contribute to our team in the recent matches, so I am glad that I was able to help our team win with my goal today. Tomorrow, we will face Arco Kobe, a team I have always watched on TV. I am fully aware that they are a superior team, so we will try to showcase our best performance against them.
TATANI Kanoa (Set Star Wakayama Ladies)
I have watched this tournament every year since I was in ninth grade and I always dreamed of playing on this pitch. There were teammates who were overwhelmed and in tears before kick-off. However, once the match started, I started to realise that I was not prepared enough, both mentally and physically. With this being a knockout tournament, we fought hard until the very end, but we needed to be more aggressive in offence to score goals. I wish we could play another match.

JFA 17th Japan Women's Futsal Championship
Tournament dates: Fri. 30 October – Sun. 1 November 2020
Tournament venue: Yotsuba Arena Tokachi, Hokkaido
Tournament information