NEWS
【Match Report】U-16 Japan National Team claim title with win over the Netherlands! - International Dream Cup 2023 JAPAN
05 June 2023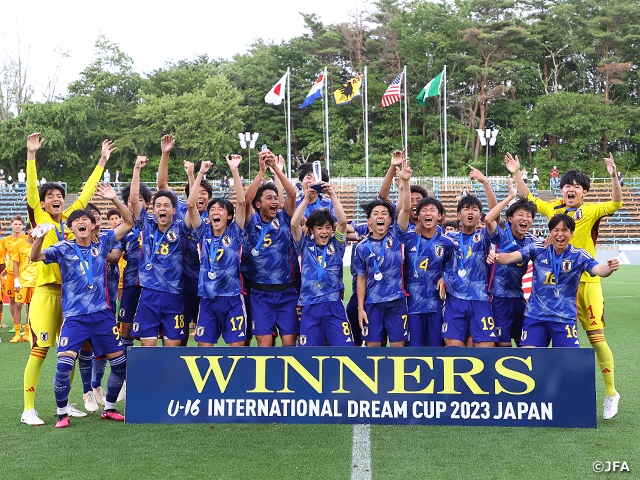 On Sunday 4 June, the U-16 Japan National Team played their final match of the International Dream Cup 2023 JAPAN against the U-16 Netherlands National Team at J-Village in Fukushima, where they won 4-2 to claim the title.
U-16 Japan National Team 4-2 (2-1, 2-1) U-16 Netherlands National Team
Although the U-16 USA National Team won the first match played on this day, the victor of this match was in line to win the title due to their advantage in goal difference.
The de facto final saw two goals scored in the opening four minutes. It was the Netherlands who scored the opening goal in the third minute, but Japan responded in the very next play, when the low driven cross delivered by SHIMA Yusei (Vissel Kobe U-18) missed everybody, including the Dutch defenders and goalkeeper, and into the back of the net.
Japan took the lead six minutes later, when SUGAWARA Yuta (FC Tokyo U-18) responded to a long feed sent by OKAWA Yugo (Kashima Antlers Youth) before slotting the ball into the right hand corner of the goal.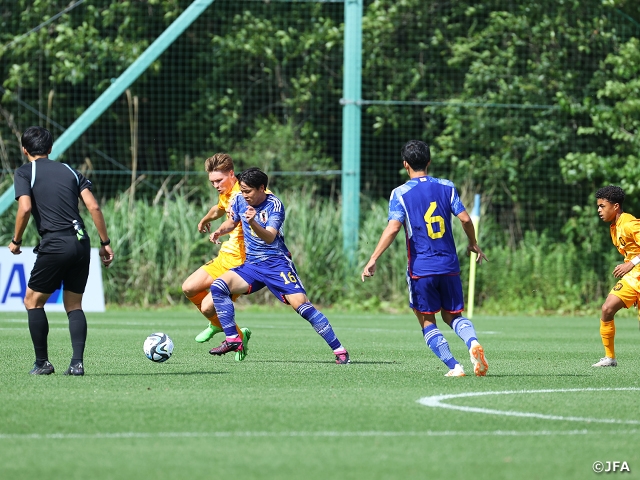 Despite giving up the lead, the Netherlands maintained control of ball possession as they took advantage of their individual skills to dribble and their collective teamwork to connect swift one-touch passes around the Japanese players.
The second half started with Japan scoring back to back goals in the 48th and 50th minutes, with HAMASAKI Kento (Vissel Kobe U-18) converting a corner kick followed by an individual effort made by OISHI Shuto (Kagoshima Josei High School) that forced a turnover from the Dutch goalkeeper.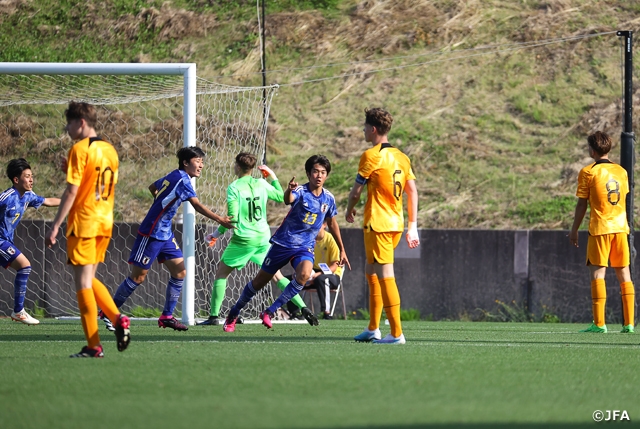 The Netherlands responded with a goal of their own in the 51st minute, but the momentum had completely shifted towards the home side, as the Japanese players showed great transitions between defence and offence to create more and more chances while keeping the Dutch offence at bay.
With the team winning the match 4-2, Japan claimed their third consecutive title following their success in 2019 and 2022.
KUMASHIRO Keito (Roasso Kumamoto Youth) finished as the top scorer with his three goals, while OKAWA Yugo (Kashima Antlers Youth) was named tournament MVP.
Coach and Players' Comments
HIROYAMA Nozomi, Head Coach of U-16 Japan National Team
After a frustrating first game, it was the players who came back in the second game and earned themselves a stage which was like the final. Some of these players have experienced losing in the semi-finals of a knock-out tournament we participated abroad. We wanted them to play to the best of their abilities at this opportunity they have won for themselves because we want to develop them into players who excel in tournaments. We were a bit shaky in the first half, but we managed to reorganise in the second half, which allowed us to earn this result.
DF #4 SHIMA Yusei (Vissel Kobe U-18)
The goal came from a cross that would have gone in if someone had touched it, so it was basically what I intended. Although I was initially called up as a centre back, I feel like I managed to perform well in the full back position, as I was able to demonstrate my dribbling skills to carry the ball. The FIFA U-17 World Cup™ is coming up in November, so I definitely want to make the squad and play an active role in leading the team.
DF #16 SUGAWARA Yuta (FC Tokyo U-18)
Okawa is a good friend of mine, so I knew how accurate his kicks were. As soon as our eyes met, I knew the ball would come to me so I ran as fast as I could. It turned out exactly how I imagined, so I was very confident I could score. This was my first international goal in my third call-up to the national team. Our opponents made it hard to defend against them, but Mori's coaching from behind was very helpful. Although it was difficult to defend against our opponents, who kept their full backs in high positions, Mori's coaching from behind was very helpful. This tournament allowed me to find out my shortcomings, so I hope to make the most of this experience to improve as a player.
FW #13 OISHI Shuto (Kagoshima Josei High School)
The first half was quite tiring as I wasn't quite sure when to apply pressure and when not to. However, once we got ourselves on the same page during halftime, we managed to score goals from our transitions. I wish I had been more involved in our offence, so I'd like to improve in that aspect. I was also greatly inspired by how everyone carried themselves outside the pitch. I want to make the most of this experience to improve as a player.


Tournament dates: Wed. 31 May - Sun. 4 June 2023
Participating teams: Japan/Netherlands/USA/Nigeria
Venue: [Free admission to all matches] J-Village Stadium (Fukushima)
Tournament Information