NEWS
【Match Report】U-16 Japan National Team defeat Mexico to claim title with perfect record - U-16 International Dream Cup 2022 JAPAN presented by JFA
13 June 2022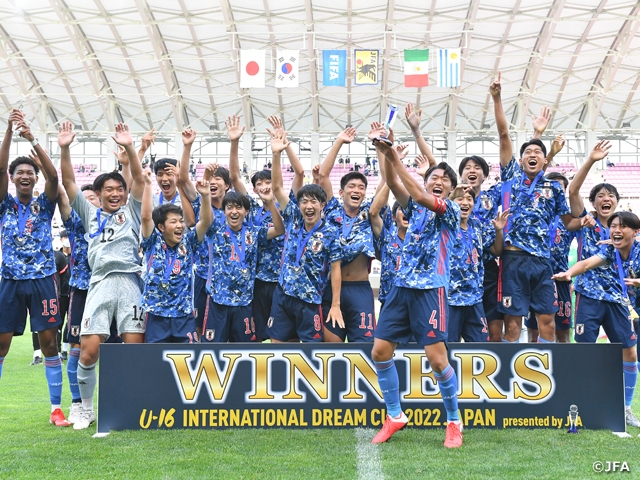 The final match day of the U-16 International Dream Cup 2022 JAPAN presented by JFA took place at Yurtec Stadium Sendai on Sunday 12 June.
U-16 Japan National Team 2-0 (0-0, 2-0) U-16 Mexico National Team
After winning back-to-back matches, the U-16 Japan National Team squared off against the U-16 Mexico National Team, who have also won their previous two fixtures.
Japan had been able to take an early lead in the first two matches, but Mexico, who, like Japan, were coming off back-to-back wins, sought to break down the Japanese defence with their highly precise passing. However, the Japanese defenders held firm, with YAMAMOTO Joi (Tokyo Verdy Youth), HONDA Kotaro (Shonan Bellmare U-18) and YAMADA Kai (Maebashi Ikuei High School) repelling the attacks of their opponents, while goalkeeper KAMBAYASHI Taisei (Montedio Yamagata Youth) also kept a cool head as the first half ended 0-0.
In efforts to change the dynamics of the match, Japan introduced NAWATA Gaku (Kamimura Gakuen High School), who marked two goals and an assist against Uruguay. With the midfielder adding depth to the offence, the deadlock was broken in the 54th minute, when SUGIURA Shungo (Nagoya Grampus U-18) served a pass to SHIBATA Shotaro (Kawasaki Frontale U-18) who delivered a cross that was converted by SATO Ryunosuke (FC Tokyo U-18).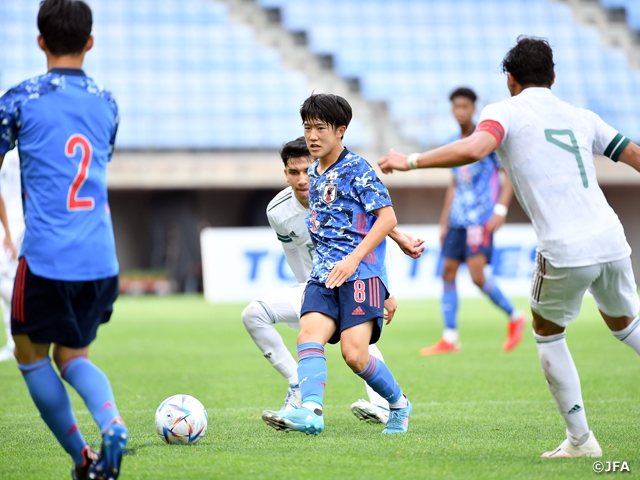 With momentum on their side, Japan extended their lead in the 69th minute, when ISOZAKI Mark (Omiya Ardija U18) struck a towering header off of a cross sent by KOSUGI Keita (Shonan Bellmare U-18).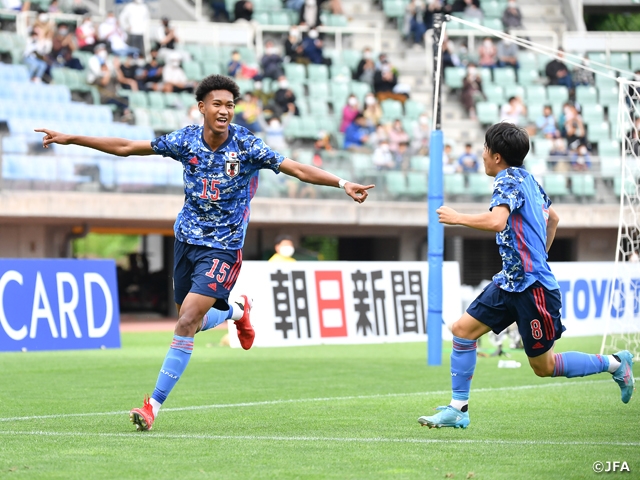 Japan continued to dominate the match and won 2-0, claiming their fourth International Dream Cup title, with Mexico finishing as the runners-up. Sugiura was named MVP of the tournament, while Nawata and Isozaki finished as the top scorers with two goals.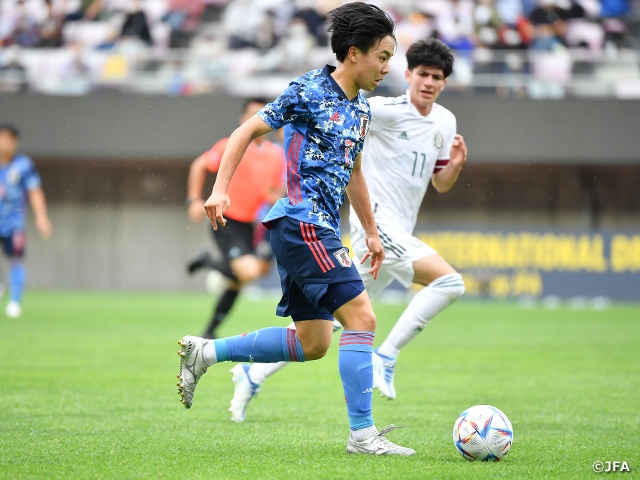 U-16 Uruguay National Team 0-0 (0-0, 0-0, PK:3-1) U-16 Korea Republic National Team
The other fixture played between Korea Republic and Urugay ended scoreless, with Uruguay winning 3-1 on penalties after the Korean side failed to convert three consecutive spot kicks. As a result, Uruguay finished the tournament in third place and Korea Republic in fourth place.
Coach and Players' Comments
MORIYAMA Yoshiro, Head Coach (U-16 Japan National Team)
The U-16 International Dream Cup, which was held for the first time in three years, welcomed three of the world's top teams in this age group, Korea Republic, Uruguay and Mexico. Mexico, in particular, have won the FIFA U-17 World Cup™ once, finished as runners-up twice, and semi-finalists once in the last five tournaments. Last month, the U-16 Japan National Team travelled to Romania for their first overseas tour since the launch of the team, and this was their second opportunity to compete in an international competition. On the first day of this activity, we watched the SAMURAI BLUE's match against Brazil at Japan National Stadium and were greatly inspired. The next day, we were given the opportunity to talk to YOSHIDA Maya at YUME Field after his post-match training session. (Thank you very much for your kindness in taking the time to speak to the players, Mr. Yoshida.)
In this tournament, the team went into their first match against Korea Republic while sharing the results and challenges encountered during the Romania tour, and after a 3-0 win, they scored efficiently against Uruguay to win 4-0, before facing Mexico. In the first half, our opponents did not let us have our way and we were countered every time we lost the ball. In the second half, we were able to win the ball by applying consistent pressure on the opposition's defensive midfielders, which enabled us to gain momentum in both offence and defence and win the match 2-0. We were able to win the tournament with three consecutive shutout victories. There are still areas where we need to work on, such as our ability to create chances at the individual level and the overall quality of our plays and decision-makings, but it also gave us the opportunity to deepen our confidence in our ability to attack quickly, to defend in tandem, and to defend tenaciously in front of the goal.
In preparation for the AFC U17 Asian Cup Qualifiers in October, we are planning on discovering new talents through a camp in July, and a simulation camp in August to further improve our squad. We would like to express our sincere gratitude to everyone who has worked tirelessly to make this International Dream Cup possible for the first time in three years, to the Miyagi Prefecture, Sendai City Municipality, and Miyagi Football Association for providing a wonderful environment for the tournament. We would also like to thank the coaches of each club, school teachers and parents who allowed the players to participate in our team activity in the midst of their season. Thank you very much.
DF #13 SHIBATA Shotaro (Kawasaki Frontale U-18)
I missed a crucial opportunity against Korea Republic, so I was determined to redeem myself in today's match. The fact that we were able to keep the game scoreless when Mexico had control over the ball possession in the first half helped us gain momentum in the second half. We were able to score the first goal because (Sugiura) Shungo believed in my ability to make an over-lapping run and Sato (Ryunosuke) knew where I was going to deliver the cross, so all the credit goes to them.
MF #7 SUGIURA Shungo (Nagoya Grampus U-18)
From the first half, I noticed that I was given space to work with when the ball was coming from the left side, and our right fullback, Shibata, was making continues runs down the line when I had the ball, so I knew we could score if I could deliver a good pass to him. Throughout the competition, I was conscious of showing my sprinting ability, which is my strong point, and trying to show my value by being involved in the final third. Being named as the tournament MVP is great, but this is just a steppingstone, as my dream is to play in the English Premier League. I will not rest on my laurels and will continue to work hard to make the squad for the FIFA U-17 World Cup™ qualifiers.
MF #8 SATO Ryunosuke (FC Tokyo U-18)
The fact that we were able to put our bodies on the line to keep the game scoreless in the first half led to this result. When I scored the opening goal, I knew Shibata was capable of delivering crosses from there, so I made a run towards the near side, and I just had to make contact with the ball. I am originally a player who plays in the centre, so I was able to showcase my ability to receive the ball in between opponents and create chances from the central area.

U-16 International Dream Cup 2022 JAPAN presented by JFA
Tournament Dates: Wed. 8 - Sun. 12 June 2022 [Free admission to all matches]
Venue: Yurtec Stadium Sendai (Miyagi)