NEWS
Kyoto earns first win of the season at the Prince Takamado Trophy JFA U-18 Football Super Prince League 2020 Kansai
23 September 2020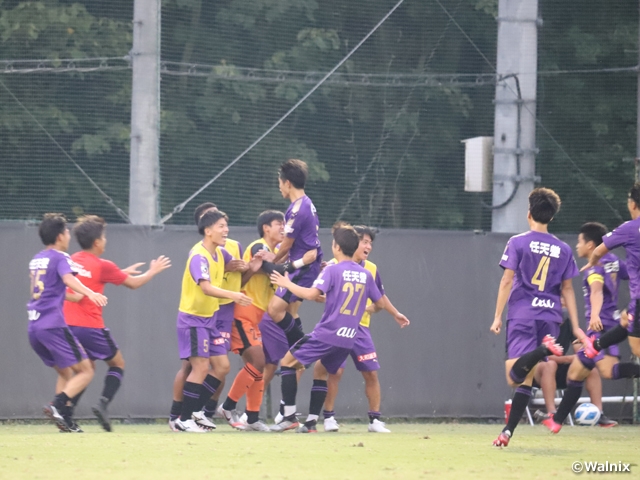 The fifth sec. of the Prince Takamado Trophy JFA U-18 Football Super Prince League 2020 Kansai took place on Tuesday 22 September at various locations. At Sanga Town Joyo, Kyoto Sanga F.C. U-18 (Kyoto) squared off against Kokoku High School (Osaka).
Pick-up Match
Kyoto Sanga F.C. U-18 2-0 (0-0, 2-0) Kokoku High School
Despite entering the new league as one of the premier league sides, Kyoto Sanga F.C. U-18 has yet to win a match. In order to get out of the downward spiral, the team entered this week with strong intentions to win the match, as their MF NAKANO Keita (#7) mentioned, "We knew we had to change something, so we were even more focused on football. With so many people supporting us, we changed our approach towards everything, including our daily routines."
The first half saw Kokoku High School struggle to win the ball in their attacking third, as coach UCHINO Tomoaki later reflected, "We were running behind on everything because everyone was waiting for the defence line to give directions." With their opponents failed to pick up their pace, Kyoto effectively connected their passes to enter the opposing half. In the 27th minute, Nakano responded to a long ball delivered by KIMURA Yuto (#4), before sending a cross towards the centre, allowing NAKANO Kotaro (#15) to strike a shot, but his attempt failed to capture the goal.
With the team scheduled to play three matches in seven days, Kokoku had rotated most of their players since their last match, but in efforts to score a goal, they brought in four players off the bench in the second half, including KABAYAMA Ryonosuke (#10), who will be signing with Yokohama F. Marinos next spring. Kokoku gained momentum from their substitutions, as Kabayama created a close opportunity in the 68th minute, but his shot was saved by Kyoto's GK KOBAYASHI Taishiro (#1).
The deadlock was broken in the 79th minute, when Kyoto's KAWASHIMA Kosuke (#6) delivered a pass to HIRAGA Sora (#28), who returned the ball to Kawashima. With momentum on his side, Kawashima struck a shot that pierced the left corner of the Kokoku goal, as the defender later reflected, "I had to make a decision when the ball took a bounce, but I was able to visualise an outward curve shot with my left foot." Kyoto managed to double their lead in the 87th minute, when ITO Yamato (#23) delivered a through ball to NAKANO Ryuma (#14), who took on the GK one on one and converted the opportunity to make it 2-0 at the final whistle.
After seeing his team win their first match of the season, Kyoto's coach MAEJIMA Satoshi stated, "Our next match at J-GREEN Sakai will be a difficult match. Although the match will be played away, we must be able to perform like we did today."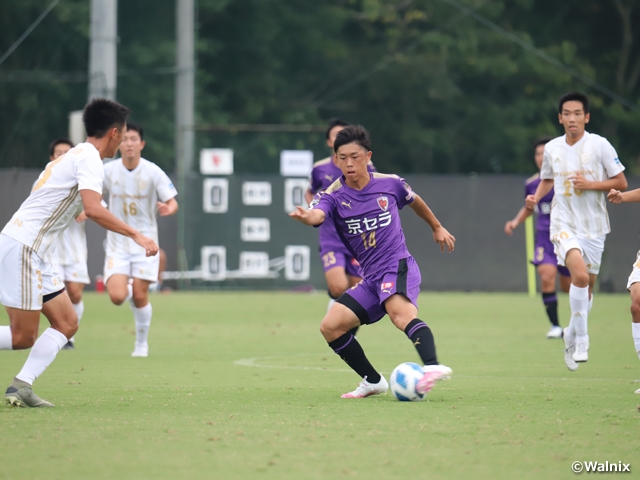 Coaches and Players' Comments
MAEJIMA Satoshi, Coach (Kyoto Sanga F.C. U-18)
The players are able to gain great experience and inspiration from these high-pressure matches. The level of competition is high, but we still have to strive to execute our game plan. It is not all about winning or losing. We knew Kokoku is a strong team full of talents, so we entered this match to showcase how much we have improved since our first match. As a result, Kokoku had the advantage over us in terms of ball possession, so we still have plenty of room for improvements. However, the players and staffs made tremendous efforts in this match, so I am grateful for their efforts and glad that I can congratulate them for their first victory.
MF #7 NAKANO Keita (Kyoto Sanga F.C. U-18)
We have not been able to win a match thus far, so honestly, I am happy. Our goal for this year is to take the initiative of the match and control the opponents to create opportunities. The Kokoku players had the upper-hand in terms of techniques, so we were forced to be in the defensive end for a long time. However, we managed to capitalise on our chances and win the match. Our approach to change our daily routines must had an impact to this result. After losing two consecutive matches, we had a negative vibe surrounding our team, but we were able to clear that negativity through this match. We are grateful to be given this opportunity to play football despite the difficult situation surrounding our society.
UCHINO Tomoaki, Coach (Kokoku High School)
We saw our players showcase some mere cleverness in both offence and defence, and I feel like we conceded the goals from our arrogance. Despite gaining momentum from the substitutions, we conceded two goals from two shots. The fact that we were able to give our second graders the experience to play in an intense match, and the fact that we managed to keep a clean sheet in the first half, were some positives we can take away from this match, but losing the match was unacceptable. There are both positive and negative aspects of this match, so we must reflect on it and move forward. How the players reflect on this match will depend on how the staffs navigate them.
DF #3 NAKASHIMA Konan (Kokoku High School)
We were able to showcase some good teamwork to keep the first half scoreless. After bringing in our substitutes, we gained momentum and started to dominate the match, but it also distracted our attention from our defence. It was disappointing that we could not score any goals and it was also regretful that we conceded goals, despite having defenders who are drafted into the professional league. Last year we did not have the opportunity to face the J.League academy teams, so I am grateful for this opportunity. Including the match against Cerezo Osaka U-18, there are so many new findings when facing these academy teams, and it really help us become a better team.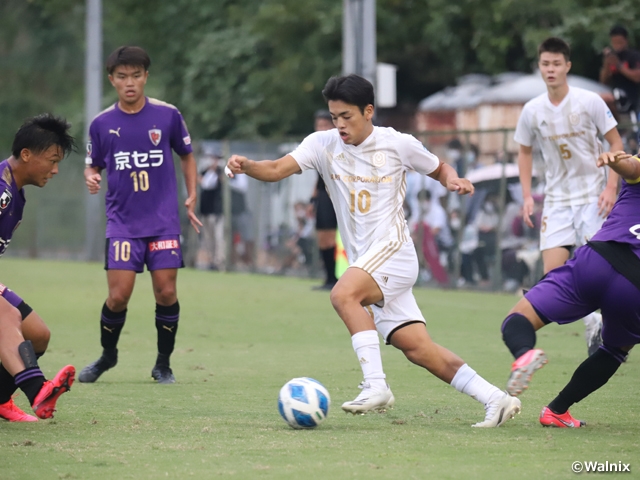 Prince Takamado Trophy JFA U-18 Football Super Prince League 2020