NEWS
Four fixtures to be played including the "Gunma Derby" - Prince Takamado Trophy JFA U-18 Football Premier League 2022
27 May 2022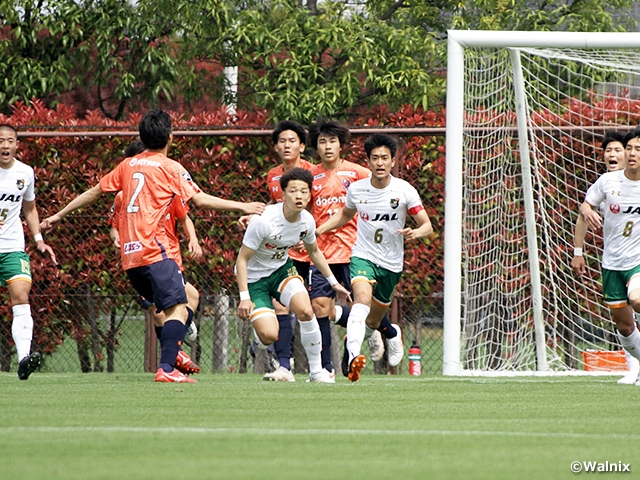 Four fixtures of the ninth sec. of the Prince Takamado Trophy JFA U-18 Football Premier League 2022 is about to take place on Saturday 28 and Sunday 29 May. The remaining eight fixtures are scheduled to be held on Sunday 12, Saturday 18, Sunday 19, and Wednesday 22 June.
EAST
Two fixtures are scheduled in the EAST. The first fixture will be played between Aomori Yamada High School (Aomori) and Ryutsu Keizai University Kashiwa High School (Chiba). As the defending champions of the EAST, Aomori Yamada started off the season with three consecutive wins, but have lost their successive five matches, with all five losses coming by a single goal. It will be interesting to see if they can regain the competitive edge they showed last year and once again contend for the title. In that sense, this match against a fellow high school side, Ryutsu Keizai Kashiwa, is going to be a crucial match for them. Ryutsu Keizai Kashiwa have played seven matches, winning one, drawing two and losing four. However, none of their losses have been decided by large margins, and if they can seize the opportunity, they could certainly advance up the rankings. The hotly contested match between the two high school powerhouses will be a match to keep an eye on.
Maebashi Ikuei High School (Gunma) and Kiryu Daiichi High School (Gunma) are scheduled to square off in the Gunma derby this week. Over the years, the two sides have competed for the seat to the All Japan High School Soccer Tournament. Maebashi Ikuei have dominated the prefectural qualifiers, making 24 appearances in the national tournament while Kiryu Daiichi have only made it through twice, it certainly doesn't change the fact that this is a match they cannot afford to lose. So far this season, Maebashi Ikuei are in fourth place with a record of four wins, one draw, and two losses. Kiryu Daiichi on the other hand, are in 11th place with one win, two draws, and three losses. What drama awaits them in their first head-to-head match at the highest stage of the U-18 category?
The fixtures between Yokohama FC Youth (Kanagawa) and Kawasaki Frontale U-18 (Kanagawa), JFA Academy Fukushima U-18 (Shizuoka) and Yokohama F.Marinos Youth (Kanagawa) will take place on 18 June, Omiya Ardija U18 (Saitama) and Kashiwa Reysol U-18 (Chiba) on 19 June, FC Tokyo U-18 (Tokyo) and Funabashi Municipal High School (Chiba) on 22 June.
WEST
In the WEST, Cerezo Osaka U-18 (Osaka) and Sagan Tosu U-18 (Saga) will face off at the top of the table. Cerezo Osaka are currently in fourth place with three wins, one draw, and two losses. Their offensive output of 19 goals in six matches is remarkable. Tosu on the other hand, are leading the WEST with six wins and one loss. They also lead the league with the most goals scored (20) and the fewest goals conceded (4). Will Tosu consolidate their lead at the top of the table, or will Cerezo Osaka use their attacking prowess to make a breakthrough to the top?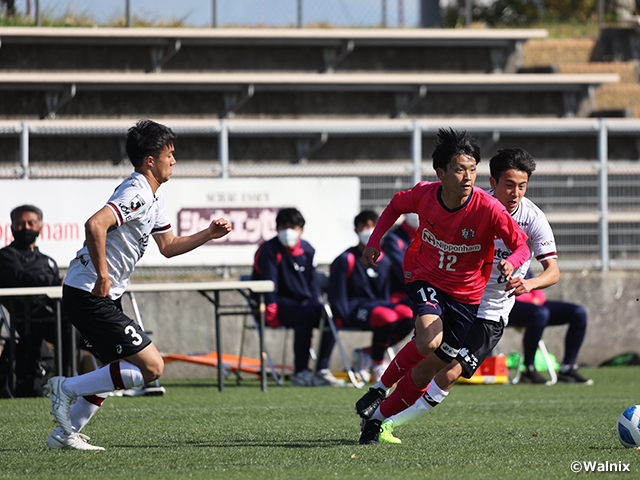 Another intriguing fixture awaits the WEST, as Gamba Osaka Youth (Osaka) will face Sanfrecce Hiroshima FC Youth (Hiroshima). The youth sides have struggled mightily this season, as 12th place Gamba Osaka have lost all four matches they have played so far, while Hiroshima are in 10th place with one win, one draw, and five losses. Having lost all of their matches by a margin of at least three goals, defensive stability looks to be the key to success for Gamba Osaka. Hiroshima on the other hand, are coming off their first win of the season over Nagoya Grampus U-18 (Aichi) last week. For both sides, this match will be a crucial match for their survival in the Premier League, making this a must-see fixture between two of the elite J.League youth clubs.
The fixtures between Higashi Fukuoka High School (Fukuoka) and Ozu High School (Kumamoto) will be played on Sunday 12 June, Jubilo Iwata U-18 (Shizuoka) and Shizuoka Gakuen High School (Shizuoka), Riseisha High School (Osaka) and Vissel Kobe U-18 (Hyogo) on Saturday 18 June, Nagoya and Shimizu S-Pulse Youth (Shizuoka) on Sunday 19 June.
%E2%9A%BD%EF%B8%8F 今週末開催 %E2%9A%BD%EF%B8%8F#高円宮U18 プレミアリーグ 2022%F0%9F%8F%86

%F0%9F%93%BA放送・配信対象試合%F0%9F%93%B1

%E2%98%91桐生第一サッカー部公式YouTubeチャンネル#前橋育英 vs #桐生第一

詳細はこちらから%F0%9F%94%97https://t.co/oAPnT9B5Lp@kiri1soccer #高校サッカー pic.twitter.com/idaTh3br6b

— 高円宮杯 JFA U-18サッカープレミアリーグ (@jfa_u18) May 27, 2022
Prince Takamado Trophy JFA U-18 Football Premier League 2022
League Duration: Sat. 2 April - Sun. 4 December 2022