NEWS
Aomori Yamada wins title in the EAST at the 17th Sec. of the Prince Takamado Trophy JFA U-18 Football Premier League EAST
02 December 2019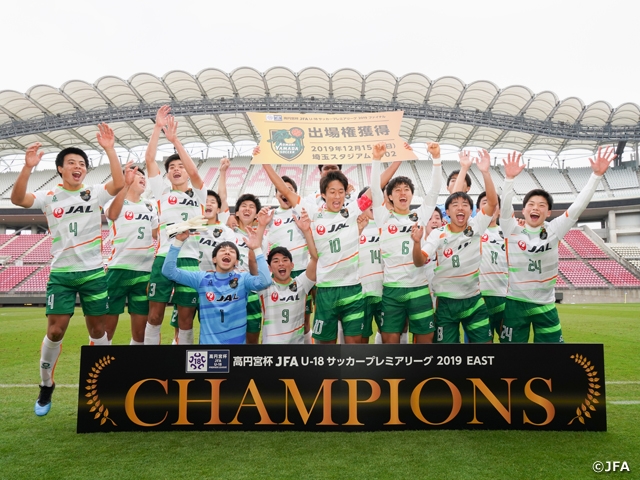 The 17th Sec. of the Prince Takamado Trophy JFA U-18 Football Premier League EAST took place on Saturday 30 November and Sunday 1 December at various locations. With second place Kashiwa Reysol U-18 (Chiba) losing their match on Saturday 30, Aomori Yamada High School (Aomori) clinched the league title prior to their match against Kashima Antlers Youth (Ibaraki) on the following day.
Pick-up Match
Kashima Antlers Youth 1-3 (1-1, 0-2) Aomori Yamada High School
Although the team had already won the league, Aomori Yamada's coach KURODA Go kept his players motivated by telling them, "Aomori Yamada has never won a match at Kashima's home stadium. Let's rewrite that history." With the players entering the match with plenty of motivation, the Aomori side scored the opener in the second minute, when URAKAWA Rukia (#8) struck a header off a long throwing sent by UCHIDA Yosuke (#2).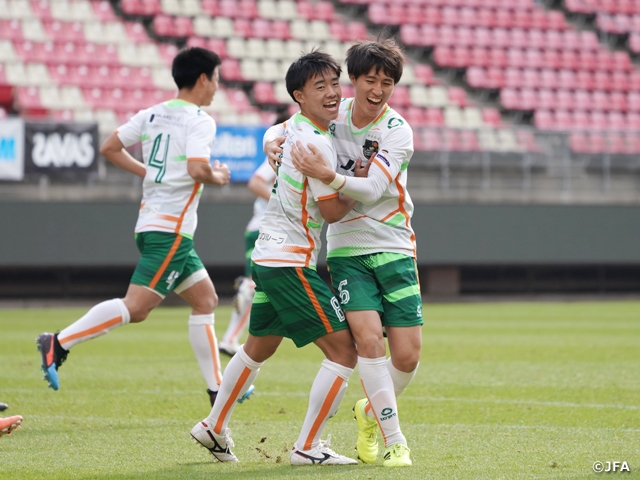 Despite conceding the early goal, Kashima kept their composure and responded with an equaliser scored in the 19th minute. The goal came when KURIMATA Shoichi (#11) connected with a cross delivered by FUNABASHI Yu (#20), which forced the opposing goalkeeper to parry the ball. It was FUNAZAKI Ayumu (#26) who converted the loose ball to level the match.
With both sides utilising long balls to penetrate the open space, the match turned into see-saw game, where both teams' patience was being tested. The deadlock was broken by Aomori Yamada in the 49th minute, when TAKEDA Hidetoshi (#10) responded to a long feed sent by their goalkeeper SATO Shibuki (#1) and struck a left footed shot that pierced the Kashima goal. KANDA Yusei (#3) made it 3-1 in the 77th minute, when he capitalised on a loose ball following another long throw.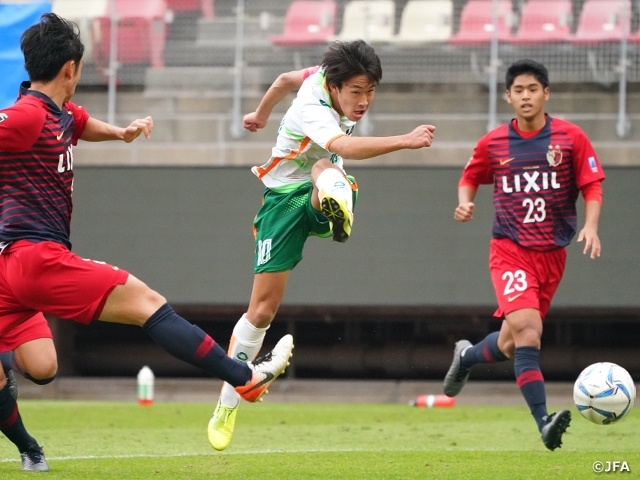 Desperately needing points to avoid relegation, Kashima made their final push to level the match, but the league leaders showcased a solid performance in defence to keep the score-line intact. Following their 3-1 victory, coach Kuroda praised his players, "Our players never sat on their laurels and continued to work hard to earn this result."
Kashima will now enter their final fixture with mere hopes to avoid relegation from the Premier League. However, the players have not given up, as Kurimata mentioned after the match, "We will win our final match and keep our spot in this league."
Coaches and Players' Comments
NAKAMURA Kosei, Coach (Kashima Antlers Youth)
I told my players before the match that we will continue with what we have been doing and play the game with courage. Although there were times where we managed to showcase a positive performance, we couldn't win the crucial battles that determined the outcome of this match. We will prepare ourselves in the best way possible to win the remaining fixture.
MF #11 KURIMATA Shoichi (Kashima Antlers Youth)
Although we managed to score the equaliser, we failed to score the go ahead goal. We tried to keep our focus in the early minutes of the second half, but we were still caught off guards. It really felt like that was an unnecessary goal we conceded there. We will rest our minds and focus on winning our final fixture.
KURODA Go, Coach (Aomori Yamada High School)
We managed to score the opening goal from a fortunate turn of events, and it forced our opponent to depend heavily on their long balls, which made it easy for us to respond against. After going through a tough stretch during the season, our team has now nurtured a winner's mentality.
MF #6 FURUYADO Riku (Aomori Yamada High School)
During the stretch where we couldn't win our matches, I feel like we weren't getting our jobs done. However, we have now rediscovered our rhythm and found ways to close out matches. Personally, I was trying to overachieve during that phase, but now I am able to keep my plays simple. I was able to keep my composure while showcasing my strong fighting spirit in today's match.
Results of other matches
Urawa Red Diamonds Youth 1-0 (0-0, 1-0) Kashiwa Reysol U-18
Shimizu S-Pulse Youth 1-1 (0-0, 1-1) Jubilo Iwata U-18
Ryutsu Keizai University Kashiwa High School 1-2 (1-2, 0-0) Funabashi Municipal High School
Omiya Ardija U18 2-0 (1-0, 1-0) Shoshi High School
Urawa Red Diamonds Youth (Saitama) won their home match against second place Kashiwa Reysol U-18 (Chiba) with the game winner scored by YONAHA Kowa (#7) in the 79th minute. Shimizu S-Pulse Youth (Shizuoka) and Jubilo Iwata U-18 (Shizuoka) clashed in the Shizuoka derby, where they exchanged a goal apiece to share a point. Omiya Ardija U18 (Saitama) won their home fixture against Shoshi High School (Fukushima) after scoring a goal apiece in both halves. The fixture between Ryutsu Keizai University Kashiwa High School (Chiba) and Funabashi Municipal High School (Chiba) took place on Saturday 5 October, due to schedule conflicts with the 98th All Japan High School Soccer Tournament.
Prince Takamado Trophy JFA U-18 Football Premier League 2019
League Duration: Sat. 6 April - Sun. 8 December 2019