NEWS
Urawa clinch spot in the ACL with win over Lee Man in playoffs
24 August 2023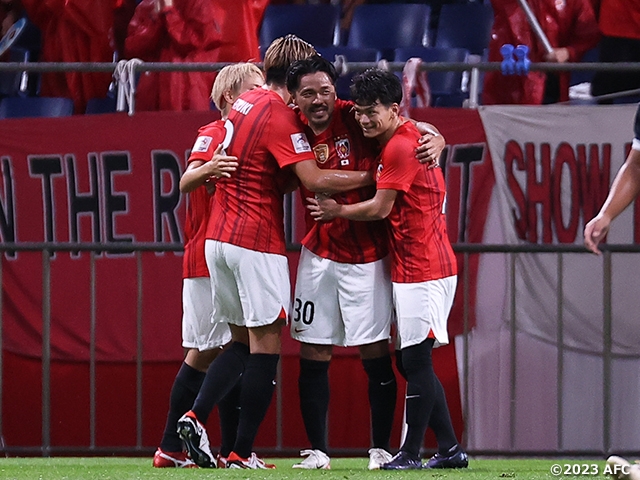 The playoff stage of the AFC Champions League (ACL) 2023/24 took place on Tuesday 22 August. Urawa Red Diamonds, who claimed their third ACL title last season, faced Lee Man FC (Hong Kong) at Saitama Stadium 2002, where they won 3-0, thanks to the early goals scored by KOIZUMI Yoshio and KOROKI Shinzo.
The defending champions took the lead in the third minute, when OKUBO Tomoaki played a pass-and-go with NAKAJIMA Shoya on the right side, before sending a pass across the centre to setup the goal of Koizumi.
The second goal came just three minutes later, when Nakajima sent a pass to SAKAI Hiroki, who made an overlapping run down the right side and delivered a cross that was headed in by Koroki.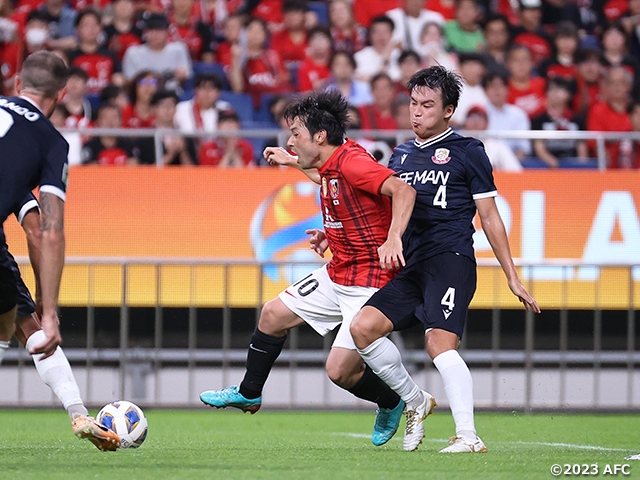 Lee Man, who finished second in the Hong Kong Premier League last season and are competing in the ACL for the first time, reached the play-offs by defeating Indonesia's Bali United FC 5-1 in the preliminary stage at home on 16 August. The team will make two changes to their starting line-up from the Bali game, which NGAN Lok Fung said, "gave us confidence," and switch from a back four to a back five to bolster their defence. On the offensive side, the line-up featured Gil MARTINS, Mitchel PAULISSEN, and Everton CAMARGO, a trio who combined to score four goals against Bali.
Despite conceding an early two-goal lead, Lee Man gradually gained possession of the ball to create opportunities of their own. Martins struck shots in the 18th and 23rd minutes, but both attempts were saved by Urawa's goalkeeper NISHIKAWA Shusaku.
Urawa continued to dominate ball possession and create chances in the second half. Bryan LINSSEN came close to convert Okubo's cross in the 63rd minute, which was followed by shot attempts made by Okubo and AKIMOTO Takahiro in the 69th and 75th minutes, respectively.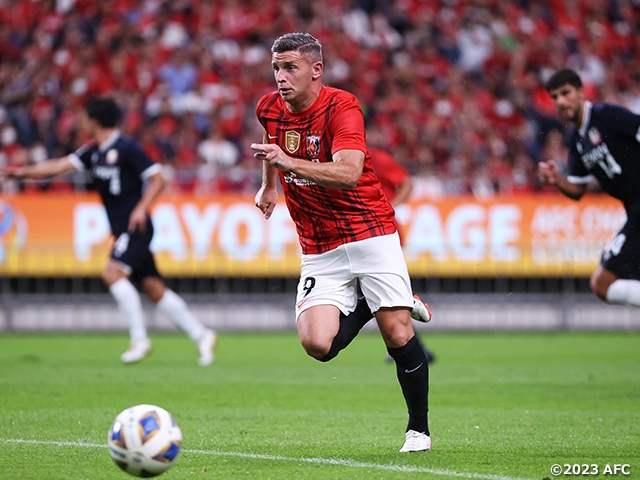 Nishikawa made a big save in the 71st minute, denying the shot of Camargo from close range to keep Urawa's clean sheet intact.
After IWANAMI Takuya's unsuccessful effort to score from a corner kick in the 89th minute, Linssen assisted SEKINE Takahiro in scoring Urawa's third goal in additional time.
With this victory, Urawa has clinched the main tournament of the ACL, joining last season's J.League champions Yokohama F. Marinos, runners-up Kawasaki Frontale, and Emperor's Cup champions Ventforet Kofu.
In other matches played in the East division, Incheon United FC (Republic of Korea) defeated Hai Phong FC (Vietnam) 3-1 in extra time, BG Pathum United FC (Thailand) defeated Shanghai Port FC (China) 3-2, and Zhejiang Professional FC (China) defeated Port FC (Thailand) 1-0. In the West, AGMK FC (Uzbekistan) defeated Al-Arabi SC (Qatar) 1-0, Al-Nassr FC (Saudi Arabia) defeated Shabab Al Ahli Dubai Club (UAE) 4-2, Sharjah FC (UAE) defeated Tractor SC (Iran) 3-1, and Navbahor (Uzbekistan) defeated Al Wakrah SC (Qatar) 1-0 to qualify for the main draw.
The group stage will begin on 18-20 September, with the finals taking place on 11 and 18 May next year. The draw for the group stage will take place on 24 August.
Coaches and Players' Comments
Maciej SKORZA, Head Coach (Urawa Red Diamonds)
In the pre-match meeting, I told the players, "Four months ago, we celebrated our ACL victory in this stadium. Today is the first step to recreate that moment." This day has become a really important day for me because qualifying for the ACL means a lot not only to this club, but to the entire Japanese football community. Ten years ago, I led Saudi Arabian club Al-Ettifaq to the ACL play-offs, but we were unsuccessful in moving on to the main competition. I am delighted to have had this opportunity and to have made it through to the group stage. We were able to adapt and deal with Lee Man's starting lineup, even though it was a little unexpected given what we had anticipated. The game demonstrated Nakajima's ability to contribute to the team for extended minutes, and I believe he can provide us with an extra boost. It was intriguing to see how he and Koizumi interacted.
GK NISHIKAWA Shusaku (Urawa Red Diamonds)
Even with a 2-0 advantage, I kept my focus on not letting up since I knew there wasn't much room for error. We managed to win the playoff and headed to the main competition as the defending champions. Other teams perceive us differently, and the situation has changed since 2017. We must be aware that we are now the team to beat and approach the competition with a challenger's mentality. Although we are unsure of our group stage opponents, the competition will undoubtedly be tough. We'll fight hard and make an effort to enjoy the moment at the same time.
MF KOIZUMI Yoshio (Urawa Red Diamonds)
We knew this was going to be a tough match, so I am relieved that we were able to win. I am also happy that I was able to be involved in the team's goal. In terms of how I interacted with Nakajima, I think he is the type of player who is easier to work with when he is close to his teammates, so I tried to play as close to him as possible and tried to make him feel comfortable with the ball.
Jordi TARRES, Assistant Coach (Lee Man FC)
We faced one of the top teams of the J.League and the defending ACL champions. We knew it was a tough challenge for us, but we took too long to settle ourselves into the game. Even so, we had opportunities to score in the first half, and it would have been great if we were able to capitalise on them. We took more risks and tried to fight back using our substitutes in the second half, but the players were too exhausted at the end. Even so, it wasn't too bad given that it was only our second game of the season and that we were playing against the ACL champions. There was a lot to learn, and it was a terrific experience because our players had never played at this level before. We hope to return next year to close the gap between our level and the J.League.
DF TACHIBANA Ryoya (Lee Man FC)
This ACL match against Urawa has made us realise what it means to compete at the highest level in Asia, and that we still have long ways to go. We didn't have much information on Nakajima, so it was difficult to defend him, especially with the way he moved so freely, and the way other players trusted him. But it was good for us as a team and for us as individuals to have this opportunity. I'm no longer young at 27 but I still want to put in a lot of effort every day to get as close to the Urawa players as I can. I want to set my sights high and be able to compete in the main competition next time around. Personally, I want to do my best to become a player like Sakai.