NEWS
FC Gifu prevail in close match against Niigata University of Health and Welfare to advance to the second round of the Emperor's Cup JFA 103rd Japan Football Championship
21 May 2023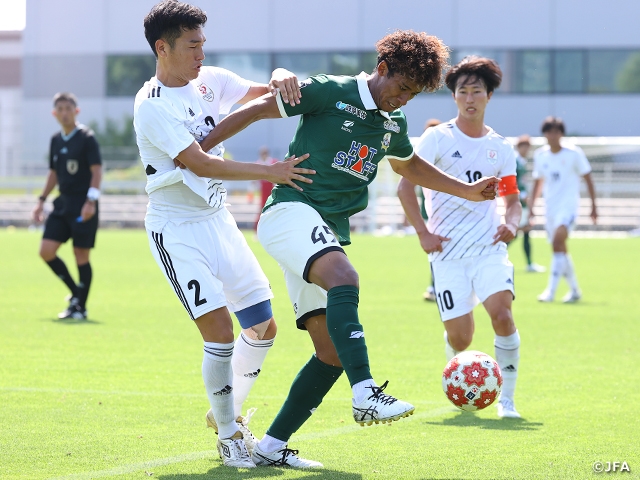 The Emperor's Cup JFA 103rd Japan Football Championship kicked-off on Saturday 20 May, with seven fixtures played around the nation.
Featured Match
FC Gifu 2-1 (0-0, 2-1) Niigata University of Health and Welfare
At Gifu Memorial Center Nagaragawa Meadow, FC Gifu (Gifu) faced Niigata University of Health and Welfare (Niigata). The match started with both sides testing the waters, utilising simple long balls to avoid taking unnecessary risks.
Ten minutes into the game, the tide shifted towards Gifu, as they started to take control of the ball possession. However, it was the university side who created the first big chance in the 20th minute, when YOSHIDA Kosei broke into the space to face the Gifu goalkeeper MOGI Shu one-on-one, but this opportunity was denied by a fine save made by Mogi.
Gaining momentum from this play, NUHW started to initiate more counterattacks, as they created more and more chances to threaten the Gifu goal. In the 37th minute, TANAKA Shota responded to a through ball sent by MATSUMOTO Tenmu but failed to strike a clean shot on target. Yoshida also had another close opportunity in the 39th minute, but his effort also failed to find the back of the net.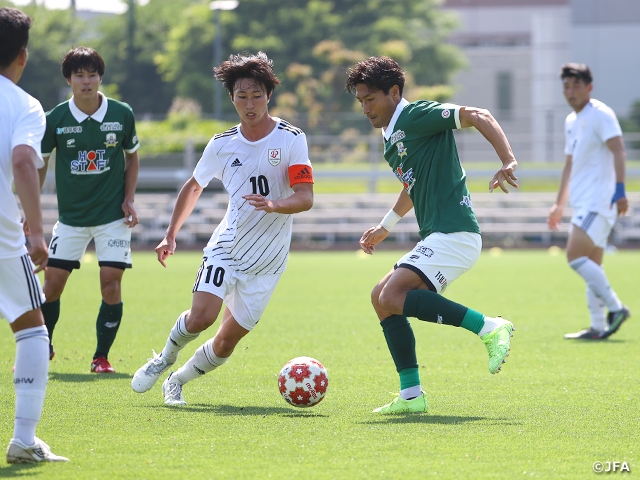 After a scoreless first half, the second half began with the two sides going back and forth, and the deadlock was broken in the 71st minute, when NUHW, under pressure, passed the ball back to their goalkeeper, in which Gifu's NDUKA Charles made a ferocious effort to chase down the ball and force a deflection that ended up in the back of the net.
Despite the efforts made by Gifu to run down the clock, NUHW managed to score the equaliser in the 85th minute, when MATSUYA Koki converted the cross sent by Matsumoto.
Just as everyone thought the match was going into overtime, Gifu retook the lead in the 88th minute, when the cross delivered by Nduka induced a goalmouth scramble, in which FUJIOKA Kosuke managed to fire a shot that took a deflection off a NUHW defender and into the goal.
With this goal ultimately serving as the game-winner, Gifu FC won 2-1 and moved on to the next round.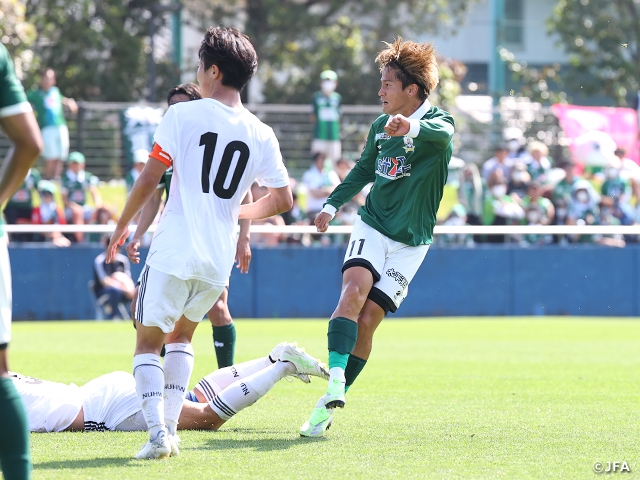 Coaches and Players' Comments
UENO Yusaku, Head Coach (FC Gifu)
What matters most is that we were able to advance to the next round. It's wonderful to see that our substitutes producing results. It allowed us to demonstrate how our entire team worked together to win the game. However, we are not entirely happy with how we performed overall. The match was very challenging because NUHW had a lot of talented players, as we had anticipated from our scouting reports.
FUJIOKA Kosuke (FC Gifu)
We made too many simple mistakes in the first half, which allowed our opponents to gain momentum. I feel like the substitutes, including myself, were able to change the rhythm of the match, and this was a match won by the entire team. (TANAKA) Junya laid off the ball right in front of me, so I just focused on making good contact. It was an opportunity I couldn't miss out on, so I am glad I was able to score that goal. We will keep playing our football in hopes of defeating Shimizu S-Pulse, who we will play in the next round.
SAKUMA Hirokazu, Head Coach (Niigata University of Health and Welfare)
It was a close match, but we were unable to win at the end, so we must try to make the most of this experience to improve as a team. We intentionally allowed our opponents to possess the ball, as we sought for our opportunities from counterattacks. We also came prepared to limit the damage, which I feel like we did a good job in this match.
NUMATA Kosei (Niigata University of Health and Welfare)
We were fully committed to this match because our goal was to advance to the second round. Although it was a close game, the fact that we lost demonstrates where we stand right now. Although we didn't give our opponents any clear chances, they took advantage of the close calls that could have gone either way, and that can make or break these kinds of games. We'll keep putting in a lot of effort to get better as a group.
Emperor's Cup JFA 103rd Japan Football Championship
【1st Round】Sat. 20, Sun. 21 May [Backup date: Mon. 22 May]
【2nd Round】Wed. 7, Wed. 14, Wed. 21 June
【3rd Round】Wed. 12 July [Backup date: Wed. 19, Wed. 26 July]
【Round of 16】Wed. 2 August [Backup date: Wed. 9 August]
【Quarterfinals】Wed. 30 August[Backup date: Wed. 13 September]
【Semi-Finals】Sun. 8 October
【Final】Sat. 9 December