NEWS
FC Trianello Machida crowned as champion for the first time at the JFA 44th U-12 Japan Football Championship
30 December 2020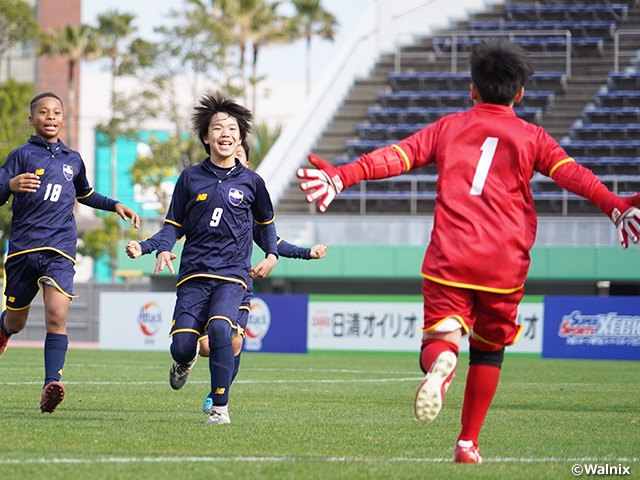 The JFA 44th U-12 Japan Football Championship final took place at Shiranami Stadium, Kagoshima, on Tuesday 29 December. In a card between two tournament debutants, FC Trianello Machida (Tokyo) was crowned as champion for the first time.
The final fixture featured two Kanto sides who overcame numerous close matches to reach the final. While FC Trianello Machida won their way into the final through their combination plays and individual techniques, JEF United Chiba U-12 (Chiba) showcased fluent position changes and compact defensive shape. Although this was their first tournament appearance, both sides showcased their perseverance at each round.
Machida placed three aggressive attackers upfront, while positioning talented passers who can build the team's rhythm in the midfield. Through their 3-4-3 formation, the Tokyo side showcased great ball movements and utilised the width of the field to pick up their pace in offence. Chiba on the other hand, applied aggressive pressure in efforts to contain the Machida offence.
The opening goal came in the ninth minute, when Chiba's OSHIMOTO Daiya delivered a through ball that allowed HIMENO Makoto to break loose and capture the goal. With the intention to add layers to their offence, Chiba utilised an early substitution, sending FUJII Saliou onto the pitch in the 15th minute.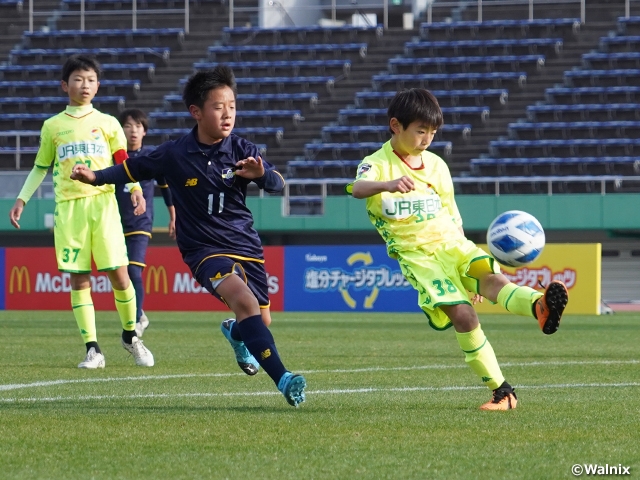 In response to Chiba's opening goal, Machida introduced their attacker ITO Mario in the 19th minute. With Chiba showing signs of fatigue in the second half, Machida started to take control of the match. In the 25th minute, YOKKA Hiromu controlled a cross delivered from the right side and scored the equaliser despite being surrounded by the Chiba defenders.
The equaliser gave Machida great momentum, as they continued to dominate the remainder of the match, but with Chiba's GK HATTORI Mizuki showcasing spectacular performance in front of the goal, the match entered overtime with the score tied at 1-1. Although Machida carried their momentum into overtime, the Tokyo side lacked quality at the final third, sending the match into PKs to determine the winner.
After both sides successfully made their first kick, Machida's captain KINOSHITA Katsuyoshi converted his spot kick, followed by Chiba's Oshimoto sending his shot over the cross bar. With Yokka calmy slotting his shot into the left corner, FC Trianello Machida won the match, claiming their first national title.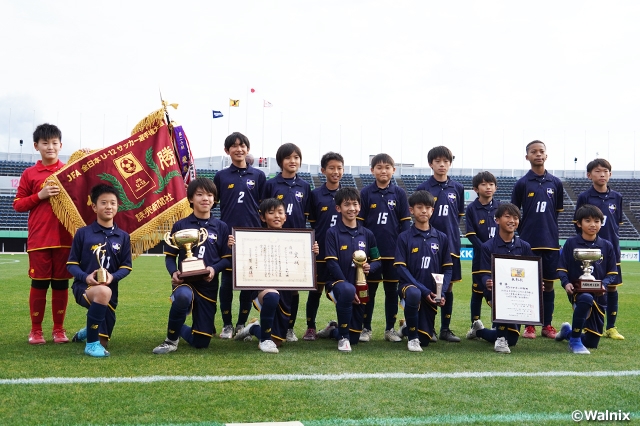 Coaches and Players' Comments
WAKAYAMA Seisuke, Coach (FC Trianello Machida)
We played a bit too passively in offence, as we depended heavily on long balls. That was an aspect I addressed during halftime and told them to showcase a performance that can get the crowds on their feet. We are still a new team, but the people of Tokyo have warmly welcomed us when launching the team. With their support, we were able to bring home the title and two qualifying spots to Tokyo, so I feel like we were able to give back a little.
YOKKA Hiromu (FC Trianello Machida)
Although we allowed the opening goal, we managed to keep our composure and played our usual football. In the scene where I scored the goal, I made my run into the open space and dribbled through a couple DFs. My goal was to score a goal, so I kept dribbling towards the goal, and I am glad I was able to convert that opportunity. I want my name to be recognised as a good player. Lorenzo INSIGNE (S.S.C. Napoli/Italy) is my idol, as he plays the same left wing position, and he is capable of scoring goals in so many ways.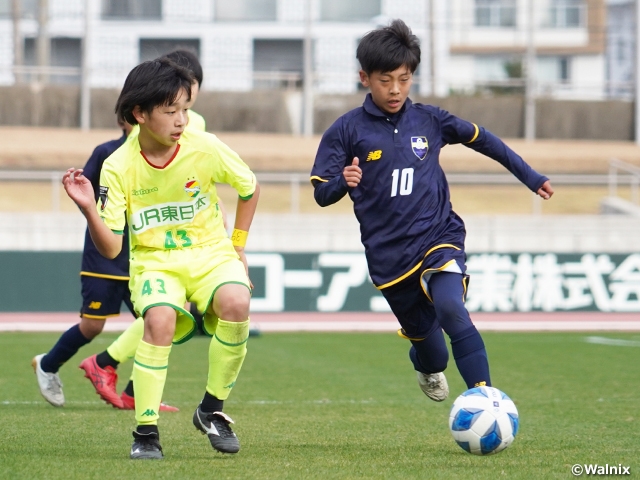 KINOSHITA Katsuyoshi (FC Trianello Machida)
Our opponent kept attacking after they scored the opening goal, and the match would've been different if we conceded another goal. Everybody including our GK have done a great job to keep the match close. We were able to keep our composure in the second half and create some chances from our ball movements. We hope to pass on this experience to next year's team, so that they can defend the title.
Guillermo ORIOL GIL, Coach (JEF United Chiba U-12)
We wanted to limit the pass courses for Machida and try to keep the ball possession. We were able to execute our game plan in that aspect, but with our team going through a tight match schedule, we looked tired after the first half. Our intensity level dropped dramatically and allowed our opponent to play freely. However, we are satisfied with our overall performance at this tournament. I hope our players can feed off of this experience to become a better player.

JFA 44th U-12 Japan Football Championship
Tournament duration: Sat. 26 - Tue. 29 December 2020