NEWS
Top teams from the F. League including Urayasu and Sumida advance to quarterfinals - JFA 28th Japan Futsal Championship
13 March 2023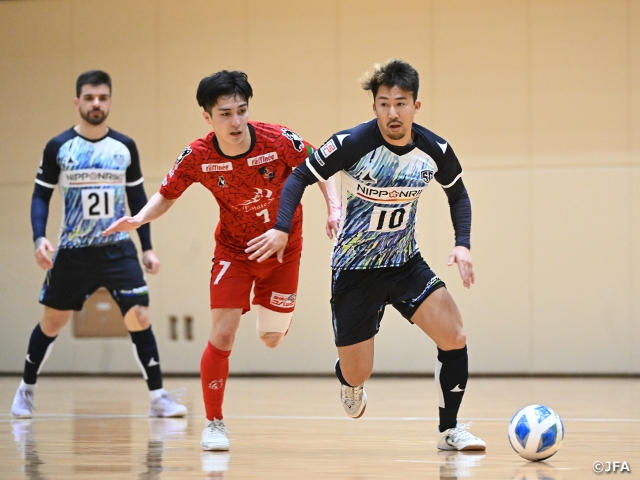 The second round of the JFA 28th Japan Futsal Championship took place on Sunday 12 March to determine the eight teams competing in the quarterfinals scheduled to take place on Friday 17 March.
At Kobe Central Gymnasium in Hyogo, Bardral Urayasu (F1/Chiba) squared off against Shinagawa City (F2/Tokyo). It was the first time for the two clubs, both of which have won the Japan Futsal Championship in the past, to face each other since the fourth round of the 26th tournament, which Shinagawa (then Toruela Kashiwa) won 6-0 and eventually claimed the title.
Urayasu fought with the utmost respect against Shinagawa City, who are set to be promoted to the F. League Division 1 (F1) next season, as ISHIDA Kentaro commented, "For the first time this season we changed our style and focused on our defence instead of pressing forward."
Urayasu scored the opening goal in the second minute after their defensive strategy proved successful in stopping Shinagawa City's offence. Goalkeeper PIRES Higor joined the attack and passed the ball to NAGASAKA Takumi, who delivered a cross to set up the goal of Ishida, who later recalled, "I wasn't sure whether I should take the shot or not, but since I hadn't scored in a while and it was still early in the match, I decided to take my chance."
Gaining momentum from this goal, Urayasu doubled their lead just a minute later, when Brazilian international GARRINCHA pierced a shot between the legs of the opposing goalkeeper. Despite conceding a goal to Shinagawa City in the sixth minute, Urayasu scored another goal in the 14th minute, when YOSHIDA Keigo converted a one-on-one situation to put his side up 3-1 at halftime.
The second period saw the two sides exchange close opportunities in the early minutes, but it was Urayasu who once again got on the scoreboard, as KATO Ryuma fired a powerful shot to score his team's fourth goal.
With less than six and a half minutes remaining on the clock, Shinagawa City initiated their powerplay, but ended up conceding another goal to Urayasu, when Pires fired a shot into the open net. Shinagawa City made a late surge to score two goals in the closing minutes, but fell short from equalising, as Urayasu advanced to the quarterfinals with a 5-3 victory.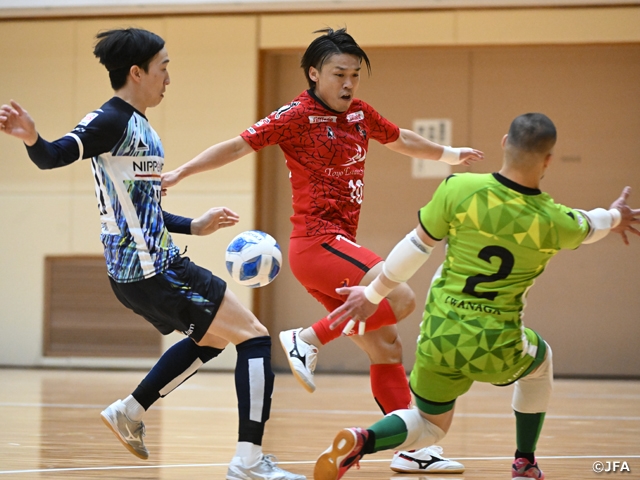 In the match between Fugador Sumida (F1/Tokyo) and Espolada Hokkaido (F1/Hokkaido), Sumida's SHIMIZU Kazuya, who played in the Spanish First Division until last season, made his presence felt. After assisting the goal of HATAKEYAMA Yuki in the seventh minute of the first period, Shimizu took on the goalkeeper himself to double his team's lead at the beginning of the second period. Despite the superb saves made by Hokkaido's goalkeeper SEKIGUCHI Yushi, Sumida managed to add another goal to their tally when HOSHI Ryuta scored from a counterattack with less than four minutes left in the match.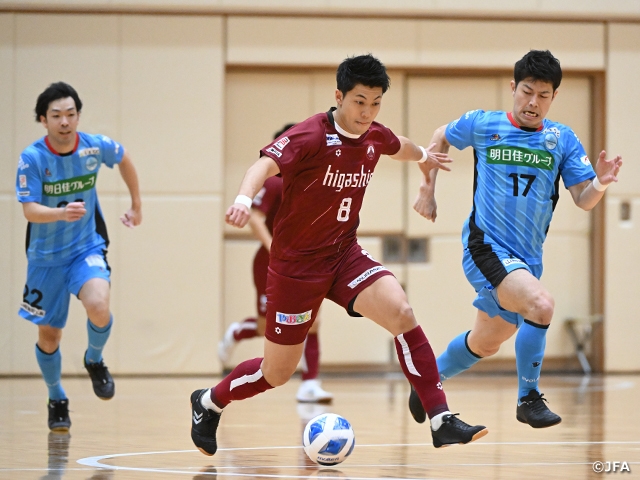 Hokkaido managed to score back a goal with 29 seconds remaining on the clock, before adding another goal with just one second left, but fell short from levelling the score, as Sumida won the match 3-2.
The top eight finishers of the 2022–23 F1 season will compete in the quarterfinals as a result of the matches played at Ecopa Arena in Shizuoka and Kishiwada City Gymnasium in Osaka. Will Tachikawa Athletic FC (F1/Tokyo) prevent Nagoya Oceans (F1/Aichi) from completing their season triple crown, just as they prevented Nagoya from winning their third straight championship last year? On March 17, the action will pick back up at Tokyo's Komazawa Olympic Park.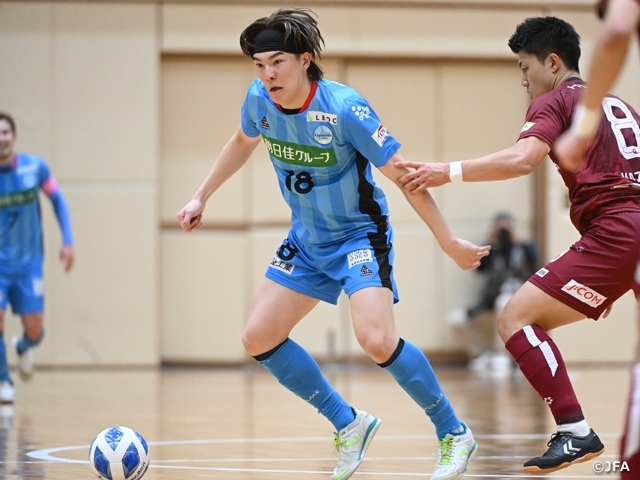 Players' Comments
FP #10 KATO Ryuma (Bardral Urayasu)
I think we were able to make good transitions between offence and defence. It was also great to see that our defensive approach was effective against our opponents. Everybody kept their focus and worked hard from start to finish. We are confident that we can win at Komazawa as long as we can demonstrate the kind of performance we showed today. We all had a disappointing time in the F1 play-offs, so we want to win three more matches to make up for that.
FP #10 FUKUDA Ryo (Shinagawa City)
We were not on the same page in terms of defence, which made it a difficult match for us. If we had communicated a little better, we could have prevented our opponents from scoring some of those goals. As a team we thought we could compete with the F1 clubs, but personally I think I need to be able to score more goals. I will be leaving Shinagawa City, but I will continue to play futsal, so please continue to support me.
FP #8 SHIMIZU Kazuya (Fugador Sumida)
Apart from the goals we conceded at the end, I think we did very well. The fact that we scored the opening goal allowed us to keep our composure throughout the match. Some of the people who have helped me in the past, including MIYAZAKI Satoshi and OKAMURA Kohei, are leaving the club at the end of this season, so I want to send them off with a win. The key to our success at the quarterfinals will depend on how high I can position myself, because Urayasu is a very organised team and they will undoubtedly have plans against our offence. I am very much looking forward for the challenge.
FP #7 MUROTA Yuki (Espolada Hokkaido)
Like in yesterday's game, we lacked the quality in the final third to convert our opportunities. We don't normally play consecutive matches in the league these days, and I'm getting older, so it's taking a toll on my body to play consecutive matches like these. Other teams are capable of rotating their line-ups to rest their core players, but we don't have that kind of depth. I can no longer keep up with the speed of the youngsters, but I want to take a good rest during the off-season and prepare for the next season.
JFA 28th Japan Futsal Championship
Tournament dates: Sat. 11 - Sun. 19 March 2023
Tournament venue: Ecopa Arena (Shizuoka), Kishiwada City Gymnasium (Osaka), Kobe Central Gymnasium (Hyogo), Komazawa Olympic Park (Tokyo)