NEWS
Nara Club walks away with victory over Ococias Kyoto with last minute goal at the Emperor's Cup JFA 100th Japan Football Championship
17 September 2020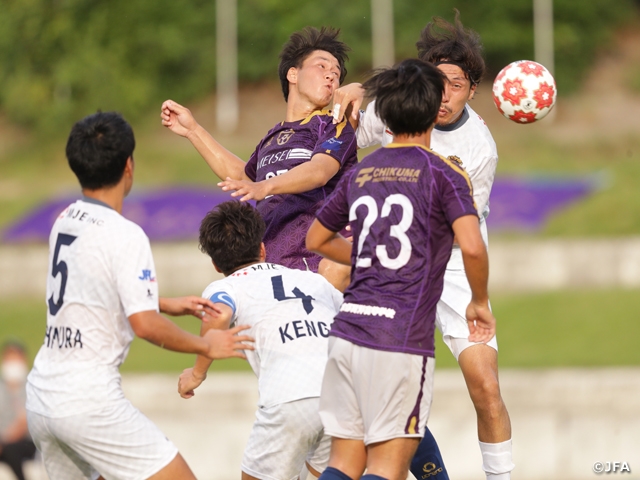 16 first round fixtures of the Emperor's Cup JFA 100th Japan Football Championship took place on Wednesday 16 September. At Yamashiro Total Sports Park, Ococias Kyoto AC (Kyoto) squared off against Nara Club (Nara).
Pick-up Match
Ococias Kyoto AC 0-1 (0-0, 0-1) Nara Club
The match between representatives of Kyoto and Nara came down to the wire. The first opportunity was created by Ococias Kyoto, who plays in the Kansai Soccer League. Facing an opponent from JFL, Kyoto's coach TAKIHARA Naoaki later mentioned, "Regardless of who we face, we have always been focusing on our own tasks. Despite facing a team from an upper category, I told my players to play with a challenger's spirit." Following their coach's words, the Kyoto players showed great aggression from the front line. Once winning the ball, they collected the ball to their speedy forward IBRAHIM to threaten the Nara defence. Kyoto created two close chances towards the end of the first half, but Nara's GK UEDA Tomoki made great saves to keep the match scoreless at halftime.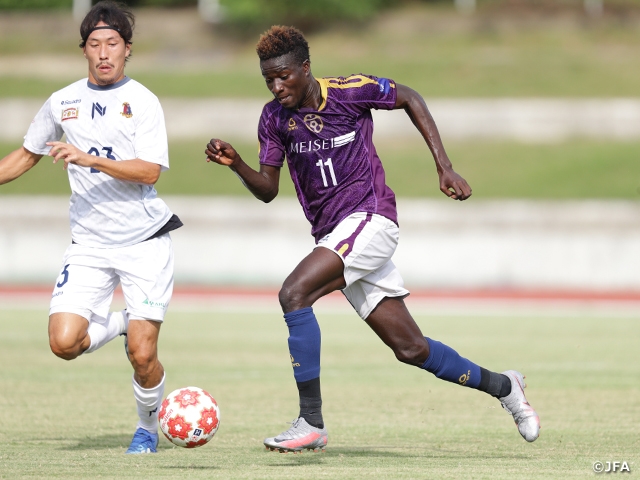 Despite being in the defensive end for majority of the first half, Nara Club had no worries, as their coach HAYASHI Maiki later said, "We were oaky with the first half being 0-0." The Nara side changed their two forwards to start the second half and made a shift to deny the long balls going towards Ibrahim. Kyoto came close to scoring in the 50th minute, when Ibrahim carried the ball into the final third, but the Nara defence managed to keep the clean sheet intact. With 25 minutes left on the clock, Nara Club made a substitution to bring in HAYASAKA Sho, who is known for his ball possession skills. In the 79th minute, Nara's YOSHIDA Taiga struck a shot, allowing KANNO Tetsuya to collect the loose ball and deliver a cross from the right side. It was TERASHIMA Haruhi who connected with this delivery, but the final shot failed to capture the target.
With momentum on their side, Nara Club continued to attack the Kyoto goal, as their late substitute, KATO Tetsuya penetrated the left flank to create opportunities. The golden moment came in the 90th minute when Kato forced a turnover deep in the Kyoto side. The final pass was delivered to Hayasaka, who made a run into the box and scored the decisive goal. Coach Hayashi reflected on his team's victory, "We managed to create chances and score a goal when we needed the most. The fact that we managed to keep the match scoreless up to that point was huge. It was the only way to win this match." Nara Club will now face FC TIAMO Hirakata (Osaka) at the second round.
Coaches and Players' Comments
TAKIHARA Naoaki, Coach (Ococias Kyoto AC)
The players did well to execute our game plan from the early minutes of the match. However, we were not able to create plays to score goals, so that is an aspect we must continue to work on. Our defence did a great job to manage and eliminate the risks, but we gave in at the end. We will switch our minds towards our league matches and work to become a team that can win these close matches.
DF #35 ARIZONO Shingo (Ococias Kyoto AC)
I was facing a team I played for a year last year, so I wanted to show how much I have improved over the last half a year. I have not been able to start in our recent league matches, so I wanted to make a case for myself in this match, but this was a very unfortunate result. We were forced to be in the defensive end for a long time during the second half, but I knew how our opponent was playing, so I shared my knowledge to my teammates and tried keeping our cool to defend against them. Despite creating a positive momentum, we ended up conceding a goal from our own mistake, and I feel like that is where we stand as a team right now. I hope to become a defender who can help the team prevent conceding goals and be a player who can save the team when we are in trouble.
HAYASHI Maiki, Coach (Nara Club)
Football is really sophisticated. There are so many things I do not understand, and it gives me headaches all the time. We have just played a JFL match three days ago, so we focused on allowing our players to recover from the match and did not spend anytime on our tactics for this match. Our team strengths lie on our ability to play according to our game plan and that is made possible because our players are super talented. However, today's MVP goes to TSUNAMI Yuta, who did not play in this match. His presence has allowed us to stay motivated and enthused at the locker room. In today's match, after we faced a tough first half, he kept telling his teammates that "We are still in this!" and encouraged the team ahead of the second half. In a close match like this, his presence was huge for us.
MF #25 HAYASAKA Sho (Nara Club)
We were not able to find our rhythm in the first half, and we were forced to play defence for a long time. We were not connecting enough passes, so I focused on fixing that when I entered the match. In the scene where I scored the goal, Kato did all the work and I just had to tap the ball into the goal. We had to play through a condense match schedule, so it was a physically tough match for us, but we tried staying positive and fight through it. It was great to see our team keep a clean sheet while we struggled in the first half, but we must do a better job in our offence. Winning the match is the most important thing in a tournament, so we hope to stay committed in the results in the second round and beyond.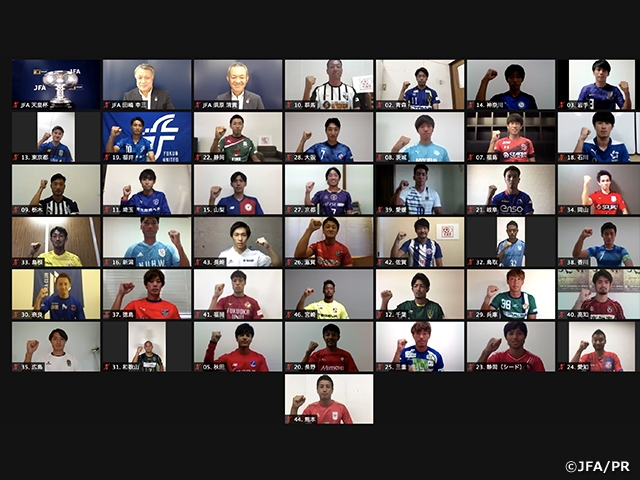 【1st Round】Wed. 16 September
【2nd Round】Wed. 23, Wed. 30 September
【3rd Round】Wed. 28 October, Wed. 11 November
【4th Round】Sat. 12, Sun. 13 December
【Round of 16】Sun. 20 December
【Quarterfinals】Wed. 23 December
【Semi-final】Sun. 27 December
【Final】Fri. 1 January 2021