NEWS
Arterivo Wakayama defeats FC TIAMO Hirakata in overtime to advance to 4th round of Emperor's Cup JFA 100th Japan Football Championship
29 October 2020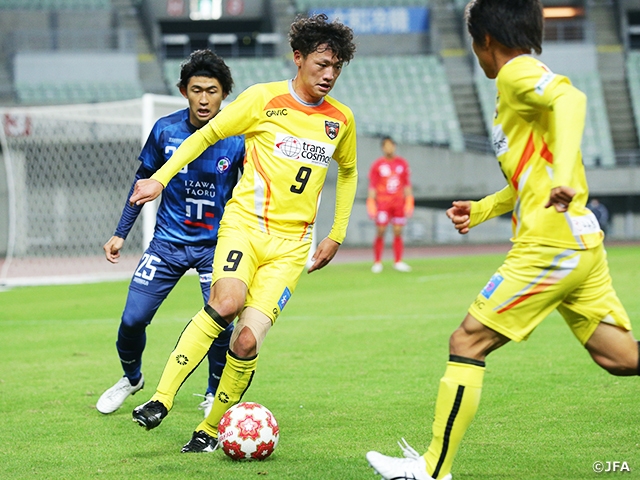 Seven third round fixtures of the Emperor's Cup JFA 100th Japan Football Championship took place on Wednesday 28 October.
Pick-up Match
Arterivo Wakayama 3-2 (0-1, 2-1, Ex: 0-0, 1-0) FC TIAMO Hirakata
At Yanmar Stadium Nagai, two teams from the Kansai Football League clashed, as Arterivo Wakayama (Wakayama) faced FC TIAMO Hirakata (Osaka). The match started with Hirakata creating chances, as TANAKA Hideo later reflected, "We managed to make good supporting runs while the ball was on the move." In the 12th minute, a long feed delivered by HIGUCHI So was blocked by the opposing GK, but SATO Ryo managed to collect the loose ball. With the goal wide open, Sato tried to take a shot, but could not pull the trigger.
Wakayama on the other side, entered the match with strong intentions to extend their season, as coach KITAGUCHI Yuichi mentioned, "Losing this match means the end of our season. KUBO Yuichi, who is retiring after this season, was suspended for this match, so we wanted to win this match for him." In the 16th minute, YAMAMOTO Daiki connected with a cross sent by MIURA Osamu to threaten the Hirakata goal. An opportunity was created in the 35th minute, when Miura delivered a through ball to OKITA Keisuke, who sent the ball towards the goal, allowing INOUCHI Takuya to notch the ball into the goal, but the play was called back for offside.
After giving up a close chance to Wakayama, it was the Osaka side who captured the opening goal, as CHO Young-Cheol struck a towering header off a cross sent by KIDA Naoki, breaking the deadlock in the 42nd minute. With Kida capitalising on a one-on-one situation early in the second half, Hirakata managed to double their lead in the 52nd minute.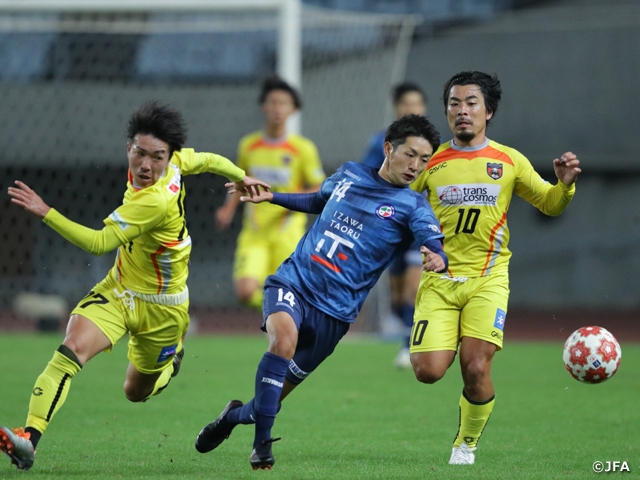 Despite conceding two goals, the Wakayama players were not discouraged, as coach Kitaguchi mentioned, "I told my players during halftime that we have to be excited about this situation." With the team effectively utilising their substitutes, a cross delivered by Inouchi in the 68th minute induced an own-goal, cutting their deficit in half. Just two minutes later, the ball cleared by PEK Myong-Chol went over the Hirakata defence line, allowing Yamamoto to break through and capture the equaliser
With the match entering overtime, both teams struggled to create chances, but the golden opportunity came in the 109th minute, when Wakayama's HAYASHI Shota struck a powerful shot from distance to score the deciding goal. The midfielder who just made his return to the squad from an injury, later reflected on the scene, "I was making passive decisions up until that moment, so I was fully committed to take a chance in that play." After the dramatic finish, coach Kitaguchi praised his players, "They ran hard until the very end and fought an extremely tough bout. Their strong mentality brought this victory."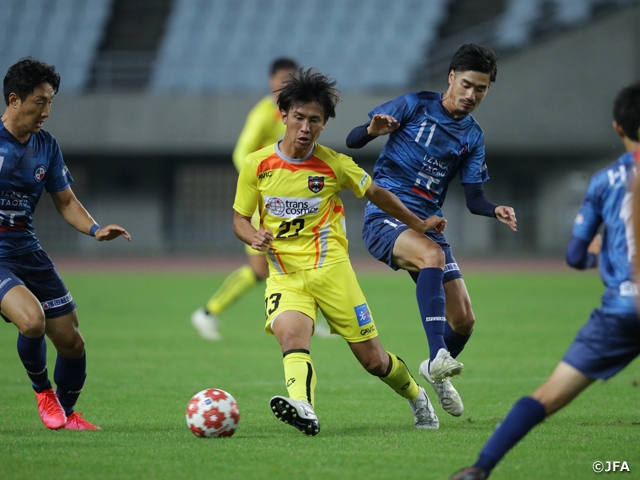 The final third round fixture between Kochi United SC (Kochi) and FC Tokushima (Tokushima) will be held on Wednesday 11 November.
Coaches and Players' Comments
KITAGUCHI Yuichi, Coach (Arterivo Wakayama)
When looking at the opposing defence, I was confident that our offence had the upper-hand. With our league coming to an end, we have prepared ourselves towards this Emperor's Cup with an emphasis to strengthen our offence and build-up plays. The Emperor's Cup is a prestigious tournament with great history, and we are the first team from Wakayama to reach the third round. I am immensely proud of the fact that we are making history.
OKITA Keisuke (Arterivo Wakayama)
Losing this match meant that our season was over, and with this being the last season for Kubo, who was suspended for this match, we really did not want to end our season here. Our team showed our eagerness to keep the season alive. The fact that we managed to showcase what we have been working on all year helped us gain a positive momentum in this match. Our coach has stressed the importance to work hard until the end, and I feel like that was another factor that helped us win against Hirakata.
OGAWA Yoshizumi, Coach (FC TIAMO Hirakata)
From the beginning of the match, it felt like our opponent wanted to win this match more than we did. Despite taking a two goal lead, our opponent took advantage of our mistakes and effectively utilised their substitutions to take control of the match. The first goal we conceded especially gave momentum to our opponent. Following this match, I told my players that we must learn from this loss. After winning the Regional Champions League and getting promoted into the JFL, we hope to look back on this match and be able to say that this was a meaningful match for us.
TANAKA Hideo (FC TIAMO Hirakata)
The match went according to plan midway through the second half. We kept telling each other that a two goal lead can be dangerous, so we need to score the next goal, but we ended up conceding the next goal and gave momentum to our opponent. Our goal was to make a deep run at this Emperor's Cup and face a J.League club. It is unfortunate that we cannot make that a reality, but we must reset our minds towards the Japanese Regional Football League Competition, which is our biggest goal of this season. This was our first loss in an official match this season, so we hope to make the most of this result.

【1st Round】Wed. 16 September
【2nd Round】Wed. 23, Wed. 30 September
【3rd Round】Wed. 28 October, Wed. 11 November
【4th Round】Sat. 12, Sun. 13 December
【Round of 16】Sun. 20 December
【Quarterfinals】Wed. 23 December
【Semi-final】Sun. 27 December
【Final】Fri. 1 January 2021