NEWS
Honda FC makes tournament appearance from 2nd round of the Emperor's Cup JFA 100th Japan Football Championship
22 September 2020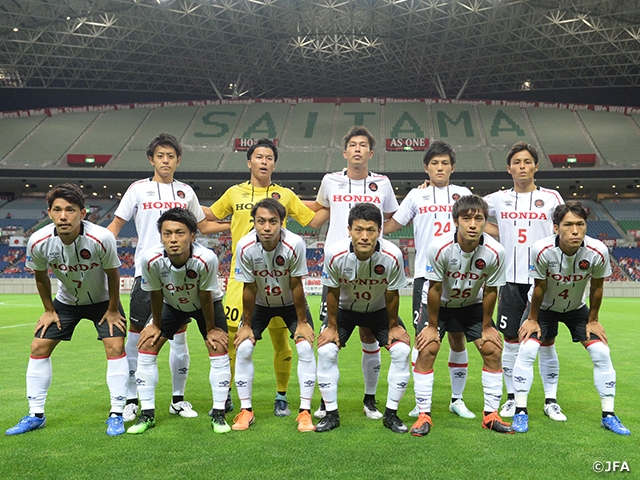 The second round fixtures of the Emperor's Cup JFA 100th Japan Football Championship will take place on Wednesday 23 and Wednesday 30 September, as 16 fixtures are scheduled to be played nationwide.
Due to the effects of COVID-19, this year's Emperor's Cup has been played under a new format, as 16 first round fixtures were played between prefectural representatives on Wednesday 16 September. The remaining 15 prefectural representatives and one seeded team will enter the second round to play their first match of the tournament.
Last year's quarterfinalist, Honda FC (Amateur seed) will enter the tournament, when they face Tokoha University (Shizuoka). The two teams are both based in Miyakodacho, Hamamatsu, making this matchup a "Miyakoda Derby." The match will take place at Ecopa Stadium, which hosted matches at the 2002 FIFA World Cup.
Tokyo Musashino City FC (Tokyo) advanced to the second round in dramatic fashion. After giving Tochigi City FC (Tochigi) a three goal lead by the 78th minute mark, the team scored three goals in the closing minutes to send the match into overtime and eventually into PK, where they claimed the victory. The Tokyo side will now face VONDS Ichihara FC (Chiba), who also advanced through the first round in dramatic fashion, as they defeated tonan Maebashi (Gunma) after giving up the lead twice. The match between the two tenacious sides is expected to be a nail biter until the final whistle.
Iwaki FC (Fukushima) and ReinMeer Aomori (Aomori) will be facing each other for the second time in three days. Following their 1-1 draw at the 21st sec. of JFL played on Sunday 20 September, the team will square off once again, this time at the Emperor's Cup. With the two sides fully aware of each other's tactics, it will be interesting to see how they line-up for this rematch. The two clubs have both acquired the J3 licence this month, and this match could be a match that forecast their close future, so for either sides, it is a match they cannot afford to lose.
Fukuyama City FC (Hiroshima) and FC Baleine Shimonoseki (Yamaguchi) will both make their Emperor's Cup debut. With nine university teams still in the mix, two fixtures will be played between them, as University of Tsukuba (Ibaraki) will face Toin Yokohama University (Kanagawa), and Fukuoka University (Fukuoka) will square off against National Institute of Fitness and Sports in Kanoya (Kagoshima). Each university has produced many professional footballers in the past, and the fixtures are guaranteed to be intense.
Please stay tuned for the exciting fixtures of the Emperor's Cup second round.

【1st Round】Wed. 16 September
【2nd Round】Wed. 23, Wed. 30 September
【3rd Round】Wed. 28 October, Wed. 11 November
【4th Round】Sat. 12, Sun. 13 December
【Round of 16】Sun. 20 December
【Quarterfinals】Wed. 23 December
【Semi-final】Sun. 27 December
【Final】Fri. 1 January 2021