NEWS
Nakajima and Minamino lifts SAMURAI BLUE past Myanmar 2-0 at the FIFA World Cup Qatar 2022 Asian Qualification Round 2
11 September 2019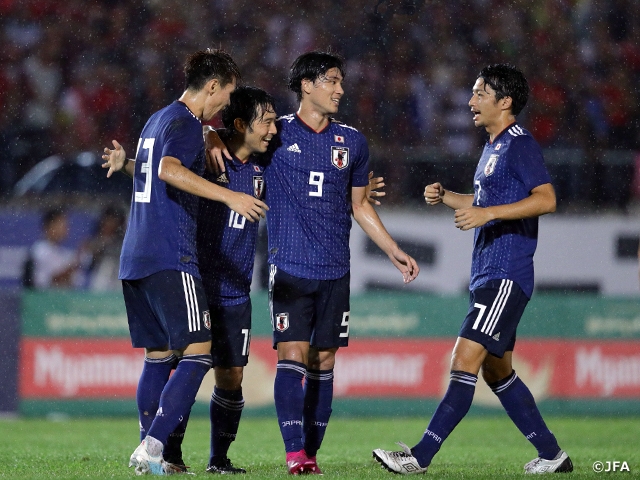 On Tuesday 10 September, the SAMURAI BLUE (Japan National Team) played their first match of the FIFA World Cup Qatar 2022 Asian Qualification Round 2 against the Myanmar National Team at Thuwunna Stadium in Yangon. With the help of goals scored by NAKAJIMA Shoya (FC Porto) and MINAMINO Takumi (FC Red Bull Salzburg), Japan got off to a great start with a 2-0 victory.
As coach MORIYASU Hajime mentioned prior to the match that he will "start players who are in good form," the Japanese coach elected to start the same line-up from their match against the Paraguay National Team at the KIRIN CHALLENGE CUP 2019 played on Thursday 5. With strong hopes to make their seventh consecutive appearance at the World Cup, Japan entered the Asian qualifiers under the rainy skies of Yangon.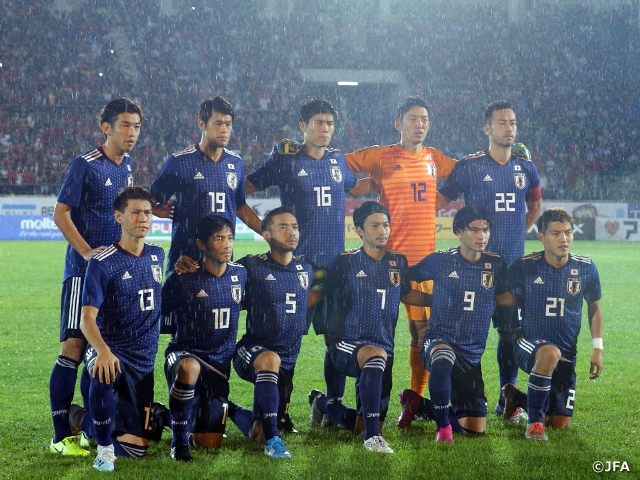 From the early minutes of the match, Japan positioned both of their fullbacks, NAGATOMO Yuto (Galatasaray S.K.) and SAKAI Hiroki (Olympique de Marseille), at a high position to take the initiative of the match.
The opening goal came in the 16th minute, when DOAN Ritsu (PSV Eindhoven) intercepted the ball at the left side, allowing TOMIYASU Takehiro (Bologna FC 1909) to send a quick pass to Nakajima, who made a cut towards the box before curling a right footed shot over the head of the opposing goalkeeper to give Japan the early lead.
Soon after the goal, Doan created another opportunity when he delivered a cross towards the goal, but Minamino's header couldn't capture the target. In the 24th minute, YOSHIDA Maya (Southampton FC) connected with a corner kick to allow Tomiyasu to take a shot at goal, but his attempt was saved by the goalkeeper. Japan's second goal was scored in the 26th minute, when OSAKO Yuya (Werder Bremen) posted up to allow Doan to take a shot inside the box. The shot was once blocked by the goalkeeper, but Doan collected the loose ball and lifted a pinpoint cross to Minamino, who struck a header into the goal to make it 2-0.
With momentum on their side, Japan continued to threaten the opposing goal, as Yoshida struck a close shot in the 29th minute, followed by Nakajima's shot in the 43rd minute, and HASHIMOTO Kento's (F.C. Tokyo) long range effort in the 45th minute.
Japan continued to show their dominance in the second half, but with the home crowd of 25,500 spectators supporting their back, Myanmar pushed forward to level the match. In the 64th minute, AUNG THU responded to a freekick delivered from the right side and struck a powerful shot, but the Japanese goalkeeper, GONDA Shuichi (Portimonense S.C.) made the save to deny their opportunity.
Despite showing signs of fatigue, Japan continued to create chances in the second half. In the 57th minute, Hashimoto struck another fine shot from mid-range, followed by Osako's header off a corner kick, but both attempts were saved by the opposing goalkeeper. Another close opportunity was created in the 64th minute, when Osako's header found SHIBASAKI Gaku (Deportivo de La Coruna) unmarked in front of the goal, but Shibaski's volley struck the cross bar.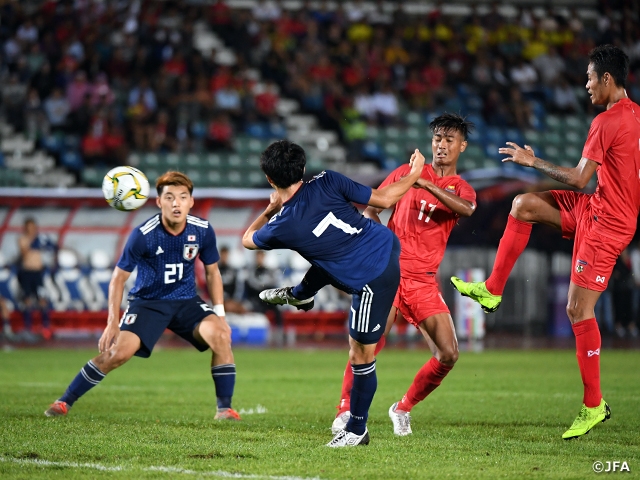 In efforts to bring in fresh legs to their offence, Japan brought in ITO Junya (KRC Genk) in the 66th minute, followed by SUZUKI Musashi (Hokkaido Consadole Sapporo) in the 77th minute, and the young phenom, KUBO Takefusa (RCD Mallorca) in the 81st minute. The three substitutes added more layers to the Japanese offence, as they helped create more opportunities for Japan, but their efforts fell short from adding further goals to their tally, as the match ended with a final score of 2-0.
While Japan earned three points from their first match of this round, Tajikistan earned their second win with a 1-0 victory over Mongolia to take the lead in Group F. Japan and Mongolia each has three points, while Kyrgyz Republic and Myanmar are yet to earn a point.
At the second round of the Asian qualifiers, the group leaders will automatically advance to the final round, while the top four teams among the runners-up will also advance. Japan will now face Mongolia at Saitama Stadium on Thursday 10 October, followed by two away matches against Tajikistan and Kyrgyz Republic on Tuesday 15 October and Thursday 14 November respectively. The second half of the round will take place next year, starting with a home fixture against Myanmar on Thursday 26 March, followed by an away match against Mongolia on Tuesday 31 March, and two home fixtures against Kyrgyz Republic and Tajikistan on Thursday 4 and Tuesday 9 June respectively.
Coaches and Players' Comments
MORIYASU Hajime, Coach of SAMURAI BLUE (Japan National Team)
In any given tournament, the first match is always going to be a tough match. Ever since arriving to Myanmar, our time on the pitch had been limited due to torrential rain, but the players gave their best efforts within the given situation to earn this result. I would like to credit our players for this clean sheet victory. It was too bad that we couldn't score further goals, but the players showed great aggression throughout the match. We did show signs of fatigue during the second half, as we almost allowed Myanmar to gain momentum, but the players managed to keep their composure to hold onto the lead. I hope we can continue to showcase a positive performance. I would also like to mention that our players did a great job to make the necessary adjustments with the pitch condition and played with plenty of flexibility. We were all on the same page and fought hard to earn the best results. Myanmar had many great players and they are a team that can fight as a team. Their performance made us realise that the competition at the Asian qualifiers will not be easy. We will continue to prepare ourselves for each of the upcoming matches and give our best efforts to reach a higher level.
DF #5 NAGATOMO Yuto (Galatasaray S.K.)
Compared to the past matches at the Asian qualifiers, I feel like this was one of the better matches we've played. However, despite winning the match with a clean sheet, I feel like we had to score more goals.
DF #16 TOMIYASU Takehiro (Bologna FC 1909)
With our opponent seeking to create their chances through long balls and counterattacks, we made sure to challenge the ball while keeping coverage at the back. The second round of this qualifiers has a unique atmosphere, especially compared to matches played in Japan and Europe, so I need to get used to this atmosphere.
DF #22 YOSHIDA Maya (Southampton FC)
Our goal was to earn three points in our first match, so I am glad we were able to achieve that goal. However, we lacked creativity in the second half, and held onto the ball too long. Our performance in the second half saw plenty of room for improvements. We must continue to strive for higher standards throughout these qualifiers.
MF #9 MINAMINO Takumi (FC Red Bull Salzburg)
The opening goal really allowed us to settle down and take control over the match. Doan delivered a great cross to allow me to score the second goal. The pitch condition was not as bad as we thought, and we were able to play our usual game, but there will still difficult moments. Earning a win was the most important thing today, so I am glad we were able to achieve this result.
MF #10 NAKAJIMA Shoya (FC Porto)
In today's game, I was committed to take shots when I was given the opportunity. I still had other opportunities I could have scored, so I will strive to become a better player who can convert those chances. We still have plenty of room for improvements as a team, so we hope to heighten the quality of our attacking combinations. I am always focused on giving my best performance under any given circumstance, so the rain and pitch condition didn't really bother me.
MF #21 DOAN Ritsu (PSV Eindhoven)
We knew our opponent was seeking for their opportunity to counter us, so I was focused on forcing turnovers in the midfield. I was influenced by the heavy pitch condition and started to get tired in the second half, which made me play poorly, so that is an aspect I must improve on. But more than anything, I am glad we were able to win the match.
MF #17 KUBO Takefusa (RCD Mallorca)
I am glad that I was given the opportunity to play in the match. I hope to get myself more involved in our future matches. While I was watching the game from the bench, I was able to see the supporters' enthusiasm to cheer for their country and it gave me a taste of what this competition is all about.
Miodrag RADULOVIC, Coach of Myanmar National Team
I cannot say that I am happy with this result, but we were able to find many positive aspects from this match. It has been only four months since I was appointed as the coach, and it is a very difficult task to face a top tier team like Japan in such short time. However, our team was able to learn many things from this 0-2 loss. We hope to seek our chances through the matches against other teams besides Japan.
Schedule
Squad & Schedule of SAMURAI BLUE (Japan National Team)

2022 FIFA World Cup Qatar / AFC Asian Cup China PR 2023 Preliminary Joint Qualification - Round2
Myanmar National Team vs SAMURAI BLUE (Japan National Team)
Date: Tue. 10 September 2019 18:50
Venue: Thuwunna Stadium (Yangon, Myanmar)