NEWS
U-17 Japan National Team holds first training session in Vitoria - FIFA U-17 World Cup Brazil 2019
25 October 2019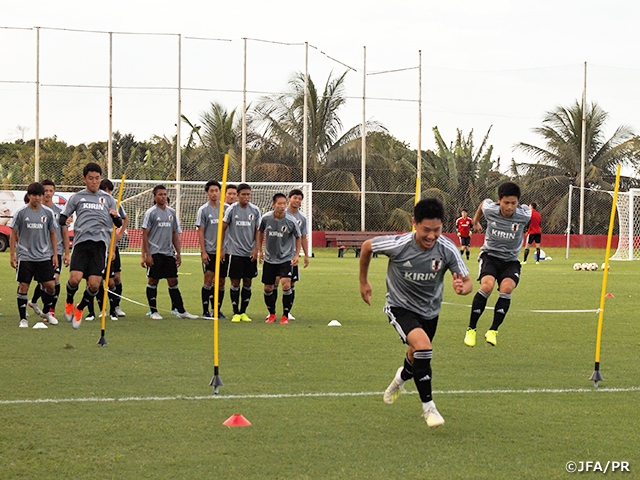 On Thursday 24 October, the U-17 Japan National Team conducted their first training session at Vitoria, a city in Brazil where their first group stage match of the FIFA U-17 World Cup Brazil 2019 will be played.
On this day, the team went through the customary team arrival meeting hosted by FIFA, where the players went through lectures on integrity, as topics on match fixing, sports betting, anti-doping, regulations, and refereeing were discussed. For most players this was their first time attending such meeting (third time for SUZUKI Zion and second time for NISHIKAWA Jun) and they listened in carefully to the lectures. The players were then taken to a photo shoot, where they took pictures that will be used during the match to introduce the players' profiles.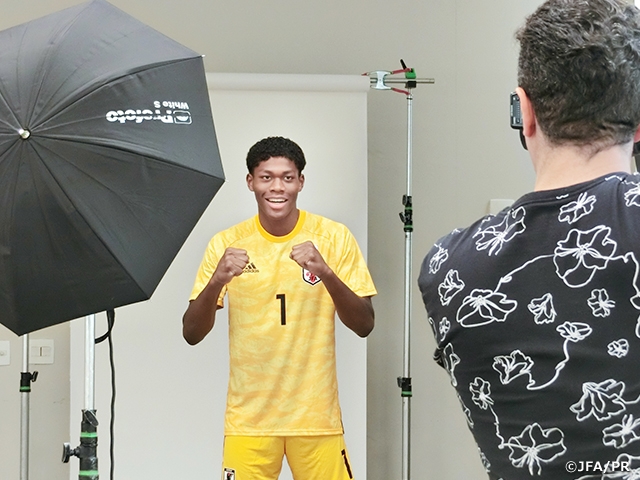 A training session was held in the evening, as the team went through a two-hour session with high intensity. Compared to Sao Paulo, where the team held their training camp, the climate in Vitoria is much warmer. The team conducted their session under a comfortable weather as they went through various drills before finishing the session with an 11 vs 11 scrimmage.
The team will visit the match venue and attend the official press conference on Friday 25.
Players' Comments
MF #7 MITO Shunsuke (JFA Academy Fukushima U18)
We were able to conduct a very productive training camp in Sao Paulo. Our team's condition and atmosphere are very good, so we hope to carry this positive vibe into our first match. I can't wait for the tournament to start. Ahead of our match, I am visualising myself scoring goals. The Netherlands is a strong team with great techniques, so we hope to utilise our speed and agility to compete against them. Through this tournament, we hope to prove to the world that Japan can compete at the world level.
MF #14 NAKANO Keita (Kyoto Sanga F.C.U-18)
We were warmly greeted by the people of Brazil and we have been able to spend a very productive time leading to the tournament. In our training match against Nigeria, we were able to showcase an improved version of our defence, especially compared to how we played in our Ecuador tour. Although I was able to score a goal in that match, I saw plenty of room for improvements, so I will work hard in our remaining training sessions to improve myself ahead of our match against the Netherlands. I have been conditioning myself towards this tournament. I have confidence in my left footed shots. I will give my very best efforts to contribute for the team's victory.
MF #17 TANAKA Satoshi (Shonan Bellmare U-18)
It has been a week since we arrived in Brazil, and the team has been able to conduct productive training sessions here. Just like the Rugby Japan National Team, we hope to unite as "ONE TEAM" and fight through the World Cup. We will win against the European champions in our first group stage match and strive to make a deep run in this tournament. I will compete in behalf of those players who couldn't make it here and give my best efforts to help the team win matches.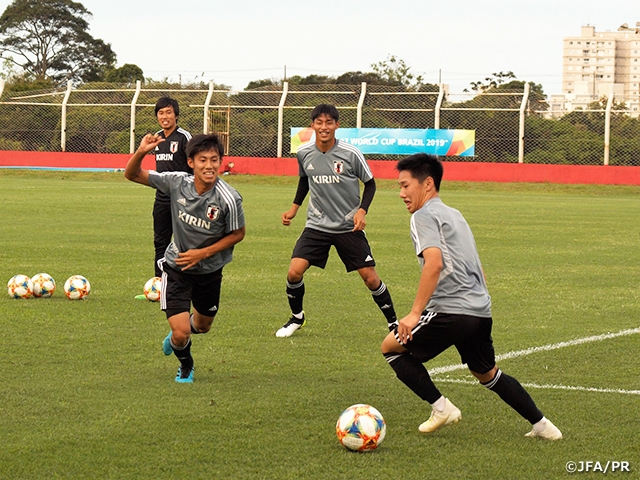 Schedule
Tue. 15 October
PM
Training
Wed. 16 October
AM/PM
Training
Thu. 17 - Tue. 22 October
AM/PM
Training
Wed. 23 October
PM
Training
Thu. 24 October
PM
Training
Fri. 25 October
AM
Training
PM
Official Press-conference
FIFA U-17 World Cup Brazil 2019
Sat. 26 October
AM
Training
Sun. 27 October
20:00
1st Group Stage Match
vs U-17 Netherlands National Team
(Estadio Klever Andrade, Vitoria)
Mon. 28 October
AM
Training
Tue. 29 October
PM
Training
Wed. 30 October
20:00
2nd Group Stage Match
vs U-17 USA National Team
(Estadio Klever Andrade, Vitoria)
Thu. 31 October
AM
Training
Fri. 1 November
PM
Training
Sat. 2 November
20:00
3rd Group Stage Match
vs U-17 Senegal National Team
(Estadio Klever Andrade, Vitoria)
Sun. 3 & Mon. 4 November
TBC
Training
Tue. 5 & Wed. 6 November
16:30/20:00
Round of 16 (Brasilia or Goiania)
Sun. 10 & Mon. 11 November
16:30/20:00
Quarterfinals (Estadio Klever Andrade, Vitoria
or Estadio Olimpico, Goiania)
Thu. 14 November
16:30/20:00
Semi-Finals (Estadio Bezerrao, Goiania)
Sun. 17 November
15:00
19:00
3rd Place Match (Estadio Bezerrao, Goiania)
Final (Estadio Bezerrao, Goiania)
*JFA Technical Director SEKIZUKA Takashi will attend team from Sat. 26 October to Sun. 3 November.
*The schedule is subject to change due to the team condition, the weather, etc.
FIFA U-17 World Cup Brazil 2019
Tournament Duration: Sat. 26 October - Sun. 17 November 2019
Group Stage:
Mon. 28 October 2019 8:00 (Japan Time)
vs U-17 Netherlands National Team
Thu. 31 October 2019 8:00 (Japan Time)
vs U-17 USA National Team
Sun. 3 November 2019 8:00 (Japan Time)
vs U-17 Senegal National Team