NEWS
S-Licence Coaching Course 2020 Module 1/Intensive Course (1) Participant's Report Vol. 2
14 September 2020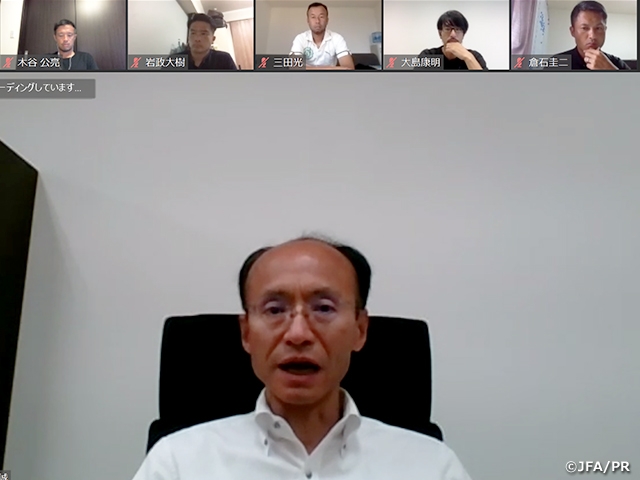 Starting from Monday 7 until Thursday 10 September, the S-Licence Coaching Course 2020 Module 1/Intensive Course (1) took place for four days. With the course being held online for the first time, the course started by testing the connection of each participant and thoroughly went over the curriculum before its start.
Module1 Intensive Course ①
Duration: Mon. 7 - Thu. 10 September
Mon. 7 September
Guidance, Short-course review: SUZUKI Jun, OIWA Go (JFA Class S Instructor),
Activities of JFA: TASHIMA Kohzo (JFA President)
Tue. 8 September
Brain-storming: Professor Usami Makoto (Kyoto University),
Physical conditioning: YASUMATSU Mikinobu (JFA Physical Fitness Project, Sub-leader), Professional coaching theory: Mr. SUZUKI Jun
Wed. 9 September
Brain-storming: Professor Usami Makoto, Game analysis (Urawa vs. Tosu)
Thu. 10 September
Group analysis, Group presentation
Next week we will share the report of Coach ONO Shingi (Yokohama FC Junior Youth).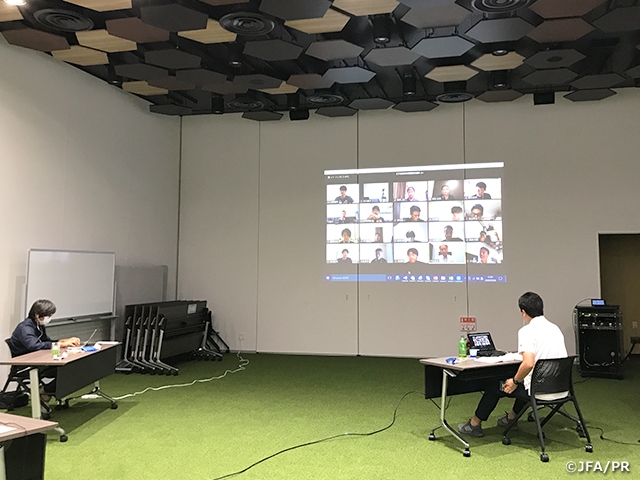 Participant's Comment
OTANI Takefumi, Coach (Cerezo Osaka U-23)
In measures to prevent the spread of COVID-19, the course was held online. Due to this format, each day I was with my team in the morning, while facing my computer in the afternoon. I was worried that I may not be able to make the mental transition each day and also wasn't sure if we can conduct smooth communication through ZOOM, but after finishing the four day course, I am very satisfied and feel that we have been able to spend a very productive time.
On the first day, we went over the short-course held at Kashima Heights last week. We then listened to a lecture given by JFA President TASHIMA Kohzo on the history of J.League and the essential qualities a coach must have. The lecture has given the participants great motivation to become a better coach. Despite using an app we were not used to, everyone was actively involved in the conversations to exchange their opinions.
Professor Usami Makoto from Kyoto University held a brain-storming session on the second day. The session was like a mental exercise where we held free discussions on hypothetical examples. There were no right answers, so we focused on the process of our story telling. This discussion allowed us to deepen our thoughts, rather than being persuaded by other people's opinions. We then listened to Mr. YASUMATSU Mikinobu outline the concept of physical conditioning, where he lectured us with the theme, "how do we evaluate a football player's physical feature." At this point, we were all getting used to the online platform, so we were able to hold a heated discussion. The day followed by a lecture on professional coaching theory, where instructor SUZUKI Jun taught us the basic essence to become an instructor. The concept of "helping players achieve their goal," professionalism, social contribution, and the necessity of having mental and physical toughness were shared during this lecture.
Day three started with our second brain-storming session, followed by match observation, where we watched and analysed a J.League match on our own. Based on our observation, we all submitted an analytic report from a coach's standpoint.
On the final day, we were grouped into groups of four people to discuss about our analytic report submitted on the day before. Following the discussions, each group held a presentation with the aid of the instructors giving us advices.
With the conclusion of the four day curriculum, we have finished the unprecedented online course. Because of the situation we were in, I felt like we were able to go through the course with a stronger intention and a sense of urgency. Also, with the participants coming from variety of backgrounds, we were able to hear many different opinions, which allowed us to broaden our perspectives. I would like to thank the JFA staffs, instructors, and my co-workers for allowing me to participate in this wonderful course. We will continue to inspire each other and strive to become a better coach.