NEWS
Paraguay National Team arrives in Japan ahead of the KIRIN CHALLENGE CUP 2019 (9/5@Kashima)
04 September 2019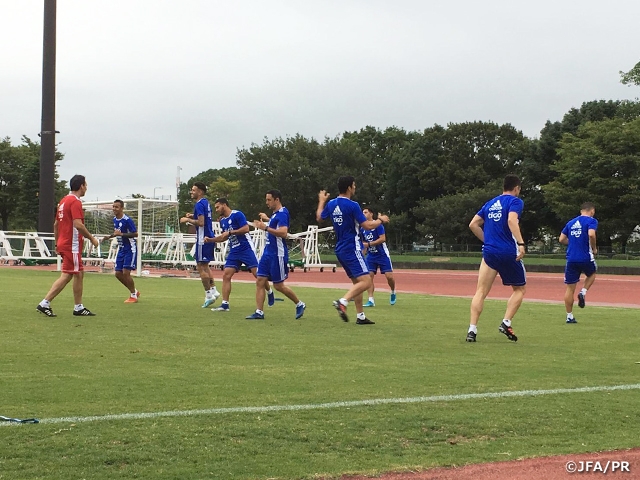 From Sunday 1 to Tuesday 3 September, members of the Paraguay National Team arrived in Japan ahead of the KIRIN CHALLENGE CUP 2019 match, where they will face the SAMURAI BLUE (Japan National Team) on Thursday 5 September at Kashima Soccer Stadium.
Following their club matches played on Saturday 31 August and Sunday 1 September, the players of the Paraguay National Team made their ways to Japan and started holding training sessions at their designated training facility in Chiba to prepare themselves for the match on Thursday.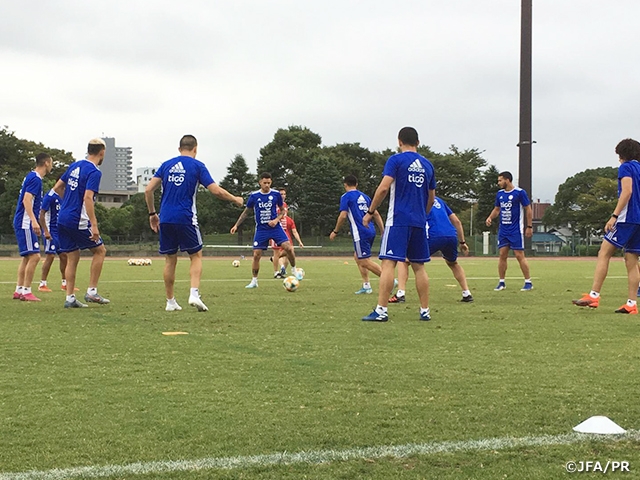 Coach and Player's Comments
Eduardo BERIZZO, Coach
I have visited Japan many times, but I am always impressed by the kind gestures shown by the people here. Japan is a wonderful country and I always look forward to coming here. We are here to play in a friendly match, but for the Paraguay National Team, this match will serve as an important test match ahead of the FIFA World Cup qualifiers. The Japan National Team consists many talented players who plays in Europe. Our style of football is a very attack-minded style and it is important for us to play strong while keeping a good rhythm. I would like to thank the people of Japan for inviting us for this match, and I hope we can showcase a great match for the people here.
Richard SANCHEZ
This is my first time visiting Japan, but I am getting the impression that Japan is a very beautiful country, and the people are very kind. The Paraguayan football style is a very passionate football style, and we also like to play compact football. I have the impression that the Japan National Team has many talented players. This friendly match will give us a great opportunity to get our team organised and to build our team bond. We hope to showcase a spectacular match, so please come to the stadium to watch us.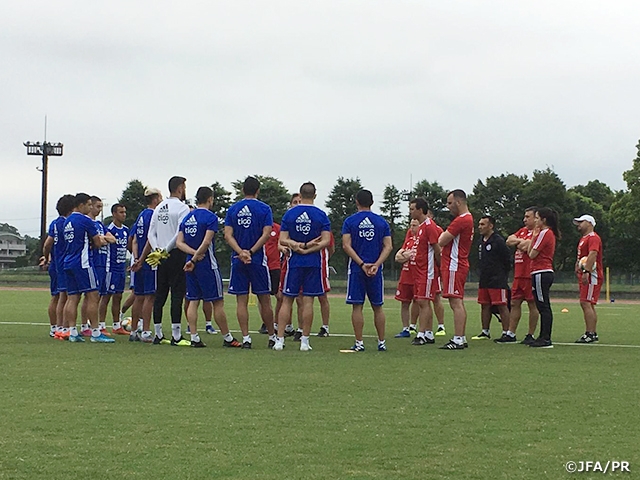 Coach
Eduardo BERIZZO
Squad
GK
1 Antony SILVA (Club Atletico Huracan/Argentina)
22 Roberto FERNANDEZ (Botafogo/Brazil)
12 Marino ARZAMENDIA (Sportivo Luqueno)
DF
2 Ivan PIRIS (Club Libertad)
4 Fabian BALBUENA (West Ham United/England)
13 Junior ALONSO (Boca Juniors/Argentina)
15 Gustavo GOMEZ (Palmeiras/Brazil)
3 Juan ESCOBAR (Cruz Azul/Mexico)
9 Braian SAMUDIO (Caykur Rizespor/Turkey)
20 Blas RIVEROS (FC Basel 1893/Switzerland)
MF
8 Juan ROJAS (Club Olimpia)
18 Alejandro ROMERO (New York Red Bulls/USA)
19 Ramon MARTINEZ (Atletico Mineiro/Brazil)
6 Richard SANCHEZ (Club Olimpia)
14 Robert ROJAS (River Plate/Argentina)
5 Saul SALCEDO (Club Atletico Huracan/Argentina)
16 Cristian PAREDES (Portland Timbers/USA)
FW
11 Angel ROMERO (San Lorenzo/Argentina)
21 Oscar ROMERO (San Lorenzo/Argentina)
23 Miguel ALMIRON (Newcastle United /England)
10 Derlis GONZALES (Santos FC/Brazil)
7 Arnaldo SANABRIA (Genoa CFC/Italy)
17 Ivan FRANCO (Club Libertad)
Schedule
Wed. 4 September
PM
Official Press-conference/Official Training Session
Thu. 5 September
19:20
KIRIN CHALLENGE CUP 2019
vs SAMURAI BLUE (Japan National Team)
*The schedule is subject to change due to the team condition, the weather, etc.

SAMURAI BLUE (Japan National Team) vs Paraguay National Team
Date: Thu. 5 September 2019 19:20
Venue: Kashima Soccer Stadium, Ibaraki