NEWS
Kyoto earns back-to-back wins against top teams of the league at the 9th Sec. of the Prince Takamado Trophy JFA U-18 Football Premier League WEST
08 July 2019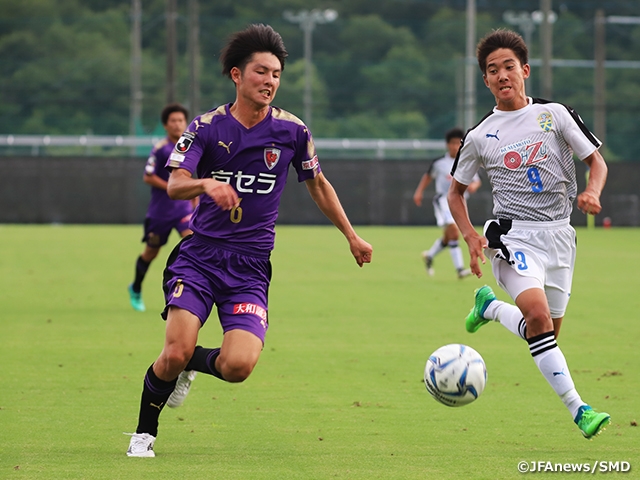 The ninth Sec. of the Prince Takamado Trophy JFA U-18 Football Premier League 2019 WEST took place on Saturday 6 July, where Kyoto Sanga F.C. U-18 (Kyoto) played against Ozu High School (Kumamoto).
Pick-up Match
Kyoto Sanga F.C. U-18 3-0 (2-0, 1-0) Ozu High School
Following last week's 5-3 victory over the league leaders, Gamba Osaka Youth (Osaka), Kyoto welcomed second place Ozu High School to their home field. The match saw Ozu take the initiative with their high pressure and quick transitions in the early minutes.
In the 10th minute, Ozu's HIGUCHI Kenta (#8) broke through the flank to create an opportunity, but his cross was blocked by the Kyoto defence. The Kumamoto side continued to create chances, but struggled to score the opening goal, as their head coach HIRAOKA Kazunori later reflected, "we managed to get off to a good start, so we really wanted to score during that stretch."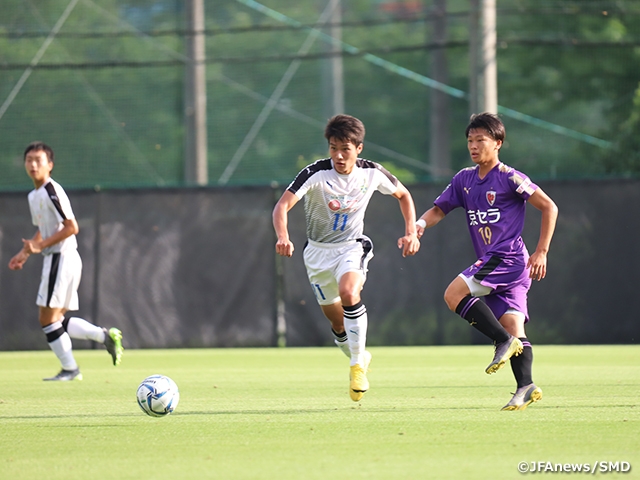 Kyoto came close to scoring the opener in the 21st minute, when INOUE Koki (#5) struck the cross bar with his header. While their patience was being tested for majority of the first half, the home side broke the deadlock in the 37th minute, when their striker KATSUSHIMA Shinosuke (#22) capitalised on a counter attack, as he later mentioned, "I had options to pass the ball, but I felt confident enough to take on the opportunity myself." Midfielder KAWASAKI Sota (#7) followed in the 39th minute, when he fired a powerful shot from distance to double the lead for Kyoto.
With momentum on their side, Katsushima marked his second goal of the match in the 51st minute, when he responded to a through ball delivered by YAMADA Fuki (#10). The Kyoto defence showcased great persistency to keep a clean sheet, as Inoue later described their approach, "Ozu is capable of attacking the space behind our defence line with their direct plays. We struggled to keep our defence line high in the first half, but we focused on maintaining our line high in the second half." The home side kept Ozu High School scoreless to earn a 3-0 victory. With Gamba Osaka losing their match, top four teams are now within three points, making the title race a close contest.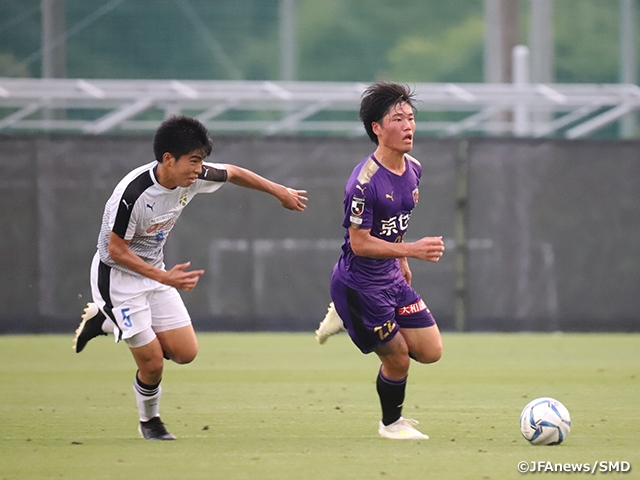 Coaches and Players' Comments
TESHIMA Kazuki, Coach (Kyoto Sanga F.C. U-18)
We didn't know how Ozu was going to play against us, so we focused on playing our usual game. Our opponents showed quick transitions in the first half, and we were forced to be in the defensive end for a long stretch, but our players kept their patience to keep the clean sheet during that stint. Our goals came in a timely fashion as well. The players actively communicated with each other to keep the opponents from creating opportunities and worked extremely hard throughout the match. After finishing the first half of the season, we are realising that this is a very tough league we are in. Each and every match in this league gives our players precious experiences to grow as a player, so we will continue to give our best efforts in the second half of the season.
FW #22 KATSUSHIMA Shinosuke (Kyoto Sanga F.C. U-18)
I wasn't able to score any goals in the previous matches and couldn't contribute to the team at all, so I entered today's match with a strong intention to score goals. We weren't able to showcase a good performance in the early minutes of the first half, so it was great that we were able to score those goals within the first half. Scoring a brace at the Premier League gives me great confidence as a forward and I am happy that I was able to help the team earn a win. I was feeling the pressure while I was scoreless, so now I can really go out there and enjoy the game.
HIRAOKA Kazunori, Head Coach (Ozu High School)
The opening goal can impact the entire match at this age group. When facing a J. League academy team, it is hard to come from behind, so we really wanted to score the first goal in this match, but we failed to convert our opportunities and ended up conceding the opening goal instead. We ended up conceding three goals, but our overall performance was not too bad, so it was a regretful match. It's important that we don't take this result negatively. We must learn from our opponents and continue to approach our future matches with a challenger's spirit.
FW #9 HANDAI Masato (Ozu High School)
We entered the match with the intention to keep the first half scoreless, but we ended up conceding two goals to our opponents. The two goals deeply influenced our plays and we couldn't showcase our style of football throughout the match. The fact that we failed to convert our opportunities created in the early minutes of the first half led to us conceding those goals. I personally couldn't control the ball as I wanted and failed to create chances for our team. We weren't able to showcase our fast-paced attacks today, so we will continue to work hard to improve our quality as a team.
Results of other matches
Sanfrecce Hiroshima F.C Youth 6-2 (2-0, 4-2) Avispa Fukuoka U-18
Higashi Fukuoka High School 2-1 (0-1, 2-0) Vissel Kobe U-18
Ehime FC U-18 0-1 (0-0, 0-1) Cerezo Osaka U-18
Nagoya Grampus U-18 2-1 (2-1, 0-0) Gamba Osaka Youth
Sanfrecce Hiroshima F.C Youth (Hiroshima) welcomed Avispa Fukuoka U-18 (Fukuoka) to their home and scored six goals to win the match. Despite conceding the opening goal to Vissel Kobe U-18 (Hyogo), Higashi Fukuoka High School (Fukuoka) came from behind in the second half to earn the victory. Cerezo Osaka U-18 (Osaka) scored the game winner in the second half against Ehime FC U-18 (Ehime) to win the match 1-0. Nagoya Grampus U-18 (Aichi) defeated the league leaders, Gamba Osaka Youth (Osaka) with the two goals scored in the first half.
Prince Takamado Trophy JFA U-18 Football Premier League 2019
League Duration: Sat. 6 April - Sun. 8 December 2019