NEWS
Referee's Exchange Programme with Football Federation Australia
27 April 2015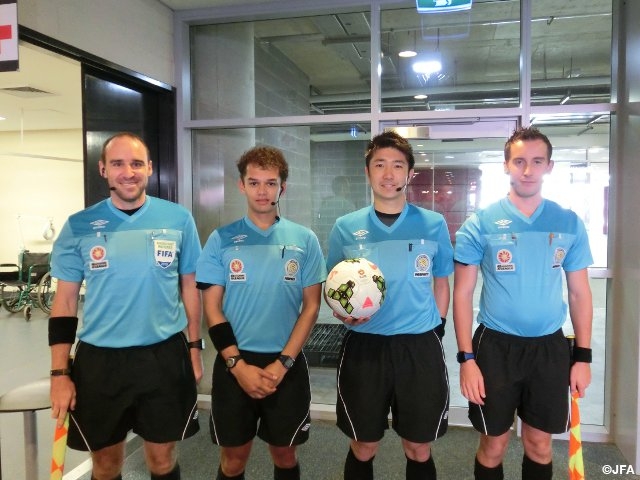 Japan Football Association has an annual Exchange Progamme with various countries. This year, JFA had the programme with Australia for the first time, and two Japanese referees experienced the A-League in Australia while two Australian referees judged J.League Division1 matches in Japan.
Australia is one of the strongest countries whose national team won the latest AFC Asian Cup 2015 and Australian club team Western Sydney Wanderers won the AFC Champions League in 2014. It is believed to be very effective for Japan to have the exchange programme with Australia.
Japanese referees dispatched to Australia
6-13 March: YAMAMOTO Yudai
Matches in charge:
Round 20: Brisbane Roar vs. Western Sydney Wanderers
Round 21: Adelaide United vs. Central Coast Mariners
26 March - 4 April: ENOMOTO Kazuyoshi
Matches in charge:
Round 23: Newcastle Jets vs. Adelaide United
Round 24: Brisbane Roar vs. Central Coast Mariners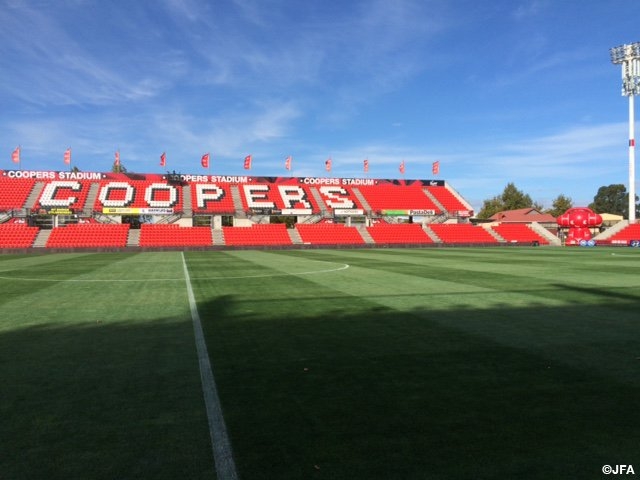 Australian referees invited:
Mr. Christopher BEATH
Mr. Jarred GILLETT
Duration: 27 April to 4 May
Matches in charge:
8th and 9th Sec. of J.League Division1
Comments from Referees:
YAMAMOTO Yudai, Professional Referee
I participated in this Exchange Programme with Australia A-League from 5 to 13 of March. I had one match in Brisbane and another match in Adelaide.
I have worked in Australia since I officiated in the AFC Asian Cup 2015 and I have had a chance to watch A-League matches on TV, but I have never worked for any matches of A-League before. Having had this opportunity to experience refereeing in the A-League, I had to have extra preparation checking A-League matches online as well as my usual fitness training prior to my departure.
The A-League match I judged in Australia was such an intensive match which had a lot of physicality to it and persistent plays throughout the 90 minutes. Having strong physical contact seemed to be very normal in A-League and the players weren't afraid of smashing their bodies into each other and even audiences seemed to enjoy that strong contact.
I also had some opportunities to spend time with Australian referees before and after the matches. It was relaxing experience having training together with referees from various categories and enjoying meals together.
I appreciate this wonderful opportunity and I will maximise what I learned from this programme for my refereeing career.
ENOMOTO Kazuyoshi, Class 1 Referee
For this Exchange Programme with Australia, I judged 2 A-League matched during my stay in Australia between 26 March and 4 April. (1st match was New Castle vs. Adelaide United FC, and 2nd was Brisbane Roar FC vs. Central Coast Mariners FC)
In Brisbane, I had a chance to join in fitness training sessions for local referees. The sessions were mainly for interval training and it was very hard.
A-League was different from J. League in terms of the amount of physical contact between players and they didn't fall down so easily. The players restart moving the ball after foul much quicker and I felt that actual playing time was longer than that of J. League. I also experienced very good atmosphere in the stadiums even after matches.
I want to improve my refereeing skill by including what I experienced in this programme. Thank you very much for giving me an opportunity to take part in such a beneficial programme.