NEWS
EAST kicks-off second half with fixture between high school teams at the 10th Sec. of the Prince Takamado Trophy JFA U-18 Football Premier League
11 July 2019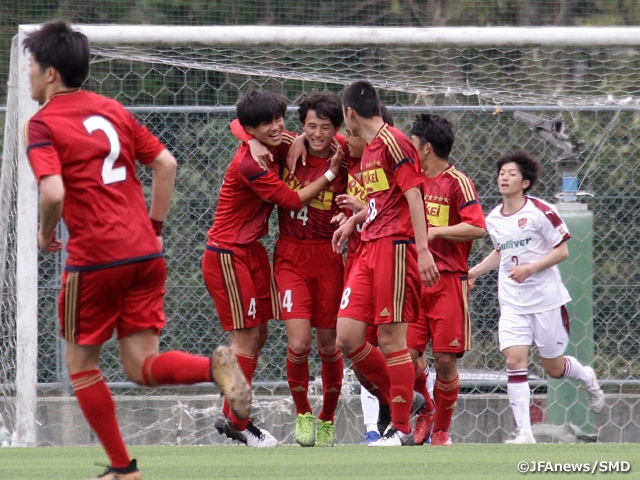 From Saturday 13 to Monday 15 July, the 10th Sec. of the Prince Takamado Trophy JFA U-18 Football Premier League will take place at various locations.
EAST
Third place Shimizu S-Pulse Youth (Shizuoka) has been kept winless in the recent five matches at the premier league. However, the team has taken more shots than their opponents in the recent three matches, leaving a sense of optimism when they face Urawa Red Diamonds Youth (Saitama). S-Pulse's key to success will lie on the performance of their striker YAMAZAKI Ryosuke (#9). After winning the EAST title last year, Kashima Antlers Youth (Ibaraki)has struggled mightily this season, as they currently sit in last place. They will seek to earn their second win of the season at home when they welcome Omiya Ardija U18 (Saitama).
Despite their struggles in the early part of the season, Shoshi High School (Fukushima) has marked a win and two draws in the recent three matches. SOMENO Itsuki (#9) will lead the Fukushima side when they face second place Kashiwa Reysol U-18 (Chiba) this week. The attacking duo of MIKI Naoto (#18) and IKEHATA Kyota (#20) will play a key role for the seventh place Jubilo Iwata U-18 (Shizuoka) in their match against Funabashi Municipal High School (Chiba).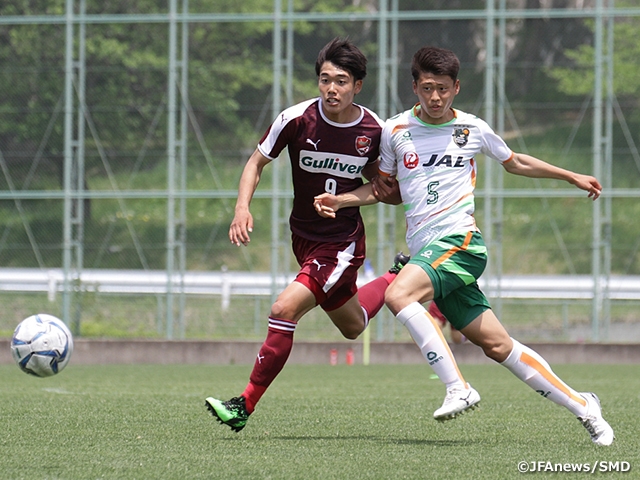 The pick-up match of the EAST will feature a match between the two high school sides, Aomori Yamada High School (Aomori) and Ryutsu Keizai University Kashiwa High School (Chiba). Led by their ace, TAKEDA Hidetoshi (#10), the Aomori side has been showing their top form in their recent matches, as they registered nine goals in the recent three matches. On the other hand, Ryutsu Keizai Kashiwa has managed to score two goals in three consecutive matches to showcase their consistency. The highly anticipated match will be a close match, as the set-plays may play a crucial role in this pivital match.
WEST
After suffering back to back losses, Higashi Fukuoka High School (Fukuoka) bounced back last week with a come from behind victory. They will face Cerezo Osaka U-18 (Osaka) this week in search for their first back to back wins of the season. Avispa Fukuoka U-18 (Fukuoka) will welcome Kyoto Sanga F.C. U-18 (Kyoto) to their home. Team captain YOSHIMURA Ginga (#7) will lead the home side to contain the Kyoto side, who is tied in first place for goals scored this season.
Ehime FC U-18 (Ehime), who has been winless since winning the season opener, will face Nagoya Grampus U-18 (Aichi). Ehime registered only two shots against Cerezo last week, and their key to success will lie on their offence led by SHIOZAKI Sho (#10). The league leaders, Gamba Osaka Youth (Osaka), will play against fourth place Ozu High School (Kumamoto). It will be interested to see how well the solid defence of Ozu can shield off the powerful attacks of the Gamba side.
The pick-up match of the WEST features a match between third place Sanfrecce Hiroshima F.C Youth (Hiroshima) and sixth place Vissel Kobe U-18 (Hyogo). After defeating Avispa at home last week with the help of FUKUZAKI Ryosei's (#23) hat-trick, Hiroshima will seek to mark their fourth consecutive victory. On the other hand, Vissel will be missing YAMAUCHI Kakeru (#7), with his participation with the U-17 Japan National Team. SAEKI Shinnosuke (#10) will be asked to step up to fill the hole for the Kobe side, as they seek to win the match with their quick ball movements.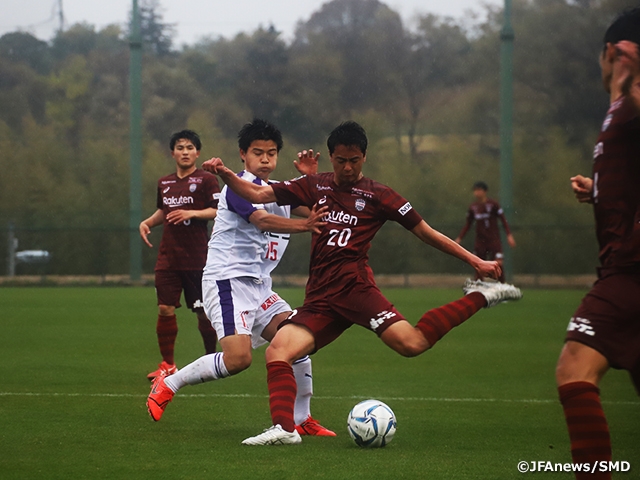 EAST Sec. 9 Highlights
WEST Sec. 9 Highlights
Prince Takamado Trophy JFA U-18 Football Premier League 2019
League Duration: Sat. 6 April - Sun. 8 December 2019